Is the East Mindanao Volcanic Arc Lost, Buried or Eroded?
by Marcelle P. Villegas - May 29, 2019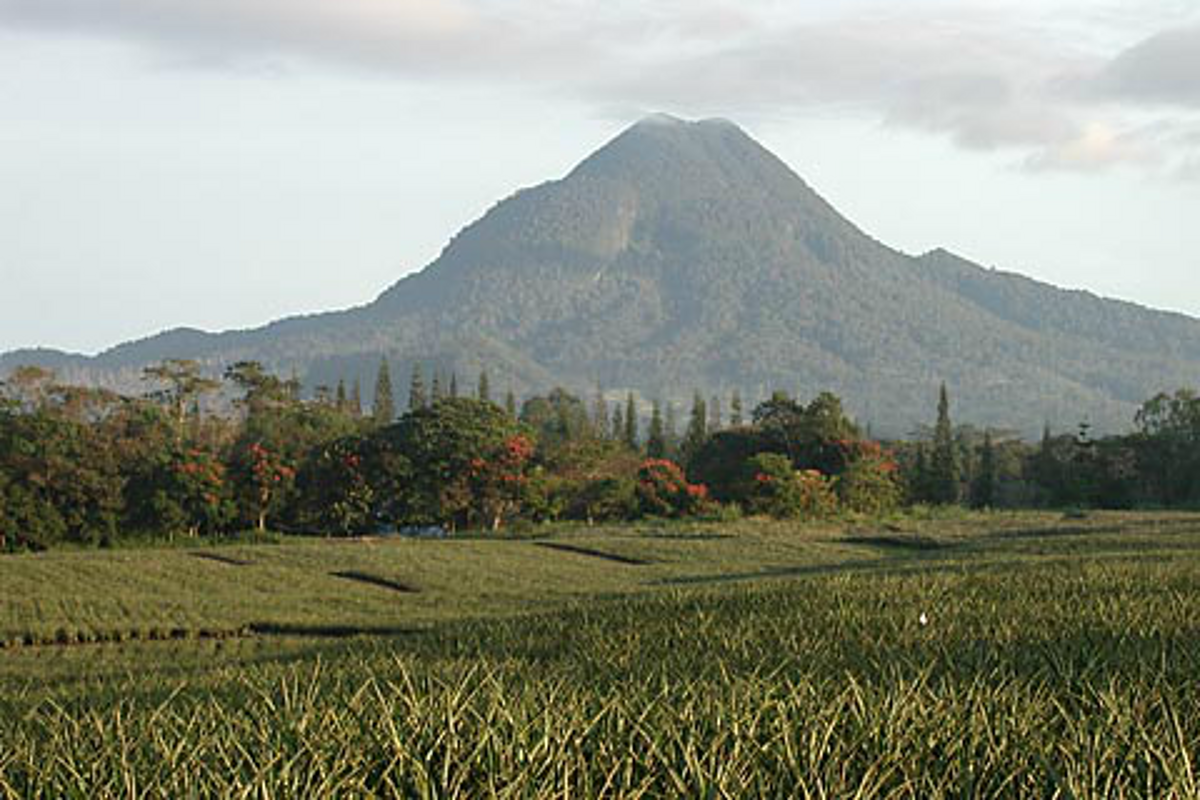 Mount Matutum, South Cotabato, Mindanao [Photo credit: Mount Matutum - https://www.kapetabay.com/2009/02/beans-from-mt-matutum/]
During the GeoCon 2018 last year in December, a study about East Mindanao Volcanic Arc by Dr. Graciano Yumul, Jr. and his team, C.B. Dimalanta, J.A. Gabo-Ratio, B.D. Payot, et. al.[1], was presented. The title is "East Mindanao Volcanic Arc, Philippines: Lost, Buried or Eroded?". The members of the study are from Apex Mining Company, Inc. (Pasig City) and Rushurgent Working Group, National Institute of Geological Sciences, University of the Philippines (Diliman, Quezon City).
It seems apparent that whenever an oceanic plate subducts along a trench, this would result into the formation of a volcanic arc. There may also be a formation of geothermal fields, mineralization, accretion of oceanic plates and subduction erosion.
The Philippine Mobile Belt also plays a role in this study. The Philippine Mobile Belt is a complex portion of the tectonic boundary between the Philippine Sea Plate and the Eurasian Plate. This includes the Manila Trench to the west and the Philippine Trench to the east, and the Philippine Fault System. This belt is notable to having numerous of crustal blocks or microplates.
Now based on the report, the eastern boundary of the Philippine Mobile Belt is characterized by the reactivated East Luzon Trough which shares a common transform boundary with the west-dipping Philippine Trench.
"It has been argued that the East Luzon Trough-Philippine Trench is propagating northward whereas the Visayan-Mindanao segment of the subduction zone is propagating southward. This is mirrored by the northward and southward propagation of the Philippine Fault Zone whose northern and southern termini are characterized by horse-tail structures," according to the study.
"A look at the Philippine Trench with respect to the Bicol Peninsula through Samar-Leyte all the way to eastern Mindanao exposes differences in the morphology and distribution of volcanic arc centers. A well-formed volcanic chain characterizes the Bicol Peninsula, whereas an alignment of geothermal fields and volcanoes can be observed along the NW-SE stretch of the Leyte island. However, eastern Mindanao is defined by an almost non-existent volcanic arc range except for Mount Paco in Surigao del Norte and Leonard Range (also known as Leonard Kniassef) in Compostela Valley."
With all these geological features and movements described from the study, here are some points to think about.
"A question to ask is why would the volcanic arc range along eastern Mindanao be absent? Was it lost due to large-scale fault-related dislocation? Is the volcanic arc range simply not just exposed? Or through time, would there have been a systematic, region-wide erosion of volcanic arc centers? Or were the volcanic centers not simply formed due to stunted subducted slab or the presence of a subducted, buoyant oceanic bathymetric high?"
When we take into consideration the geological evolution on this part of Mindanao, an explanation can be found compatible with what is known. "Implication in terms of arc magmatism (super-critical fluids vs mantle fluids), crustal thickness vis-a-vis barometric fugacity, tholeiitic to calc-alkaline signature of cumulate rocks and the mineralization potential of the region will also be presented."
- - -
[1] Complete list of authors and researchers:
Dr. Graciano Yumul, Jr., C.B. Dimalanta, J.A. Gabo-Ratio, B.D. Payot, V.S.V. Olfindo, G.T. Valera, C.J. Arellano, K.C. Punzalan, K.D. Jabagat, J.B. Demegillo, K.L. Queano and N.L. Caagusan
You may write the team through csrwg3@gmail.com.
---