Photo Credit: Department of Public Works and Highways
President Rodrigo Duterte on Thursday expressed confidence that the opening of the first 18-kilometer portion of the Central Luzon Link Expressway (CLLEX) will help bolster the Philippine economy.
"This project will improve movement of goods going to and from Metro Manila and Central Luzon, which will be beneficial to entrepreneurs, consumers and the economy," Duterte said in a keynote speech during the inauguration of the 18-kilometer Tarlac Interchange to Aliaga Section of CLLEX Project (Phase 1) in Tarlac City.
The 18-kilometer portion of the new expressway, which covers the Tarlac, Rio Chico River Bridge and Aliaga sections, will benefit around 11,200 motorists and commuters.
It is also expected to shorten the travel time of 70 minutes between the cities of Tarlac and Cabanatuan to just 20 minutes.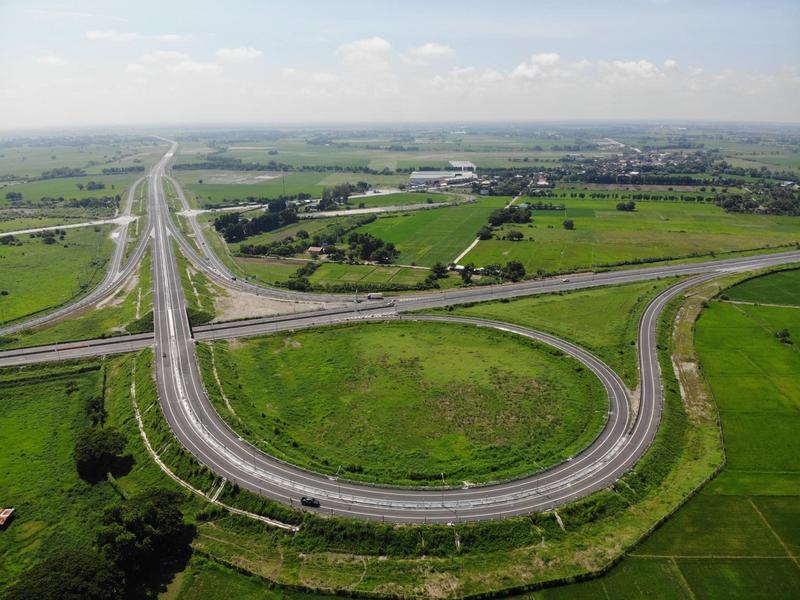 Duterte said the event marks another milestone in his administration's ambitious "Build, Build, Build" infrastructure program.
He said the new expressway would also allow commuters to "spend more time for their families and other productive activities" since they need not endure a longer travel time.
"I am sure that our kababayans (fellow countrymen) will be pleased that the usual 70-minute travel between these two major cities in Central Luzon will be reduced to just 20 minutes," he said. "This new expressway should greatly benefit commuters going to and from Metro Manila and Cabanatuan City with a shorter commute."
Duterte also thanked the Japanese government for helping fund the construction of CLLEX in support of the Philippines' "Build, Build, Build" program.
"The infusion of PHP12 billion by the Japan International Cooperation Agency or JICA attests to the indispensable role of Japan as one of our important partners in attaining inclusive program through infrastructure development," he said.
Duterte likewise lauded the Department of Public Works and Highways (DPWH) and its partners for the "speedy, efficient, and timely" completion of the 18-kilometer section of the CLLEX.
He guaranteed his fellow Filipinos that his administration remains committed to fulfilling its promise of providing them a "more comfortable life."
"And, this assurance includes the effective, efficient, safe and timely completion of major infrastructure and transportation-related developments," Duterte said. "Just keep in mind that transparency, accountability and integrity must be upheld in all our development projects."
Duterte also noted that the entire 30-kilometer CLLEX Project, once completed, will help improve access to several localities in Tarlac and Nueva Ecija.
The DPWH has promised to complete the entire 30-kilometer expressway project within Duterte's term, with the 10.30-kilometer Cabanatuan Section under Contract Package 4 already at 88.7 percent completion. - By Ruth Abbey Gita-Carlos
Article Courtesy of The Department of Public Works and Highways