[Photo above: Aboitiz Construction's maintenance project for Taganito HPAL Nickel Corporation in Claver, Surigao del Norte involves manpower for routine and non-routine works, and annual shutdown.]
---
For nearly half a century, Aboitiz Construction has been at the forefront of engineering excellence and innovation, contributing significantly to the growth of the Philippines. As the construction arm of the esteemed Aboitiz Group, the company has embarked on a transformative journey to support the Group's aspiration to be the country's first "techglomerate".
What is a "techglomerate"? A techglomerate is basically a startup technology company that evolved into a conglomerate, or a legacy conglomerate company that uses technology and startup culture to transform the way it behaves and operates.
Aboitiz Construction has embraced this concept to drive meaningful change, ensuring projects are delivered on time, safely, and with unwavering quality. Their massive transformative purpose is clear: "building for business to prosper and communities to thrive."
Aboitiz Construction envisions becoming the Philippines' premier construction and asset management services provider by 2030. Rooted in their time-honored values of responsibility, integrity, innovation, teamwork, and execution excellence, they aim to foster business excellence and long-term partnerships.
The company's mission is to offer a reliable single source of innovative engineering, procurement, construction, and asset strategy for heavy, light, and infrastructure industries to drive sustainable growth for our clients, team members, and host communities and build a better future for a better Philippines.
Aboitiz Construction has a vast experience in building plants across various sectors, including power, oil & gas, chemical, cement, mining, logistics, and manufacturing. In infrastructure, it has successfully completed projects involving transmission lines, substations, land developments, and marine works. It also offers maintenance services for the power, cement, mining, and transportation industries, along with equipment rental.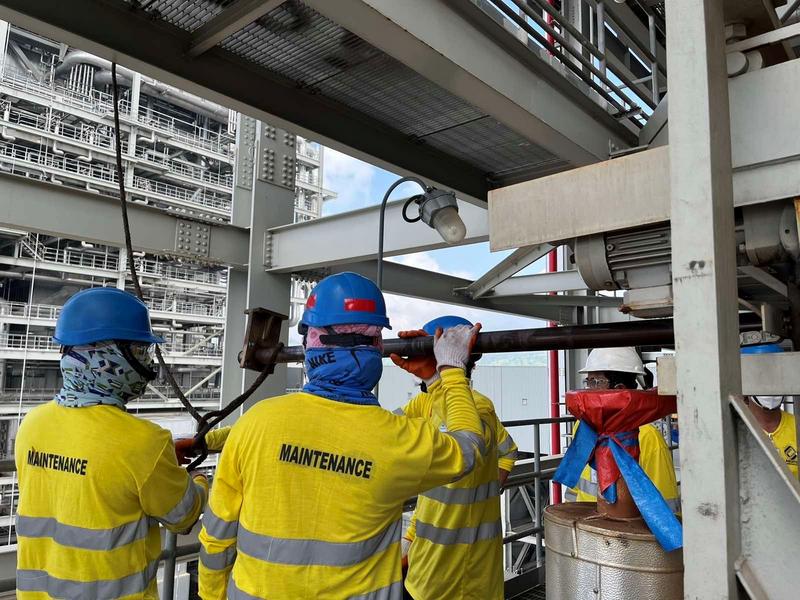 Aboitiz Construction safely completed its maintenance works for GNPower Dinginin's power plant
in Mariveles, Bataan. The scope of work includes supply of labor services, tools, and professional
expertise for the plant's Unit 1 HR8 Sootblower Lance Tube Replacement.
---
Aboitiz Construction's services across various industries encompass single-source solutions (design-build-maintain) and technical support for its construction segment; and equipment-based (routine and preventive), operation-based and reliability-based, and project-based maintenance for its industrial maintenance segment. Project delivery schemes include Engineering, Procurement, and Construction (EPC), Early Contractor Involvement (ECI), Design and Build, Build Only, Main Contractor, and Subcontractor.
What truly sets Aboitiz Construction apart is its commitment to innovation. They are among the first in the country to use fully-automated equipment, ensuring unparalleled accuracy and efficiency. It has also recently engaged Fragile to Agile, a global visionary consulting firm, to create a digital transformation plan. This strategic roadmap aims to position the company as the leading construction firm in the country.
Fragile to Agile is a business management consultant company from Adelaide, South Australia, that is an independent enterprise architecture and solution architecture specialist since 2009. They have a unique approach in offering solutions that are designed to help both business executives and technologists in an optimal manner – solution designs that are adopted in companies in Australia and Europe.
In the maintenance arena, Aboitiz Construction provides preventive maintenance, upgrades, and shutdown services, catering to a wide range of clients' needs.
Aboitiz Construction's flagship maintenance services include the following:
1. Plant Services: Offering skilled labor, technicians, supervisors, and engineers for annual plant shutdowns.
2. Scaffolding: Providing complete scaffold services with top-quality materials and experienced labor.
3. Specialized Plant Maintenance Services: Covering maintenance for power plants, cement, and mining, including pressure and non-pressure parts maintenance for boilers and waste heat recovery in cement plants, drone inspection, and silo inspection and cleaning for the cement industry.
Currently, the maintenance division of Aboitiz Construction is actively involved in projects for companies such as Taganito HPAL Nickel Corporation in Surigao del Norte, Tsuneishi Heavy Industries (Cebu), Inc., Mactan Cebu International Airport, Apo Agua in Davao (transportation and water infrastructure subsidiaries of its affiliate Aboitiz InfraCapital), and AboitizPower, showcasing its versatility and expertise.
The company's commitment to excellence is evident through its PCAB AAA License and ISO Certifications, including ISO 9001:2015, ISO 14001:2015, and ISO 45001:2018.
In each project they undertake, Aboitiz Construction is not merely constructing structures; they are building the future of a better Philippines. With an unwavering dedication to progress and innovation, they continue to shape the nation, one project at a time.
For more information, visit their website at https://www.aboitizconstructioninc.com/ or email contact.aci@aboitiz.com