[Manila] Sept. 5, 2023 – Depute Head of Missions, Dr Moya Collett, during a media briefing that was held at the Australian Embassy in the Philippines (Photo by Marcelle Villegas)
---
Last September 5, 2023, Australian Embassy in the Philippines Deputy Head of Missions, Dr Moya Collett, led a media briefing at the Australian Embassy to announce the launch of Australia's Southeast Asia Economic Strategy to 2040. These strategies are intended to improve bilateral trade and investments with Southeast Asia. Australian Embassy's First Secretary (Economic), Mr Simon Reid, was also present at the media briefing.
Dr Collett is a senior career officer with the Department of Foreign Affairs and Trade (DFAT) and was most recently Assistant Secretary of the Southeast Asia Maritime Branch.
She has held a number of senior roles at DFAT and the Department of the Prime Minister and Cabinet (PM&C), including Head of the Southeast Asia Vaccines Access Taskforce and Assistant Secretary of the Middle East Branch. She has previously served overseas in the Australian Embassy to Thailand. [1]
During the media briefing, Dr Collett stated that in a span of 20 years, Southeast Asia's share in the Australia's total trade did not expand and needs improvement. She said that Southeast Asia only gets 3.4% of Australia's total investments worldwide.
In order to increase Australia's trade and investment in the region, they presented an economic strategy that points out 10 priority sectors. Dr Collet mentioned that these 10 priority sectors are all applicable in the Philippines.
The 10 priority sectors are: Agriculture and food, Resources, Green energy transition, Infrastructure, Education and skills, Visitor economy, Healthcare, Digital economy, Professional and financial services, and Creative industries.
Dr Collett commended that in the Philippines, "we have a huge potential for growth in the two-way trade and investments."
The 10 priority sectors are mentioned in a report called "Invested: Australia's Southeast Asia Economic Strategy to 2040". This was developed by Special Envoy for Southeast Asia, Hon. Nicholas Moore AO. According to the report, "The strategy outlines a practical pathway to significantly increase two-way trade and investment between Australia and Southeast Asia. The Australian Government is considering the 75 recommendations made by Mr Moore." [2]
The strategy points out four categories of required action in order to attain commercial potential between Australia and Southeast Asia. These points are Raising awareness, Removing blockages, Building capacity, and Deepening investment.
Mr Moore wrote on the strategy report, "In November 2022, I was honoured to be asked by the Prime Minister to lead the development of a national strategy for greater trade and investment between Australia and Southeast Asia."
"Australia's prosperity and security is intimately linked to the prosperity and security of its neighbours, and their security and prosperity is similarly linked to ours. Australia has much to offer the region through trade and investment, and we can play a key role in helping maximise the prosperity of our neighbours." [2]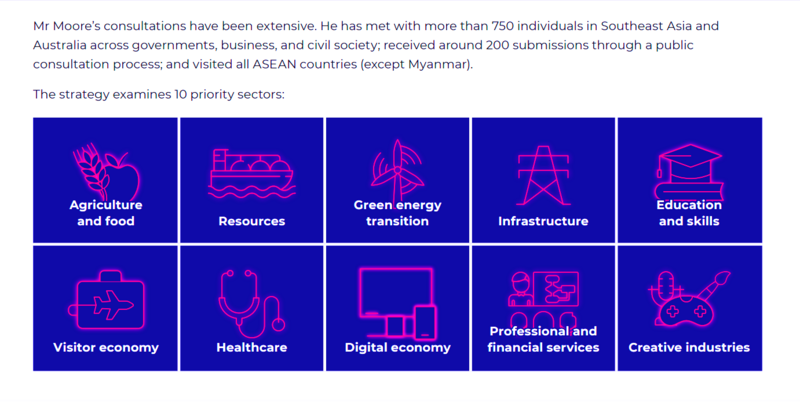 Australian Prime Minister's Manila Visit
Three days after the press conference, (Sept. 8, 2023) Australian Prime Minister, Anthony Albanese arrived in Manila by invitation of President Ferdinand "Bongbong" Marcos, Jr.
During his visit, Prime Minister Albanese signed a Strategic Partnership with President Marcos, Jr.
Prime Minister Albanese is the first Australian Prime Minister to travel to the Philippines on a bilateral visit since 2003.
From the media release of the Office of Australian Prime Minister, it stated, "The Prime Minister's visit to the Philippines reflects the priority Australia has placed on deepening relations with Southeast Asia, and follows the Prime Minister's launch of the Southeast Asia Economic Strategy to 2040 in Jakarta this week."
"The Philippines is one of the fastest growing economies in the region and represents substantial potential for Australia to deepen our trade and investment relationship. The Southeast Asia Economic Strategy to 2040 will help Australian businesses and investors take advantage of key sectors in the Philippines, including agriculture and food, education and skills, resources, and the clean energy transition." [3]
Moving forward, the Australian Prime Minister invited President Marcos, Jr. to Australia in March 2024 to attend a Special Summit to Commemorate the 50th Anniversary of ASEAN-Australia Dialogue Relations.
---
Reference:
[1] https://www.dfat.gov.au
[2] "Invested: Australia's Southeast Asia Economic Strategy to 2040" by Mr Nicholas Moore AO https://www.dfat.gov.au/sites/default/files/invested-southeast-asia-economic-strategy-2040.pdf?ref=snapshot.bcsda.org.au
[3] Prime Minister of Australia – Media Release (Sept. 8, 2023). "A Stronger Partnership Between Australia and the Philippines".
https://www.pm.gov.au/media/stronger-partnership-between-australia-and-philippines?fbclid=IwAR2QauBpXq7JWRqxtronQb21W5hLTpy7SeXrRkLNoxuR4knYTu8dH0ZWK9Y