[Makati City] Oct. 2, 2023 – Mr Joey Nelson Ayson, PMEA President during the Monthly Membership Meeting
---
In order pick up where everyone left off from the recent Mining Philippines 2023 last September, Philippine Mining and Exploration Association (PMEA) had a networking night last October 2, 2023 for the Monthly Membership Meeting. This enhanced the networking momentum from the previous mining event.
PMEA President, Mr Joey Nelson Ayson, reported about the PMEA Matters and some Industry Updates. He started by announcing the PMEA 25th Anniversary this year. The anniversary celebration and Christmas party (including AGM) will be held on December 04, 2023 at Seda Hotel, Makati.
PMEA is registered with SEC as Philippine Mineral Exploration Association in September 1998. The PMEA provides effective and responsible representation of the mineral exploration and mineral resources development sectors in the Philippines. Currently, PMEA has 15 regular members, 54 associate members, 21 individual members, and 17 honorary members.
"With the passage of time and new minerals sector developments, it became clear that a broader organization was necessary to represent the mineral exploration industry more effectively, including the local companies and investors," stated in the organization's website. Due to this need for the industry, the PMEA was eventually founded and incorporated. They also established regular monthly meetings at a convenient venue in Makati City.
PMEA is managed by a board Trustees, composed of seven elected members. Election is held at the annual membership meeting that is held in June of each year. It is noteworthy that all Trustees are volunteers who receive no compensation for their efforts.
"PMEA seeks to stimulate interest and participation in the Philippine mineral exploration and mine development sectors by providing appropriate meetings and networking fora where its members can discuss current issues and agree on a sensible course of action."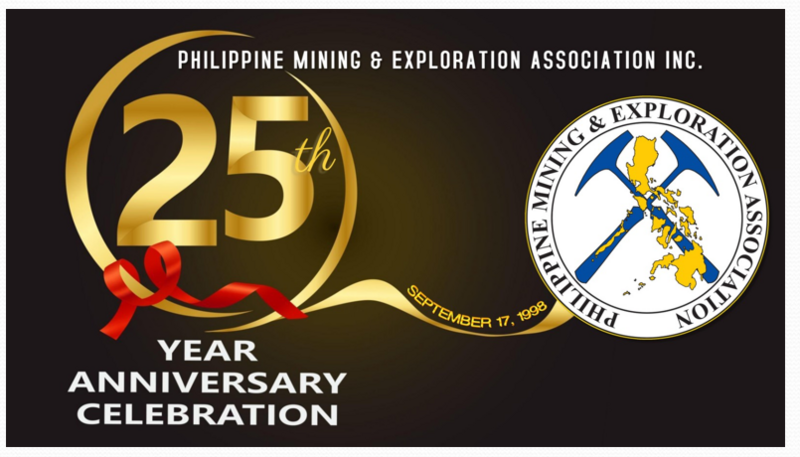 DENR/MGB Updates and Industry News in Summary
There has been a current staff movement last Sept. 8, 2023 when ASec Nonita S. Caguioa retired. In DENR, she is formerly the Assistant Secretary for Finance, Information Systems and Mining Concerns.
For the upcoming ASEAN Mineral Awards, evaluation of country submissions is ongoing as some countries missed the deadline.
For the Presidential Mineral Industry Environment Awards, 35 companies have been shortlisted. Onsite validation is ongoing. The list includes 16 for surface mining, 12 for quarrying, 7 for mineral processing, none for underground mining and exploration.
Regarding the Supreme Court's issuance of writ of kalikasan against Altai Philippines Mining Corporation (APMC), DENR, and MGB, the case is currently being handled by the Office of the Solicitor General. Looking back, a resolution dated June 13, 2023 was issued where the Supreme Court ordered APMC, DENR and MGB to file their comments within 10 days after the service of the writ. The Supreme Court issued a writ of kalikasan against them in relation to a petition seeking to protect Sibuyan Island in Romblon from environmental destruction due to mining activities. The writ of kalikasan is a legal remedy that aims to protect the rights of Filipinos to a healthful ecology.
Regarding the New Mining Fiscal Regime, HB 8937 (or An Act Enhancing the Fiscal Regime for the Mining Industry) was approved by Congress. It states that for mineral reservation for large scale metallic mines, royalty is 4% of gross output, while outside mineral reservation (also for large scale metallic mines), royalty is margin based. For small scale miners, it is 1/10 of 1% of gross output.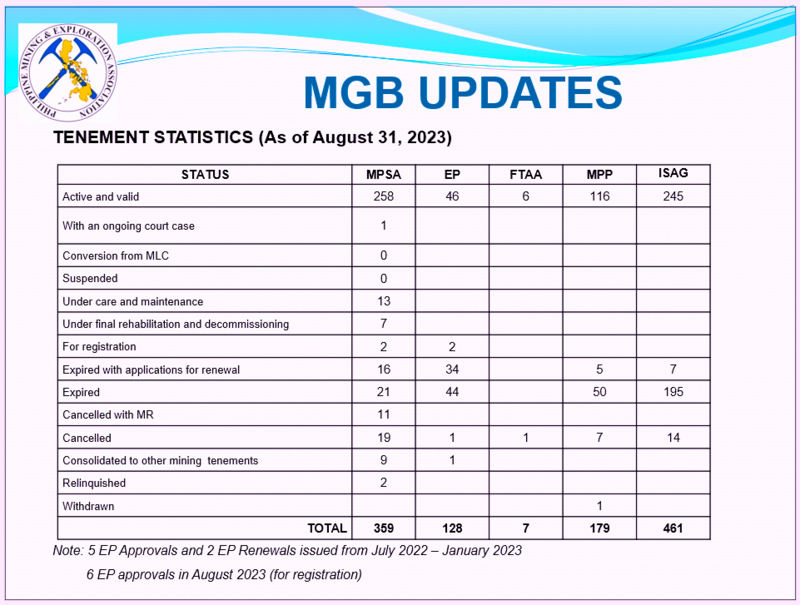 COMPANY NEWS
Celsius Resource Limited
DMPF for MCB Project has been approved.
Needs to convert EP in MPSA
Total resource of 338Mt @ 0.47% Cu and 0.12g/t Au at 0.20% Cu cut-off
Medusa Mining / X64 Limited
Still Voluntary Administrators effective July 2, 2023
In a voluntary trading suspension since Feb. 28, 2023 until now
Concerns on the 60% ownership in Philsaga
Mining and processing is ongoing as usual.
Lobo Project - Batangas
Bluebird Merchant Ventures Inc. to drill 34 holes totalling 5,666m
Initial target is the South West Breccia (SWB) prospect.
Egerton Gold MPSA
Sagittarius Mines Inc.
Finalizing plans, designs for start of construction of facilities.
Target start of construction in 2024.
DMCI
Plans to open 2 new nickel mines.
First will be in Zambales and is expected to be operational in December 2023.
Second will open 2Q 2024.
Kingking
MPSA renewed in 2016.
Fully permitted with ECC, FPIC and DMPF approved
Reserve of 618Mt containing approx. 1.9Mt Cu and 7.8Moz Au
Other topics:
For the National Unified IEC (NUIEC), Communication Plan has been presented by EON. There is a need for materials for their library on best practices, statistics, etc.
Indonesia launched its first carbon emission credit trading. Of note, 13 carbon credits is traded at $4.51/ton.