"The most critical metal required to drive the global electrification and demand for carbon-neutral economies is copper, simply because of its ability to conduct electricity."
~ Douglas Kirwin
During the February 2023 PMEA Monthly Membership Meeting, the keynote speaker for the evening was Geologist, Mr Douglas Kirwin. His topic was about "The Future for Copper: What it means to the Philippines".
Mr Kirwin's presentation discussed the significance of copper in the development and creation of green technologies. He also mentioned the challenges that may arise with the increasing demand for copper globally, and how the Philippines can benefit from this.
The Future for Copper in the 21st century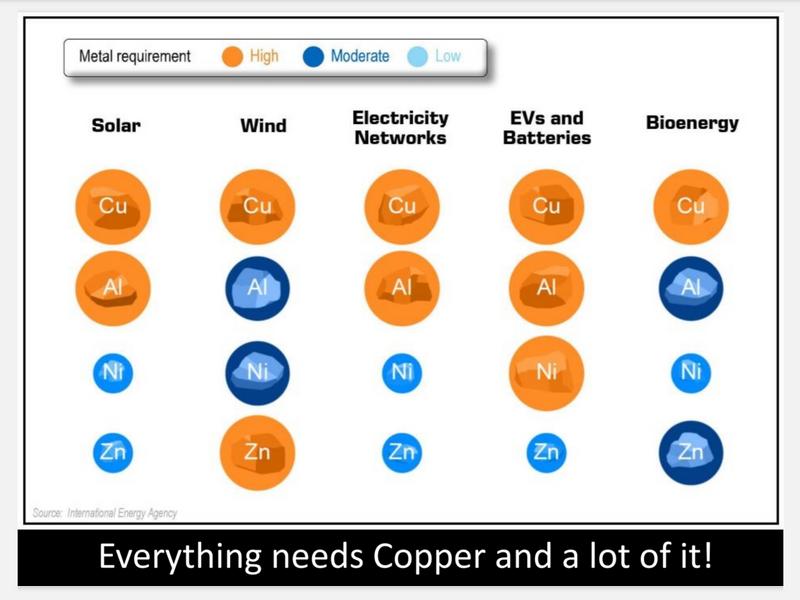 "As the industrialized world rapidly transitions to green energy and zero carbon initiatives, there are major challenges ahead with supply and demand of critical metals to achieve these goals," he explained.
"Renewable energy is derived from natural processes that are replenished constantly. In its various forms, it derives directly from the sun, or from heat generated deep within the earth. Included in the definition is electricity and heat generated from solar, wind, ocean, hydropower, biomass, geothermal resources, and biofuels and hydrogen derived from renewable resources." [1]
"Renewable energy systems are rapidly becoming more efficient and cheaper and their share of total energy consumption is increasing, with a large majority of worldwide newly installed electricity capacity being renewable."
Mr Kirwin mentioned that a major paradigm shift in the electrification of the world is the rapidly increasing demand and production of electric vehicles (EVs). EVs are considered the key to achieve a sustainable transport sector in the future because they have low to zero carbon emissions, low noise, high efficiency, and flexibility in grid operation and integration.
"The most critical metal required to drive the global electrification and demand for carbon-neutral economies is copper, simply because of its ability to conduct electricity."
Copper requirements in a decarbonized world: This illustration shows how much copper and other elements are needed to create various forms of clean energy technologies, like electric cars, natural gas, nuclear energy, solar panels / photovoltaic, onshore wind turbine, offshore wind turbines, etc.
However, Mr Kirwin stated, "Despite increased exploration spend for copper deposits, there has been a lack of recent world-scale discoveries to keep up with growing commodity demand. Exploration and mining companies worldwide face the challenge of finding mineral deposits to support an ever-growing global population." [1]
"The world's leading copper producers are unanimous in stating that copper supply growth is expected to peak around 2024, the result of very few projects in the works, and as existing mines are depleted, this is setting up a supply deficit of 10 million tons in 2035."
"To put this in perspective, this is equivalent of putting a new Escondida (the world's largest copper mine), into production every year. Obviously, this is very unlikely to happen, and so where are the world's future copper supplies going to come from?" [1]
What it means for the Philippines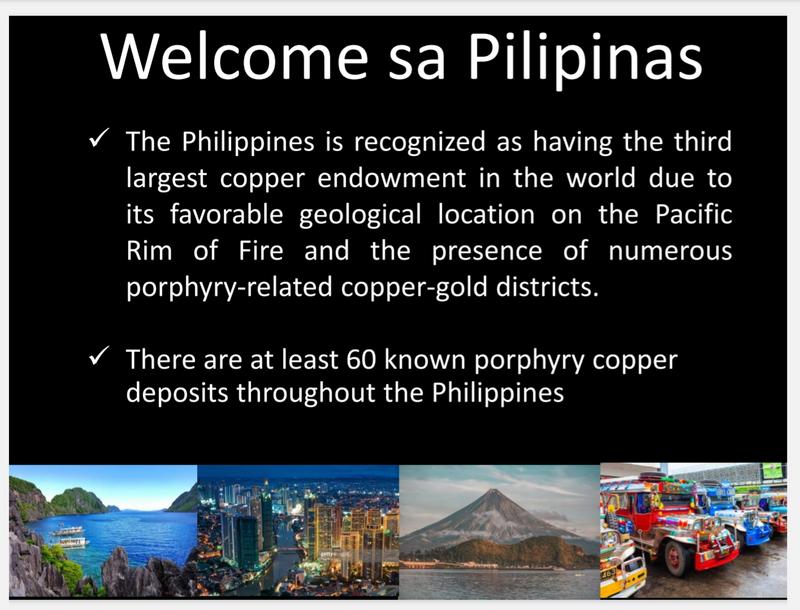 With the supply problem that may happen in the future, this is where the Philippines comes in.
"The Philippines is recognized as having the third largest copper endowment in the world due to its favorable geological location on the Pacific Rim of Fire and the presence of numerous porphyry-related copper-gold districts," he said.
"There are at least 60 known porphyry copper deposits throughout the Philippines and some examples are shown in Table 1. It is relevant to note that eight of these were past producers and that today there are only three in production, with Didipio being the only deposit developed in the past two decades. Despite this, a number of deposits could be developed within the next five years, including Tampakan, Boyongan, Bayugo, King King and Taysan, as they have drilled out resources." [1]
Table 1. Examples of Porphyry Copper-Gold Deposits in the Philippines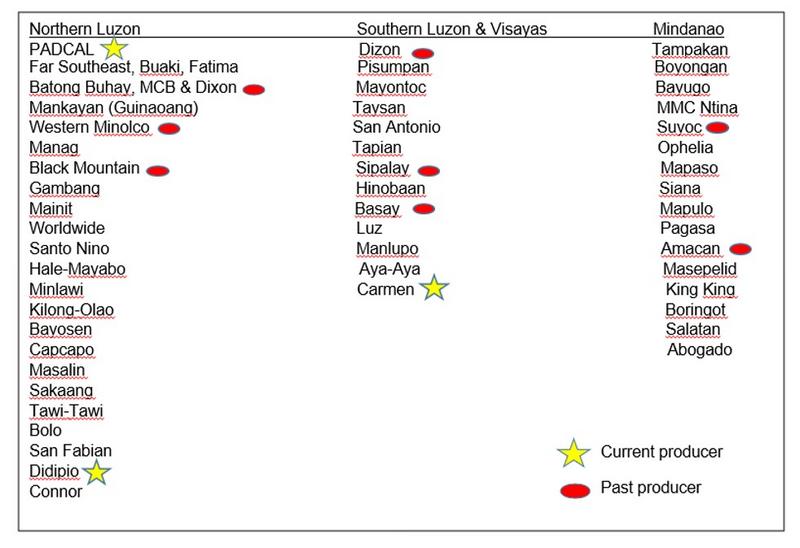 "As the inevitable copper demand-supply gap widens exponentially in the coming decades, the Philippines is perfectly positioned to become a major world copper producer. Some key criteria are; there are the number of large deposits that can be brought on line within five years with a very long pipeline for new mines within the next 20 years, many deposits have high gold credits and potential exists for low capex selective underground mining methods. There is also a scenario to greatly increase the capacity of the PASAR smelter to take advantage of greatly increased local concentrate production." [1]
Aside from copper, Mr Kirwin also mentioned the abundance of nickel in the Philippines. Being the world's second largest suppler of nickel in the world, the Philippines may tax nickel exports to follow Indonesia's success. Indonesia is the world's No. 1 nickel producer in the world. Based on the trends on the global demand for nickel for the past few years, here are some key points:
- Primary nickel demand in stainless steel is projected to increase over 5% this year, reflecting growth in China and North America, along with improved conditions in Europe and Japan.
- Longer term we estimate global nickel demand in stainless will continue to increase at a rate above 4% p.a., predominantly driven by China.
- Activity levels in non-stainless applications are also robust with nickel usage projected to increase over 6% this year.
- Going forward, non-stainless demand growth is forecasted at ca. 4% p.a., with strong contributions from China, India, and the USA.
- Overall, we project solid nickel demand growth at a rate of above 4% p.a. between 2014 and 2019.
Conclusion:
- To make this a reality, there needs to be new Government initiatives to attract major investment capital for the mining sector and implementation of industry standard environmental and social policies for responsible development.
- If there is the political vision and direction to revitalize the copper mining sector, the impact on the Philippine economy will be very substantial for decades to come. The time to act is now.
---
Reference:
[1] Kirwin, Douglas (6 Feb. 2023). "The Future for Copper: What it means to the Philippines". Presentation during the PMEA Monthly Membership Meeting. Manila Elks Club, Makati City
Graphs, tables, and photos – courtesy of Mr Douglas Kirwin