Austhai Geophysical's Senior Geophysicist, Ms Juthamard "Gael" Mhardsen on field work in Vietnam. She is currently the Philippine Country Manager of Austhai Geophysical (Philippines) Corp. [Photo by Ms Juthamard Mhardsen]
---
An Interview with Austhai's Country Manager
Since 2010, Austhai Geophysical Consultants Group has been working with clients in the Philippines. Through the years, they are involved with various Philippine mining exploration projects, serving over 27 companies. With their headquarters in Hong Kong and Thailand, they plan to open their first Philippine office in Makati City later this year.
Austhai Geophysical Consultants Group was established in 2008 to offer their expertise to clients in Thailand, China, Mongolia, South East Asia, and the Asia Pacific regions. In recent years, they have operation bases in Cambodia, Laos, Philippines, and Indonesia. [1]
To dig deeper into their company's origins and future plans, Philippine Resources Journal interviewed their Philippine Country Manager -- Juthamard "Gael" Mhardsen.
"Austhai Geophysical (Philippines) Corp. is part of the Austhai Geophysical Consultant Group established in 2008 in Hong Kong and 2010 in Thailand. We are providing expert advice and services for geophysical exploration and geotechnical investigations applicable to the mining, energy sectors, groundwater, environment, and construction."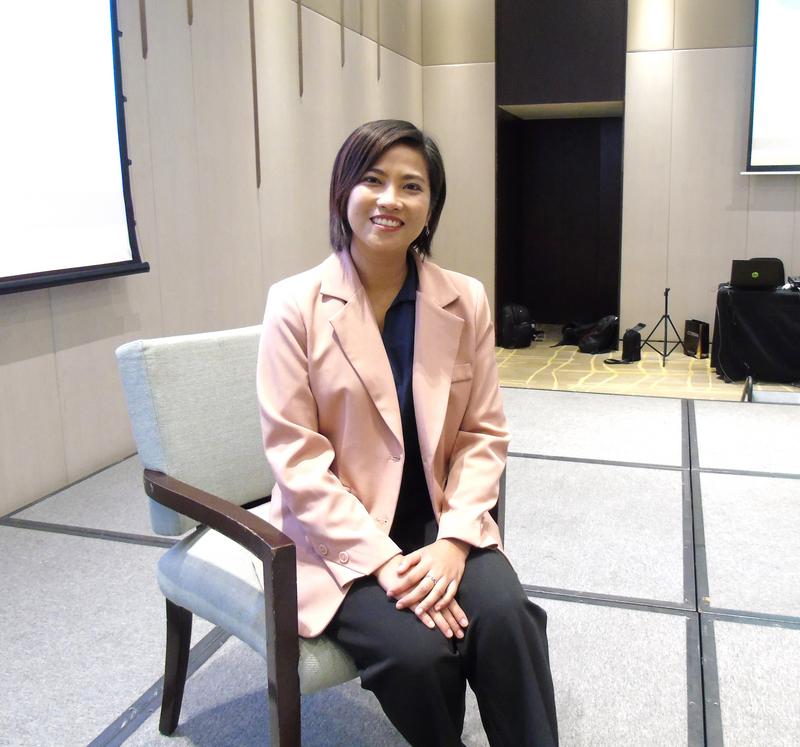 02 June 2023, at the Philippine Mining Club Luncheon in Seda Hotel BGC,
Ms Juthamard "Gael" Mhardsen (Country Manager of Austhai Geophysical (Philippines) Corp.)
[Photo by Marcelle Villegas for Philippine Resources Journal]
-----
Ms Mhardsen has a degree in Earth Science from Kasetsart University, in Bangkok, Thailand. She worked at the university as a Research Assistant from 2011 until 2012.
She shared that during her days at the university, "I was involved in several groundwater exploration projects in Thailand. I joined Austhai in 2012 as a field and processing geophysicist and handled several exploration projects in Asia Pacific, Southeast Asia, and Africa."
Ms Mhardsen has over 12 years of experience in the geophysical industry with data processing, supervising, and conducting geophysics field operation.
"I have worked throughout Thailand, Myanmar, Indonesia, Laos, Cambodia, Vietnam, Madagascar, and the Philippines. Now, I am pleased to use my experience to assist and support our client in the Philippines as Country Manager at Austhai Geophysical (Philippines) Corp. "
Sharing their Expertise
"Austhai Geophysical Consultants and Austhai Geophysical (Philippines) Corporation offer all services in geophysical exploration and geotechnical investigation ranging from project design, data acquisition, data processing, interpretation, and modeling," she noted.
"With over 14 years of international experience in remote and challenging areas and extreme conditions, our team is equipped to provide quality services to our clients."
Ms Mhardsen also emphasized that they are an authorized sales representatives in southeast Asia for several top-rated international geophysical equipment and instrumentation manufacturers.
Soon to Launch Office in Makati
"Austhai Geophysical Consultants was founded on 2008. Through the years, we did many projects across Southeast Asia, Asia Pacific region, and Africa region in 30 countries across the world."
"While Austhai Geophysical Consultants has operated previously in a joint venture arrangement within country partners, this will be our first independently run, standalone, Philippine-registered company."
To enumerate their involvement with Philippine mining companies, Ms Mhardsen shared a long list of local projects through the years.
"Austhai has been serving its clients in the Philippines since 2010 with our first project for Rapu-Rapu Minerals, and after that, we worked on several exploration projects for over 27 companies in the country such as Asian Arc Mining Resources Inc, Rugby Mining Ltd, Filminera Resources Corp, GHD Pty Ltd, Nickel Asia Corp, Tambuli Mining Inc, OceanaGold Corp, Inner Arc Alicia Inc, Philex/Silangan Mindanao Mining, Mt Labo Exploration & Development Corp, Crescent Mining & Development Corp, Apex Mining, Newminco Pacific Mining Corp, SEMCO Exploration and Mining, etc."
She mentioned that since then, they have established good relationships with their partners and clients even though they are based in Bangkok. "Austhai decided to open its Philippine office in Makati City in July 2023 so clients can easily access our quality geophysical and geotechnical services at the most economical rates within the Philippines."
Future plans of Austhai Geophysical
Ms Mhardsen announced that, "The Austhai Geophysical (Philippines) Corp is currently developing new UAV borne services such as UAV platform Radiometric surveys, UAV platform FEM surveys and hybrid UAV/Ground TDEM surveys."
"We are currently working with multiple clients within the Philippines providing UAV as well as Ground geophysical services. With Austhai's international experience, we commit to being one of the leading geophysical and geotechnical services providers in the Philippines. We want our clients to have access to high quality services using top-rated instruments and software, and highly experienced teams at reasonable costs."
Additionally, Austhai Geophysical (Philippines) will be exhibiting at the Mining Philippines 2023 International Conference and Exhibition on 19-20 September 2023 at EDSA Shangri-La Manila.
"We welcome everyone to drop by to discuss their geophysical survey needs with our team at the exhibition."
"Austhai Geophysical Consultants is also a major sponsor of the Philippines Mining Club Luncheon and Philippines Infrastructure and Construction Club Luncheon and look forward to catching up with clients, old and new at these bi-monthly events."
---
For more information on Austhai Geophysical Consultants, please visit their website and social media links:
Website: https://austhaigeophysics.com/
Facebook: https://www.facebook.com/AusThaiGeophysical/
Twitter: https://twitter.com/AusthaiG