Antrak Phils. and their Contribution in Nation-Building (Part One)
by Philippine Resources - November 05, 2019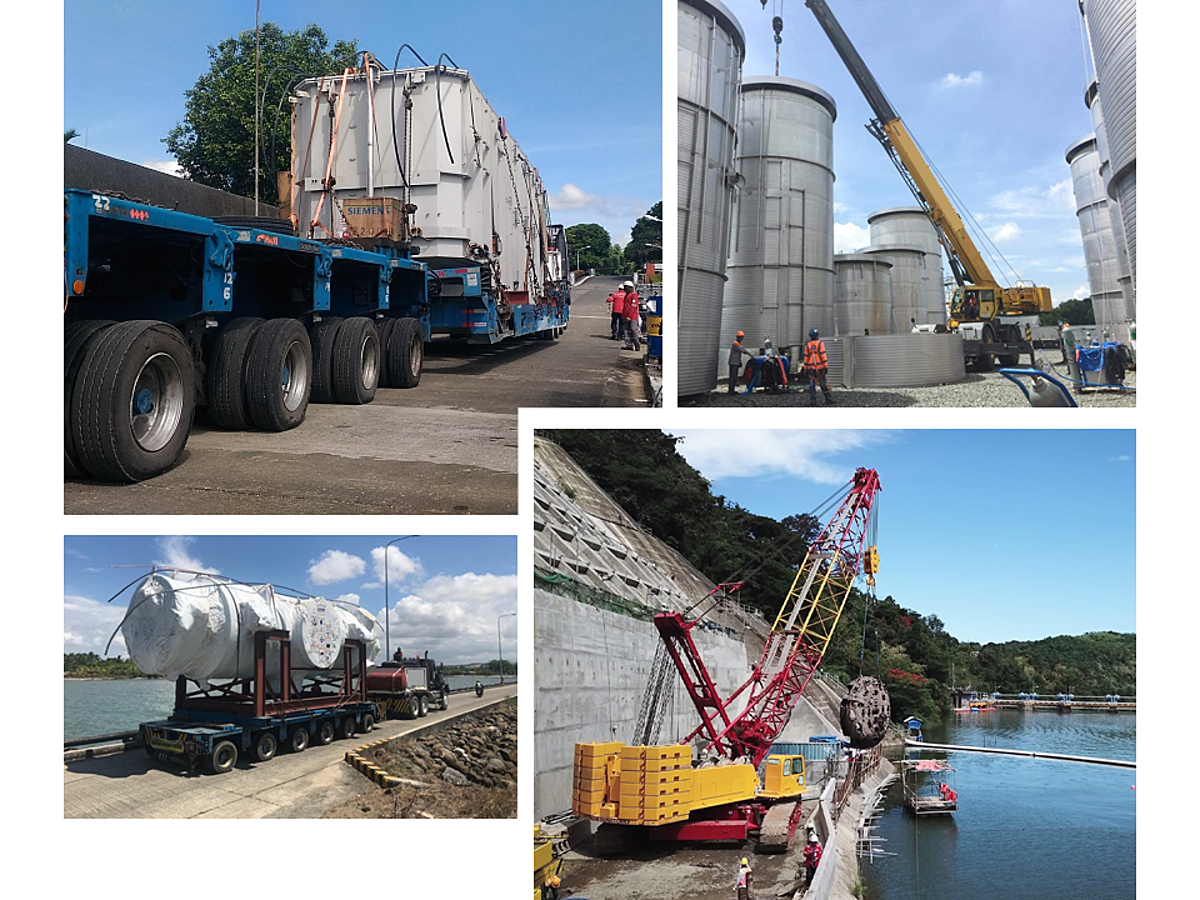 By Marcelle P. Villegas
"One thing that I am proud of being part of Antrak is that there are many things that we helped build over the years that actually helped the country's progress. We have done this by providing a professional logistics to construction projects for power plants, mining refineries, cement plants, water projects and other infrastructure projects. Sometimes, I may be out on the road and pass by a completed project and it may be a power plant, a processing plant, a cement plant or even a bridge and I suddenly get a sense of pride and I think to myself, that we're the guys who did the complicated delivery for this thing," Fernando De Achaval, Vice President of Antrak Philippines Transport Solutions Corporation.
Many successful infrastructure projects, mining operations or power plant projects became possible through the help of companies like Antrak Philippines Transport Solutions Corporation (APTSC). They offer transport and logistics services, but their support for their clients extends more than what we typically know about transport solutions.
To find out more about Antrak Logistics' track record in infrastructure, power, and mining industry, we interviewed with Mr Fernando De Achaval to tell us more about the company's origin, challenges through the years, and their business ethics centered on excellence.
Of note, the company has three ISO Certifications, namely: ISO 9001:2015 Quality Management Systems, ISO 14001:2015 Environmental Management Systems, and OHSAS 18001:2007 Occupational Health and Safety Management Certification.
For almost seven years, Mr Fernando De Achaval is the Vice President of APTSC. He is one of its co-founders as well in 2013. He is the former Project Manager - Industry Head for Mining and Renewable Energy at Hansa Meyer Philippines, Inc. Mr De Achaval studied Business Administration and Management, General from De La Salle University, Manila.
"Antrak is partly owned by Antrak Australia (Antrak Logistics Perth) with local shareholders, and Antrak Australia is 100% owned by Bolloré. The shareholders and I were working together in a previous company. We were all working together in Aboitiz Project TS Corp until Aboitiz Group sold their entire transport group sometime in 2011. The company then changed name to Hansa Meyer Philippines and we continued to work together under the new organization for another 2 years."
"We did eventually decided to move on and set up Antrak Philippines in 2013. How we did this is by taking over and changing the business purpose and changing the name of an already existing entity called Forwarding Document Services Inc. (FDSI). FDSI, which was established in 2008, was basically a BPO for Antrak Australia. Before the BPO was set up, Antrak Australia was having some issues hiring people in Australia so they decided to look at the Philippines. Initially, they hired and sent one person from the Philippines to Australia, then realized they didn't need a person physically in Australia. Thus the BPO was born."
"The BPO started with 5 people when it began in 2008 and it grew to 21 people by 2013," Mr De Achaval said. "In 2013, when we decided to make the move, all we needed to do was to do purchase agreements and share agreements. Once that was completed, we then executed the change of name and business purpose and we were up and running right away. This is how we now have Antrak Philippines Transport Solutions Corporation."
Their first project was for a shipping load out for Antrak Logistics Perth in Batangas for a mining project in Abidjan. This was followed by another client, FCF Minerals, for which they transported their mining fleet. "After this, we got our first power plant project -- Therma South which is Aboitiz' 2 x 150MW Coal Fired plant project in Mindanao."
"With regards to experience of the company, we worked mainly with power plant projects, mining projects and infrastructure projects."
"We did a lot of solar projects during the solar boom in 2015. In a little over a year's period, we did about 220MW of solar projects including the 130MW in Cadiz Solar Power Plant (Negros Occidental), the biggest one in the Philippines and which was at that time, was the biggest solar plant in Asia."
"We were also in Biliran on the Biliran Geothermal Project. We were the ones who customs cleared and delivered the drill rig (owned by Iceland Drilling) as well as moving the rig from drill hole to drill hole according to their drilling program."
"When the Biliran Geothermal Project was over, we then moved the drilling rigs for them from Biliran to Mindoro to their new project. Eventually, when that project finished, we moved the rig out for loading to an international breakbulk vessel."
"In mining, we worked with clients during exploration phase (working with the drilling companies) and operations phase (onsite logistics), like in Masbate Gold Project and OceanaGold Phils., Inc. They have been our clients since almost the start of Antrak Logistics Philippines."
He further explained, "In Masbate Gold Project at the moment, we're running to provide basically supply bases for them. Since Masbate is an island with not the easiest access for cargo, everything that is going there is passing mainly via barge. Thus, they have operation here in Manila. Suppliers would deliver to the port and we would receive and then load the barges. And when stuff comes back, we would then be the ones to also unload the barges."
Mr De Achaval mentioned one difficult incident at the port of Manila. "In 2005, there was a big congestion on the port, so we were looking for alternatives, because it was a challenge as it was hard to pull out and return containers. We then attempted to move the operation from Manila to Batangas, and realised it was not any better."
"Batangas was getting congested also because everyone was also trying to get out of Manila and moving there. Eventually the idea was broached to move the operation to Cebu.
There, we saved money and time for the client because of the lesser fuel expenses and the faster turn-around time as Cebu is closer to Masbate. In this setup, all their international containers now go down to Cebu. We also established a warehouse that we are operating for them. As we started to operate in Cebu, we were also able to suggest another cost-saving measure to the project."
"We realised that the project was paying massive amounts in container detention charges as they would keep the international shipping line containers for a long time on site. We then suggested to them that they (Masbate Gold Project) buy instead their own Shipper Owned Containers (SOC). Thus when the shipment arrived, we would strip the International shipping line container, store it in the warehouse and when it was ready to go, we loaded the shipment into their SOC's."
"For OceanaGold, almost everything was door-to-door basically. There are some suppliers that do ship on their own but we clear and deliver those to the site."
"For our experience in infrastructure projects, we delivered girders for bridges. We delivered the one in STAR Tollway (Malvar, Batangas). We are also currently doing a water project for an Italian company. We basically moved and did the lifting for their TBM (Tunnel Boring Machine)."
We asked Mr De Achaval how their business is doing so far this year in comparison to the past years. He replied, "Last year was not what was expected and the last two years, in fact, was not what we wanted. A lot of the projects were delayed. For example, we have a power plant project scheduled to start last year and the project just started on the second half of this year."
He explained that delays are usually caused by politics and bureaucracy in issuance or permits and also in which translates into delays in Engineering and Construction Contract award. "We also typically see delays happened in the early stages of the change of government administration."
"Before elections and early when the current President was just elected, we received enquiries for doing road surveys, feasibility studies in terms of budgetary costing for transport. We were also getting especially a lot of these for mining, because everybody was hopeful that there would be a mining boom again under the new administration. Later on, it quickly became evident that mining is not a priority in the new administration. Thus, nothing has progressed with the studies we did for the companies that engaged us to do them."
"Toward the end of 2018, we noticed that things started picking up. Enquiries started again and projects started happening. For 2019, we saw the activities even picked up more as more new projects started."
"At the moment, the company is focusing on the infrastructure such as train projects, water projects, bridge projects, and airport projects as this is the boom right now. For example, we deliver the passenger loading bridges the Cebu airport and in Iloilo airport. We are also chasing after clients for other airport projects in other parts of the Philippines."
We asked Mr De Achaval about the challenges he encountered during his past years as Vice President of the company. He said, "I am one of the founders of the company in 2013, and currently the Treasurer."
"In the beginning, everybody knew us, the country's top management reputation-wise -- Stefan Schmitz, JP Lim and I and even some of our key managers, because we all worked together for many years in Aboitiz. However, the clients didn't know the company Antrak Logistics in the Philippines. So before we got that first power plant project, the one of Aboitiz, one of the things that they told us was, 'We know you but if something untoward happens, then we want to know who is behind you and who can answer for whatever happened.'"
"Therefore, we explained who Bolloré was but, they didn't know who the group was in the local market. So the first challenge that we had was introducing the whole Bolloré group. It did take a while in the beginning to do that."
"When we started to work at Antrak Logistics, we did not realize how big the Bolloré group is. Bollore-Transport-Logistics is one of the largest transport and logistics companies in the world. They are also one of the oldest and largest operator in Africa. Bolloré Ports is also one of the largest port operators of Africa."
"Then you have the other divisions like the multimedia division and their blue solutions divisions which also contribute to the 23.024 Billion Euro turnover in 2018 of the Bolloré Group."
(To be continued)
For more information about Antrak Philippines Transport Solutions Corporation, please visit their website at https://www.antrak.com.ph/ .
Acknowledgement:
Thank you to Mr Fernando de Achaval and everyone in Antrak Philippines Transport Solutions Corp.
---