Stock Market Expert on PH Mining Club's Early Days
by Marcelle P. Villegas - November 05, 2019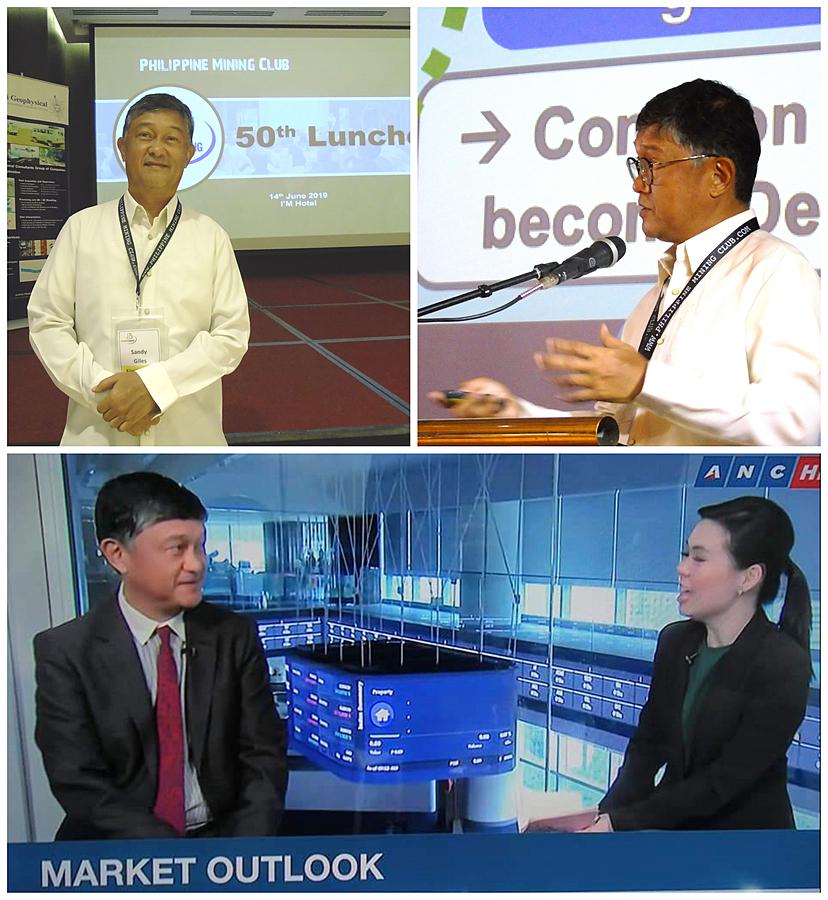 By Marcelle P. Villegas
Stock Market speaker, Mr Alexander "Sandy" N. Gilles, CFA, has been involved with the Philippine Mining Club Luncheon since April of 2011. It is a professional networking forum and event that provides a venue for mining industry executives, professionals, students and stakeholders. The club is affiliated with the Melbourne Mining Club and luncheon meetings are held every other month.
Last August, Philippine Mining Club (PMC) celebrated their 50th Luncheon Anniversary. On our previous edition, we featured an interview of its founder and Managing Director, Mr Kevin Lewis. This time, Mr Gilles shares his story about PMC's early days and the team's life behind the scenes.
Mr GIlles is a regular speaker and presenter at PMC for for five minutes of "Stock Watch" where he explains how to gain from stock market moves, whether of a mining company who is presenting its operations, or how to profit from any good economic news.
He is a Chartered Financial Analyst (he has passed three exams that are globally-recognized as the board exam for investment analysts) and lecturer on Philippine Stock Exchange seminars. He is a Consultant for Market Education at First Metro Securities where he educates retail investors (mostly beginners) in the stock market and in mutual funds.
Mr Gilles is a graduate of the University of the Philippines, with a cum laude degree in BA Communication Arts in Journalism. He has a Masters Degree in Applied Business Economics in University of Asia and the Pacific. He has been writing about the stock market since 1990.
He used to teach at the graduate school of business at De La Salle University. Every month, Mr Gilles is interviewed on ABS-CBN News Channel (ANC) and One World TV (formerly Bloomberg TV 5).
PRJ: How long have you been part of the PH Mining Club?
Mr Gilles: "From the beginning. Kevin Lewis approached me about setting up the first ever mining luncheon. We brainstormed and we helped one another find the first speakers."
"The first-ever speaker was Mr Fernando Moya of Vale Exploration Phils. He spoke about the work done by this Brazilian mining company. That took place five in 2011 or 50 meetings ago."
"I was privileged to be invited to speak on the Stock Watch. I describe the behavior of listed stocks in mining. I show the pros and cons of the Philippine stock market, and whether the audience can make or lose money by buying the shares. Why not do something practical and make a bet that the share prices might go up, assuming the future is bright for the mining company?
PRJ: What is it like being part of the Phililippine Mining Club events? What are the challenges behind the scenes?
Mr Gilles: "Organisationally, the event requires a lot of planning to make it happen. Hard work. We thank the Platinum, Bronze and Gold sponsors for giving their support and making the event possible. They contribute to the good of the industry, the community and society. They also get some advertising value. I wish that their sales go up, as a reward for their efforts."
"And then the good part is that people are very nice and they have a very good networking and community discussion about the challenges facing the country and the industry."
"The difficulties or challenges are in the details: sound system, lights, the projector, the food and the service. But we try to improve on these organisational details as we go along."
PRJ: In the past, do you have any encounter with anti-mining activists?
Mr Gilles: "No, in fact this has been a venue for bringing to light all of the hurts of the mining industry in the hands of other parties and whether the local mining industry can indeed play a part in nation-building. People here tend, for the most part, to be responsible miners who are thinking in terms of working with integrity and also how to do their share in nation-building and improving the exports of the country."
PRJ: Could you share with us your thoughts about the Philippine mining industry in general and how it is doing in the stock market?
Mr Gilles: "We have about 11 mining stocks listed. I think Nickel Asia Corp. is one of the bigger ones, and Semirara also. There are 8 or 9 relatively inactive stocks. They're in mining and oil index. I think that the more that profits go up, then the more that they can have more attention from stock market investors. The mining companies have to focus on steady, rising growth in net profits and that's how they will be able to promise higher cash dividends and be able to see higher share prices and greater participation."
"These days, mining stocks are doing poorly in the stock market, just a mirror of their lethargy at the mine sites. Generally, mining company shares are weaker than, say infrastructure stocks, or consumer stocks, or property stocks, or shares of stock of banks.
Those other ones are doing fine. They are experiencing strong demand and good sales. The mining industry is facing declining sales and net losses."
"Everyone seems to be against mining and sometimes for the wrong reasons because of misconceptions. So the mining industry is dealing with misconceptions, trying to wipe them aside, but along comes a new misconception."
"Mining industry does not have many friends. You could argue that maybe it deserves it reputation, maybe half of it is true. There have been environmental problems in the past, but the other part, that is also true that there are responsible mining companies."
"So if you give them the chance to prove themselves, they will not only dig the minerals out of the ground but rehabilitate and reforest afterwards."
"I understand there are many places where you can mine where the land is no good for agriculture because there are so many rocks in the ground where the plants won't grow. So when you remove the rocks from the ground and you replace it with topsoil, it does a favor to the environment."
"A lot more people need to see the many good things mining does so that they don't keep on harping on all the negative things that may have happened to a few of the mining companies in the past."
PRJ: Do you have a message to the readers of Philippine Resources Journal that you would like to impart to them about supporting further the Philippine Mining Club events?
Mr Gilles: "Dear readers, please keep inviting your influential friends and contacts to the Mining Luncheon. Refer also more sponsors. With better luncheons come better understanding between the mining executives and regulators, between the mining executives and the greater community, meaning all affected parties. I trust that the Luncheon does its share in promoting peace and understanding… removing prejudices and misconceptions."
"May there be a fair and free exchange of ideas so we can have some nice economic progress and strong mineral exports."
"Also, I would like the readers to contribute scholarships or provide contacts to help the college students of Geology and Mining Engineering. For the meantime, they might all have to apply for jobs abroad. But one day, when the business environment becomes more than 51% pro-mining in the Philippines, then they might all be able to come back from overseas jobs, and start working in local mines."
"It might take many years for the local business, opinion-leaders to be pro-mining. I think that due to resistance, not much exploration is being done. If there are explorations being done, they are stuck there. There is not much production. And where there is production being done, there is not much potential for export or refining. Not yet. "
"So a lot of things have to happen for the mining (and oil) industry to "find its feet" and start running. Lucky for other industries like banking and real estate, they don't have to suffer public-relations attacks. Their role in the national economy is now respected beyond question. I wish the same for the Mining and Oil industries."
---