Ensuring Environmental Protection: An Interview with Filminera's Engineers
by Marcelle P. Villegas - November 05, 2019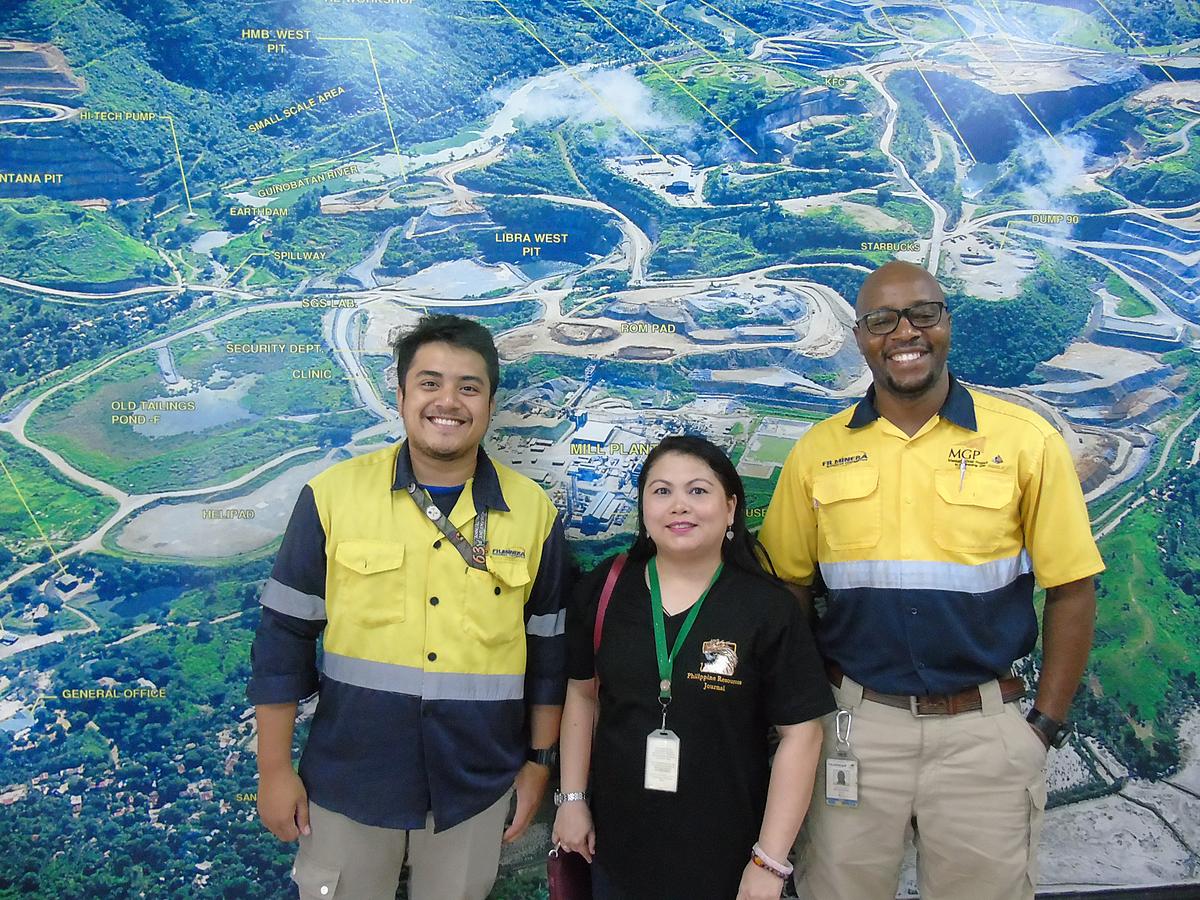 By Marcelle Villegas
Filminera Resources Corporation (FRC) is currently the largest operating gold mine in the Philippines. For the past years, Filminera greatly contributed in upgrading their host municipality of Aroroy from a fourth class into a first-class municipality. [1]
In order to fully understand the measures on how environmental protection is implemented in Filminera's mining operation, we interviewed Mr Patrick Paul Mkonyi (AVP Technical Services), Mr Nikko Vanell Dolino (Senior Mining Engineer) and Ms Maureen Rapsing-Bien (Senior Environmental Liaison Officer, Environmental Department).
In the creation of an open pit mine and extraction of ore, the process involves transfer of waste rocks and soil materials to uncover the valuable mineral-bearing material called ore.
The waste materials are dumped strategically to form a landform called waste dump. The size of a waste dump is determined by stripping ratio of the designed pit -- the ratio of the volume of overburden required to be handled in order to extract a unit volume of ore.
Stripping ratio can also be expressed in terms tonnage – tonnes of waste to be handled in order to uncover a tonne of ore.
Mr Mkonyi explained, "You cannot have a mine without a waste dump. It is like having a house without a toilet. You need a space where you can dump the mined waste in order to access the ore, to give you the mineral that you are after. Therefore, waste dumps must be designed to last forever, that means it must be geotechnically stable."
"Filminera waste dumps are well engineered, geotechnically tested and environmentally confirmed so it must conform with international engineering and geotechnical stability standards."
How are designs checked to further ensure safety? "We have different third-party bodies that assist us with the designs. They cross-check our designs for the government to accept it," said Mr Mkonyi. "All our waste dumps are geotechnically approved by third party, environmentally approved by third party and, also we have our in-house team that do the engineering and geotechnical work on much regular basis. Then, our Environmental Department takes over for rehabilitation."
"We have different parameters for different waste dumps. Let us take Syndicate waste dump as an example. For this waste dump, we started building from the bottom up. We built from the base of the mountain, upwards, and we built in 10-meter lifts. Since we have potential acid rock drainage here, we altered our practice of construction. Instead of doing 10-meter lifts, we changed to 3-meter lifts (or 3-3-4) in order to make sure that the compaction is well-maintained to prevent acid rock drainage to occur."
Filminera's Senior Mining engineer, Mr Nikko Vanell Dolino, manages the activities from groundbreaking to the closure of the waste dumps.
"It all starts with area selection," Mr Dolino explained. "We generally pick an area in which it would be advantageous for creating a waste dump, with lesser disturbance on the environment. Once an area is selected, we make sure that we follow the environmental laws and the standard best practices."
"When you disturb a vegetation, there are expected silts that will be washed away by running water when it rains. Therefore, we first create sedimentation ponds and other measures that would control siltation and make sure that it does not go to nearby water bodies."
"Initially, the materials to be dumped will first undergo sampling and testing for potential acid generation. Materials with high percentage of potential acid generation will be placed at the core of the dump. We and our third-party consultants make sure that these materials are isolated in order to prevent leaching."
Mr Dolino added, "Once we start building these lifts, we also place some controls or testing sites so that even though we have completed the dump site, we are still constantly monitoring the dump from these sites in order to determine chemical reactions that might be taking place within the dump."
The whole process is done in repetitive checking and in stages. Mr Dolino explained that upon finishing a 20-meter lift, they now proceed with rehabilitation of the slope. The rehabilitation process takes place concurrently with the construction of the dump. This is called Progressive Rehabilitation, and is handled by the Environmental Department.
The Senior Environmental Liaison Officer of the Environmental Department, Ms Maureen Rapsing-Bien, explained progressive rehabilitation. "In a mine site, the disturbed area at the end of the mine life must be rehabilitated or revegetated. This is required by the law. While the operation is ongoing, we start rehabilitation right away [on the portions where mining or construction is finished]. The advantage of progressive rehabilitation is that the end cost of operation is lower because it is done gradually, rather than spending on the whole rehabilitation stage at the last part of the operation."
She added, "When it comes to environmental protection, almost all companies do the same system such as waste management, water management, land rehabilitation, and others.
They just differ in the implementation."
Moreover, Mr Dolino added, "It takes time for the plants and trees to grow after revegetation. Thus, gradual revegetation is a smart way to manage time. While we are still working on some portions of the waste dump, somehow the completed spots of the waste dump already have growing trees and plants on it. Revegetation also increases stability of the waste dump."
"Also, since we are still working on the site while some portions are being rehabilitated, in case of failure in the design, at least the company is still there to immediately rectify it."
Mr Dolino explained that once they have reached the final layer of the dump, they place a cover that isolates the highly potential acid forming materials. "We have a 20-meter cover of good material (or non-acidic materials), then we revegetate the surface."
Mr Mkonyi stated, "The final cover must be engineered to meet geotechnical and geochemical criteria. The main purpose is to make sure that it encapsulates the potential acid forming material within the dump by allowing a saturation layer (porous layer) of material within the dump that stops oxygen from reaching the potential acid-forming material that forms the core of the dump."
"Excessive saturation of the material may cause instability to the dump, so it must allow some drainage to take place, thus we engineered the cover design for to meet this criteria.
We've constructed one on the Syndicate waste dump and we are still testing its performance. The Syndicate cover was designed by a third party consultant in collaboration with a well-known professor from the University of Alberta, Canada. The consultant visits twice a year to test the performance of the cover. So far, we have achieved very good results.
More samples have been sent to the University of Queensland in Australia for more testing."
On the strict protocols on how to ensure safety during the construction of a waste dump, Mr Mkonyi said, "We have procedures on site and in case we identify a procedure that does not cover all aspects of the activity to be performed, then we supplement the procedure with a tool called Job Safety and Environmental Analysis (JSEA). Safety is our No.1 priority so we don't expose our people to risk. We also have people who review all our safety measures and approve them. So it starts from the level of supervisor, superintendent and mine manager, and lastly to resident manager."
The capacity of the Syndicate waste dump is approximately 10 million cubic meters of waste. It was completed in 2018 and it took about three years to construct.
According to Mr Dolino, "A waste dump is limited to the maximum height that we can stockpile material. It is usually determined by how much waste material is excavated from the pit. We start with the numbers and then we translate it into a design that can contain volume excavated from the pit." This refers to the stripping ratio.
During the construction of the Syndicate waste dump, they encountered heavy rains. Mr Mkonyi relayed that at the start of the operation, they had one torrential rain in December 2015 that eroded part of the access that they were constructing. "The effect was not that severe. We were able to control that."
Mr Dolino added, "It was a good thing that we anticipate events like this so we can come up with controls or measures to prevent the worst from happening."
On responsible mining, Mr Mkonyi stated, "Being a mining engineer, you might think I am biased, but for me mining is everything, but you have to do it responsibly. If you look around, everything we see, everything we use are mostly from mining. It is how you practice mining that may make it look good or bad, but for us in MGP, we are a responsible mining company. We look after the community around us. We have certifications and we are being monitored. We pass the assessments."
Reference:
[1] Filminera Resources Corporation Corporate Brochure 2019
---