GEOCON highlights the role of Filipino Geologists
by Marcelle P. Villegas - March 18, 2019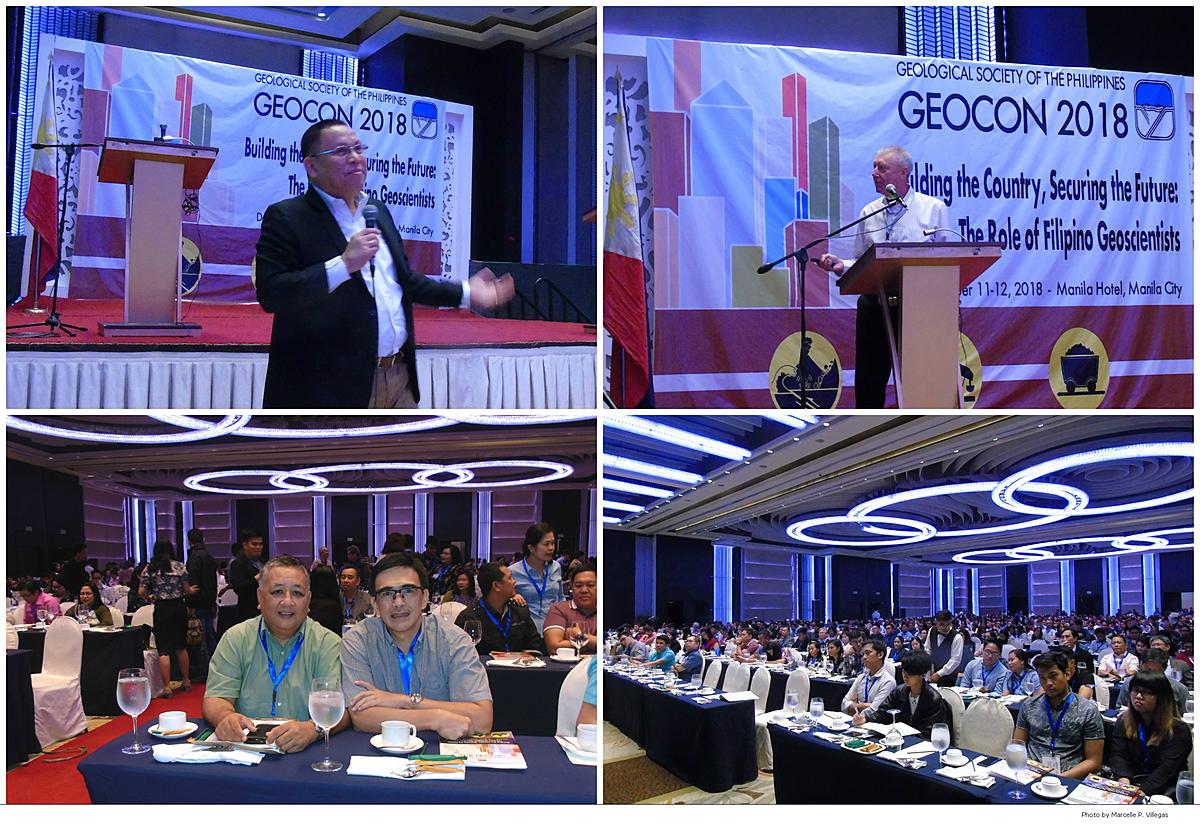 GEOCON 2018, Manila Hotel [Photo by Marcelle P. Villegas]
Highlighting the achievements and challenges in the field of geology, The Geological Society of the Philippines (GSP) presented the 2018 Annual Geological Convention (GeoCon) last December 11-12, 2018 at The Manila Hotel. GSP is a duly accredited integrated professional organization for geologists. The theme for this event is "Building the Country, Securing the Future, The Role of Filipino Geologists". The exhibit and convention was held at the hotel's Fiesta Pavilion which had over 900 attendees from different parts of the country.
The Welcome Remarks was given by Dr. Renato U. Solidum, Jr. who is the Undersecretary for Disaster Risk Reduction and Climate Change of the Philippines, Department of Science and Technology (DOST). Mr Alberto P. Morillo, 2018 President of the Geological Society of the Philippines, introduced the keynote speaker, Honorable Juan Edgardo "Sonny" M. Angara,
Senator and Chairman of the Senate Committee on Local Government/ Ways and Means.
Senator Angara's speech highlighted many important and critical topics surrounding the mining industry and the country's Science and Technology (S&T) status in general. He started by thanking the Filipino scientists and S&T professionals for the important role they play in powering our economy forward. Then he wished them to have a long life and an appeal for them to stay in the country. "Sadly, people like them are fast becoming a rare breed here in the Philippines," he states.
"We continue to lose our best and brightest… We may be exhibiting among the world's fastest economic growth rates but we remain among the world's top labor-exporters, with close to 10 million of our people working in greener pastures abroad."
He said that these migrant workers may bring important dollar remittance to the Philippines which keeps our macroeconomic position stable, but their talents and skills are utilized by another country rather than here where they are much needed.
"A 2017 ADB report found that of all the 2.79 million tertiary-educated ASEAN nationals who migrated to OECD countries between 2010 and 2011, around 1.55 million or 55.3% were Filipinos. Among ASEAN countries, we sent abroad the biggest number of educated professionals comprising a significant brain drain. In fact, we sent to OECD (Organisation for Economic Cooperation and Development) countries a little more than three times as many as the second largest labor-exporting ASEAN country--Vietnam with 539,000."
Additionally, he noted, "By some measure, I am sure that such brain drain is also felt in the industries and research areas where the members of the Geological Society of the Philippines are involved."
Sen. Angara discussed the following topics:
1) Failure to create high-paying, S&T-driven jobs - He stressed the general inability of our economy to create high-paying jobs in the field of science and technology. For this reason, most professionals in the scientific field (like geologists, engineers, etc.) end up working in New Zealand, Australia, Canada or UK for more lucrative jobs.
2) "But even government-research positions are unattractive." - The Senator stated that, "Our top scientists, engineers and researchers are forced to find opportunities abroad where their talents are well-compensated. A National Academy of Science and Technology (NAST) July 2014 press release said that since the Scientific Career System was institutionalized in 1983, only 147 career scientists have entered the system -- or little less than 5 new scientists each year for 31 years. Worse, out of the 147, only 47 were actually active in government."
Sen. Angara mentioned that they worked to respond to the issue by co-authoring amendments to the Magna Carta for Scientists, Engineers and Researchers (still pending in the House of Representatives) to counter this. He says that this entails removal of limits on honoraria or additional salary that scientists can receive from grants-in-aid projects, expanding the coverage to include non-DOST S&T personnel (such as the R&D employees of the DA), and granting five-year extensions to those up for mandatory retirement.
3) "This needs to be rectified soon because the lack of attractive S&T jobs in the country dissuades many of our youth from pursuing S&T courses."
4) "Such situation is unfortunate especially when S&T can play such a big role in solving many of the challenges we face today. Geologists and Geoscientists in particular could help the nation in any number of ways."
Additionally, he emphasised the significant roles of geologists in addressing more issues in the country such as, disaster risk reduction (in preparation for "The Big One" earthquake), infrastructure build-up, responsible mining, and energy security. Sen. Angara also emphasised the importance of making education available to all to provide opportunities to more children so they will be encouraged to pursue a career in Science and Technology.
Several technical papers and studies were presented for the two-day convention. "Landslides in Itogon, Benguet: The Triggers and Causes" was discussed by M. Madrigal et al. Another interesting topic presented was the "Typhoon Ompong-Induced Landslides and Debris Flows in the Mine Claims and Host Barangays of Itogon-Suyoc Resources Inc. in Itogon and Mankayan, Benguet Province: Emergency Preparedness Initiatives" by G. Rostata et al.
The environmental issue in Boracay was discussed by R. Agot et al with their study titled "Ground Penetrating Radar (GPR) Investigation of Buried Pipes along White Beach and Bulabog Beach, Boracay Island, Municipality of Malay, Aklan Province." Their presentation revealed photos which are striking evidence on how certain restaurants and resorts in Boracay have violated environmental rules and guidelines in managing their wastewater.
For Session 5 of day 1 of GeoCon 2018, the special guest speaker was Ms Marites Danguilan Vitug, RAPPLER's Editor-at-Large and author of the book "Rock Solid: How the Philippines won Its Maritime Case against China". Atty. Fernando Penarroyo, moderator of Session 5 described the book, "'Rock Solid' narrates the complicated maritime dispute by providing previously unreported details on the developments before and after the July 2016 arbitral decision." The author discussed her book during the event. Ms Vitug is a former editor of Newsbreak magazine. She won numerous awards such as the Philippine National Book Award in Journalism for her books "Power from the Forest: the Politics of Logging" and "Under the Crescent Moon: Rebellion in Mindanao" with Glenda M. Gloria. She also received the Courage in Journalism Award by the International Women's Media Foundation (U.S.A.) for her work that exposes plunder of Palawan forests. Her book with Criselda Yabes titled "Jalan Jalan:A Journey through EAGA" was chosen by Asiaweek as one of the best books on Asia in 1999.
Election for the 2019 GSP Officers and Trustees also took place during the GeoCon 2018. The induction of newly elected officers, trustees and committed chairs was held later in January 31, 2019 at PHIVOLCS Auditorium. This year's GSP Officers and Trustees are the following: President: Dr. Carla B. Dimalanta (President), Dr. Teresito C. Bacolcol (Vice-President), Dr. Jillian Aira S. Gabo-Ratio (Secretary), Dr. Victor B. Maglambayan (Treasurer), Dr. Karlo L. Queaño (Assistant Secretary), and Trustees Mr. Ciceron C. Angeles, Jr., Dr. Rene Juna R. Claveria, Dr. Betchaida D. Payot and Atty. Marissa P. Cerezo.
This year will be an exciting time for GSP as they prepare for the 75th year anniversary in 2020. GSP will also be hosting the GEOSEA conference on the same year.
Acknowledgement:
Thank you to Atty. Ronnie Penarroyo, Ms Marites Danguilan Vitug, Dr. Renato U. Solidum, Jr., and Ms Dianne Kay Orquina Namit.
---