The Mining Industry & Renewable Energy
by Philippine Resources - March 18, 2019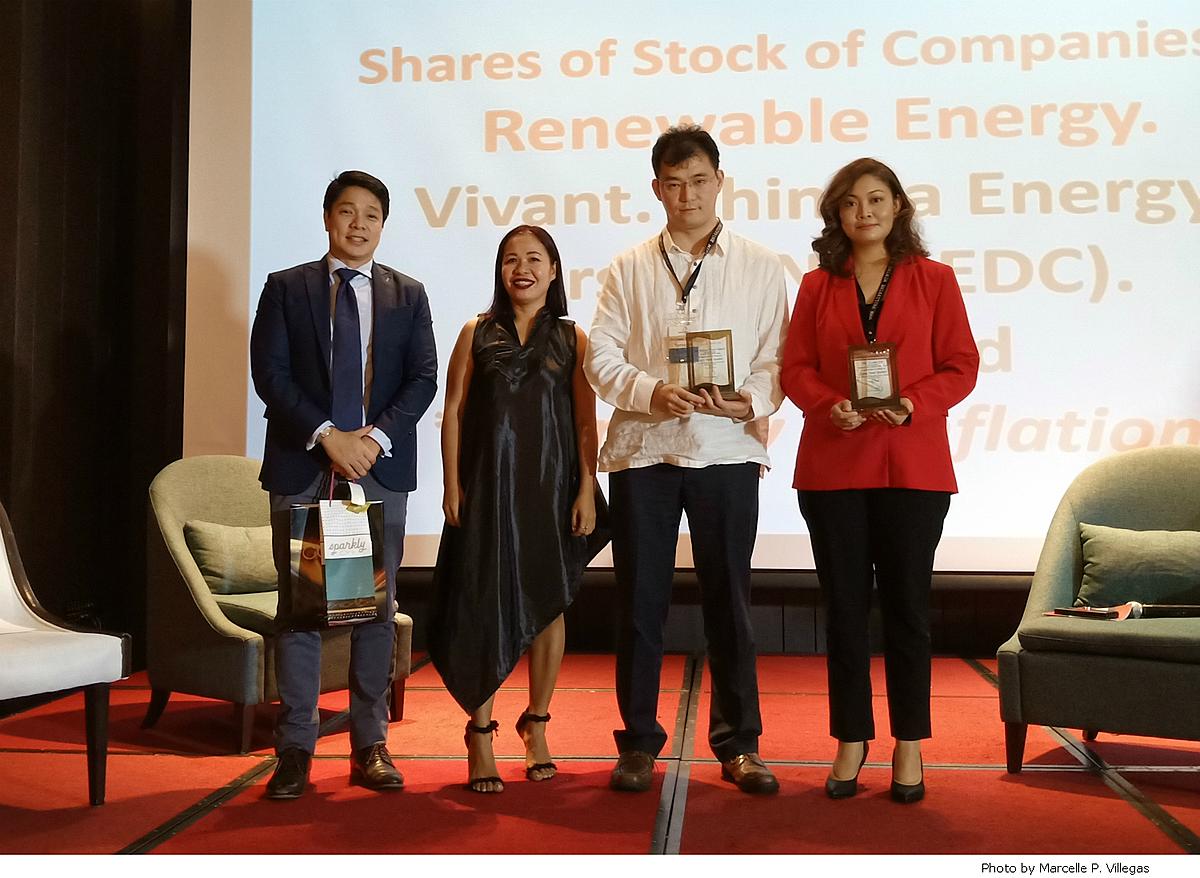 By Marcelle P. Villegas
Last October 12, 2018, Diwata-Women in Resource Development, Inc. brought to the Philippine Mining Club Luncheon a panel of 2 eminent speakers to discuss about the possible collaboration of renewable energy (RE) with the mining industry.
The topic for this meeting's panel is titled "The Mining Industry and Renewable Energy". The discussion covered the following: (1) Situationer on Renewable Energy; adoption by mining companies; (2) the business case for adopting Renewable Energy; and (3) Environment/Carbon Footprint Reduction.
The first speaker was Ms Claire Lee who is the Vice President of Philippine Solar & Storage Energy Alliance or PSSEA (formerly Philippine Solar Power Alliance). Her career in RE started in 2009, months after the Renewable Energy Law was passed, and she joined Solutions Using Renewable Energy Inc. as its AVP for Operations. Ms Lee was later assigned to rural electrification using solar home systems, and with her leadership, they were able to distribute and install over 10,000 solar home systems in the off-grid areas of the Philippines.
Ms Lee worked with Department of Energy and micro financing institutes and foundations where she helped the Government with their electrification targets. Additionally, she worked with U.S.A.I.D. where she led the group that installed the very first pure RE hybrid planned in Palawan. This hybrid system operated using clean alternative sources of energy such as wind, solar, storage and coconut shells. Ms Lee is also the Director of the Renewable Energy Association of the Philippines.
The second speaker in the panel was Mr Michael Tetsuji Yamazoe who is the Country Manager of Sindicatum Renewable Energy since 2016. Mr Yamazoe has over 15 years of experience in consulting and business development. He graduated with a degree in Biotechnology from the Imperial College London. Mr Yamazoe is also well-verse in Akiva Hebrew and Middle Eastern studies.
Mr Quintin Pastrana was the moderator and a speaker during the panel. Mr Pastrana is the President of WEnergy Power Pilipinas, Inc. He has over 20 years of leadership experience in the energy, natural resources and development sectors. Mr Pastrana studied in University of Oxford and earned a Master's Degree in Literature and Creative Writing, International Management and Public Policy Programme. From University of Cambridge, he has a Master's Degree in International Relations, Political Risk Mitigation and Competitiveness. He earned his MBA in International Management in Georgetown University, Washington D.C. He also studied in Ateneo de Manila University where he earned a degree in B.A. Political Science, minor in French Studies.
In the Philippines, he was a News Anchor and Associate Producer at Bloomberg TV Philippines for their daily broadcast of "Starting Gate" and "In the Loop". Currently, he is the co-host of "On The Money" and "Shop Talk" on ANC.
Mr Pastrana was named by the US-Asean Business Councils as one of its rising stars and also as one of the top Philippine young leaders by the Asia Society as a fellow at the Philippine Consul for Foreign Relations. He is the President of the award-winning Philippine Rowing Team. Additionally, Mr Pastrana is the Founder and Managing Director of the Library Renewal Partnership (LRP), a coalition of local and international partners that aims to empower over 2 million citizens by building at least 200 community education centers by year 2020, creating readers and leaders. (Please visit www.librarypartners.com.)
During the panel discussion and presentation, Ms Lee reported about the Philippine Solar Energy Update by PSSEA. "Since 2010 we have been very active in a lot of government consultations and we have contributed a lot to some of the RE laws that involved solar. Since 2010, we've also produced and organised the Philippine Solar Summit, an annual event," she said.
She explained why solar energy is good for business. "The Philippines is right in the middle of the sun belt geographically so we are very much blessed with a lot of sun."
Ms Lee presented the national RE roadmap which will be updated eventually. "As you can see, in RE, hydro and geothermal are the leading RE sources," she said.
According to Ms Lee, "For the mining group, I think solar, being scalable and versatile, efficient and easeness of its operation and maintenance, makes it an ideal energy source for mining operations. Since most of the mines are located in the remote areas, most of the time, I think some of the mines are using solar hybrid installations which is a hybrid between solar technologies and diesel operated. But soon enough with the development of storage technologies, a lot of these power plants or mini grids can be wholly solar in the future."
Mr Pastrana added that there is an intersection between mining and the renewables which is full of gap, hoping that this dialogue will bridge this gap, "...and more importantly have collaborations between our sector in the renewables and the mining sector which does need reliable power these days, and really integrating into your operations and your footprint."
When asked about how the gap can be bridged, Mr Yamazoe answered, "With regards to the mining industry, since the main topic is the bridge between mining and renewables, at the end of the day RE is part of the business. People talk about RE being good because it is green or because it has good CSR. But at the end of the day, my view is it has to have some kind of benefit to whatever corporation or company you are involved in."
He added, "Now, what the mining industry has to do at this point is to take a good look at the cost and the benefits of RE. Nowadays, people are saying that solar is coming down. I think solar now is actually under the price of coal in a lot of places. So you could effectively say in some ways that solar is now at parity with coal. Coal is a base load, solar is not. it is intermittent and therefore you cannot compare them as two apples."
Regarding the involvement of the mining industry with RE, Mr Yamazoe stated, "You've got to take a good look as to whether you are thinking of this as a kind of CSR green initiative or a true business, because that is where your raw investment in the industry or in RE would differ."
Mr Pastrana shared his insights. "Since I wear three hats as a moderator, someone in the RE sector and somebody who belongs to the mining sector, understanding your footprint and your needs and your pain points, let me just talk about a particular case study. It seems to be very typical of the mining industry where you've got generators in your mine, you've got self-sufficient power. Most likely those are fossil-fuel based."
"Secondly, you likely will be under the open access scheme under the EPIRA (Electric Power Industry Reform Act) where you can buy over 750 kilowatts from a generator and pay the distribution utility where PECO or Meralco [will give] a willing fee. So that's the practicality of it."
"The third thing is, those power rates are actually discounted because you're buying them wholesale. So going back to Michael's point, the question will be, are you at parity or is there enough of an economic advantage for you to contract solar or renewables or build on your rooftop, avoid the transmission cost and actually generate on your own, partially, as a CSR project or really as something that will transform your business models into making your overheads go down and become a true green company rather than a greenwashing company."
About Philippine Mining Club:
Running for 8 years now, the Philippine Mining Club is closely affiliated with the Melbourne Mining Club. The group was formed to create better relationships across all areas of the mining industry whose aim is to uphold a professional networking environment in promoting the exploration, extraction and minerals industry of the country.
---