Australian Embassy Hosts the Annual Journalists' Reception
by Marcelle P. Villegas - May 29, 2019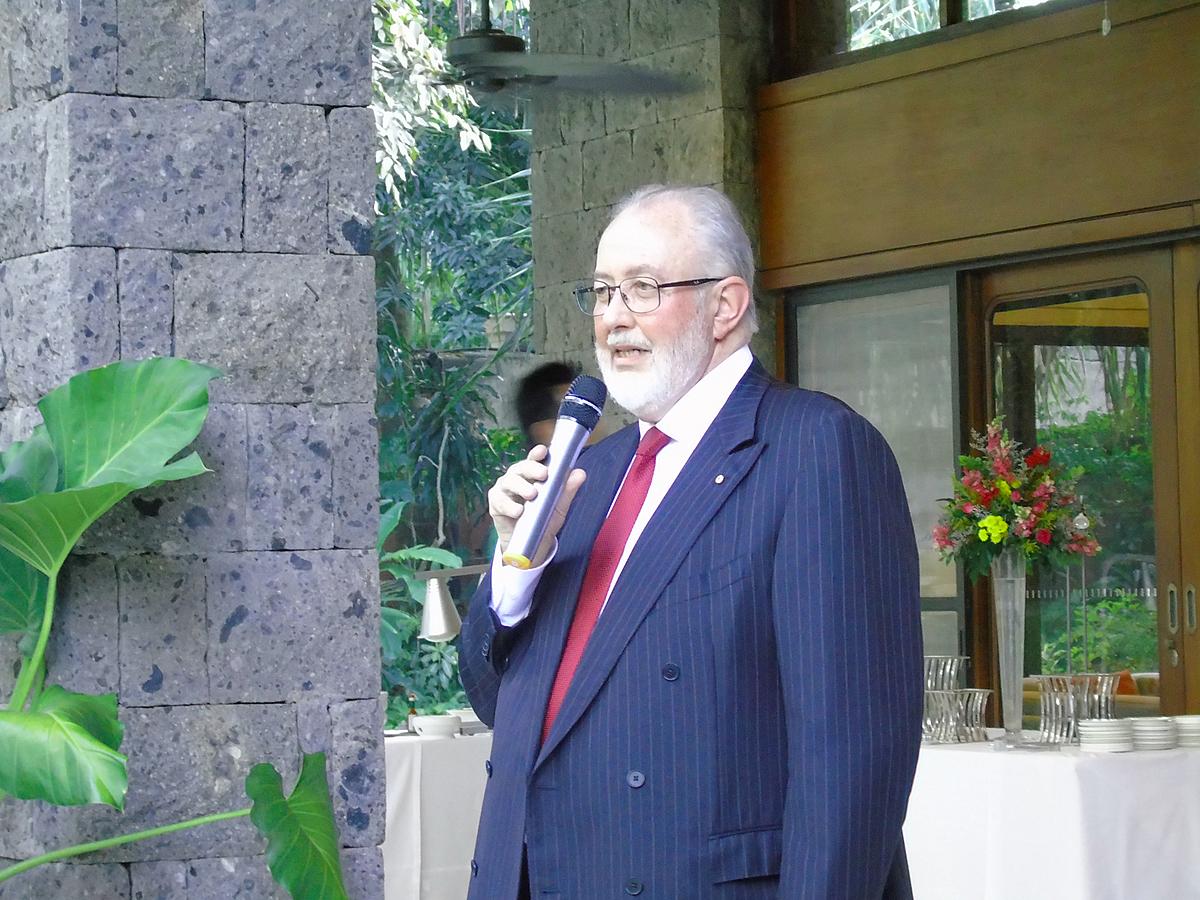 H.E. Steven J. Robinson AO, Australian Ambassador to the Philippines, at his residence during the 2019 Annual Journalist Reception [Photo by Marcelle P. Villegas]
Every year, the Australian Embassy in the Philippines hosts the Annual Journalists' Reception with a goal to provide a dialogue and interaction between Australian companies in the Philippines and the local media. Last 4th April 2019, the event was held at the residence of the Australian Ambassador in Makati City.
Present during the Reception were several business executives from various Australian companies representing banking, finance, mining, shipbuilding, telecommunication, education sector and more. The first part of the Annual Journalists' Reception was a business forum that was led by Ms Elodie Journet who is the Senior Trade and Investment Commissioner - Austrade. Other representatives from the Australian Embassy in the Philippines were Mr Mat Kimberley (Deputy Head of Missions), Ms Clare Duffield (Counsellor - Political and Public Diplomacy), Ms Nardia Simpson (Counsellor - Economic), Ms Kerrie Anderson (Counsellor - Development), Grp Capt. Ian Goold, CSC (Defence Attache), Det. Supt. Richard Stanford, APM (Senior Liaison Officer - AFP), Ms Elizabeth Carter (Counsellor and Chief Migration Officer), Ms Cristina Mojica (Counsellor and Chief Migration Officer), and Ms Jenni McEwin (First Secretary Economic).
The speakers during the forum were Ms Anna Green (CEO, ANZ Bank Phils.), Mr Wayne Murray (President, Austal), Mikhail Jao (Marketing Manager, IDP Education Phils. Office), Eric Yaptangco (Division Director, Macquarie Phils.), Bradley Norman (Country Director, OceanaGold Phils.), Mark Woolfrey (Exec. GM, QBE Insurance), Brett McPhee (GM, Site Skills Training Phils.), Russell Claxton (CEO, TWPS), and Mark Richardson (VP, TWPS). Other companies that participated were Crone, GHD, Greenstone, Qantas, and Telstra.
The discussion was centered on how Australian companies are helping the Philippines in economic development and other aspects like defence, education, mining, environment and more. Mr Wayne Murray, President and GM of Austal Philippines stated that they are working with the Philippine Navy and looking into a contract to build and provide six offshore patrol vessels (OPVs). This is in relation to the August 2018 Nikkei report that Defense Secretary Delfin Lorenzana of the Armed Forces of the Philippines said that they would be sourcing six OPVs from Austal. "Because it's an offshore patrol vessel, as the name implies, it's offshore, but it's not going to be for international use. It's for inter-island protection," according to Mr Murray. He noted that OPVs can be used in travelling in areas like Benham Rise and the Spratly Islands. [1]
Philippine Resources Journal interviewed Austrade's Senior Trade and Investment Commissioner, Ms Elodie Journet about how Australia is helping the mining sector in the Philippines given that the industry has been under a lot of setbacks and is strongly contradicted by anti-mining lobbyists. We also asked her about her views about mining in general.
Ms Journet said, "We [Australia], truly believe in sustainable mining. As a country, we have proven that you can actually have sustainable mining and we can have mining in environment. We've had very strong standards as well to it, to ensure that you can actually operate and protect the environment as well. For that, we've been very keen on looking at collaborating with the Philippine government and to ensure that we share our knowledge, share our standards, share also some of our latest technologies."
She adds, "We've got a very strong industry around mining, technology, equipment and services, so we've got a whole range of companies in Australia that are very keen on coming to the Philippines and collaborating as well."
With regards to best practices in mining, she states, "You've already got some really good mining operations here in the Philippines that had been winning awards as well in terms of environmental protection. Thus, I think it is just a matter of also being able to highlight some of those successes and also continue to build on ensuring that in order to protect the environment further."
What were the measures done by Australia in order to help the Philippine mining industry? Ms Journet said, "We have taken delegations from DENR to Australia. Every year, we host the International Mining Conference in Melbourne. The conference is all about presenting some of the latest techniques and sharing of information. We took the delegation from DENR there to be able to see some of our operations in Australia."
"There are many areas in Australia that are successful mining operations and right next to it you have great agricultural land. We've got great tourism industries as well so it's a great way to actually look at how can you contribute to the community as well. Indeed, mining and agriculture can co-exist."
She added, "I think the Philippines has already got some great guidelines in mining. It is really looking at how do you help the industry follow some of the implementation as well. We are happy to partner with the Philippines in that way."
This year's Journalists' Reception is the first one with the new Australian Ambassador to the Philippines, His Excellency Steven J. Robinson AO. Although this event was not his first time to have a gathering at his residence, the Annual Journalists' Reception this year is somehow one of the first instances when he faced a wider range of journalists from various media outlets, publications and TV networks. During an open forum with him, the Ambassador eloquently answered a battery of questions from his guests that touched many subject matters about politics, agriculture, economics, defence, his first encounter with the Philippine President, Australia's standing about the South China Sea dispute, his impression of the Philippines, and more.
Ambassador Robinson arrived here in the Philippines early in January 2019, two weeks before the celebration of Australia Day (24 January 2019). During the Annual Journalists' Reception, he mentioned that one of the first things he did as ambassador was to visit Marawi in order to continue the work that was endorsed to him by the former Australian Ambassador, Honourable Amanda Gorely. As of October 2018, Australia increased their support to Marawi's recovery and rehabilitation to Php975 million (AUD25 million). Australia's effort aims to bring long-term peace and stability in the southern Philippines following the siege of Marawi City in May - October 2017. [2]
The Ambassador shared that his first visit to the Philippines was around 40 years ago during his college years. "At that time I was struck by the archipelago's natural beauty, I experienced the warmth of the Filipino people and felt the dynamic energy of the cities of Manila, Cebu and Zamboanga. It seized my attention and I have returned many times over the intervening years. So it is a great honour and a privilege to return here now as Australia's new Ambassador to the Philippines." [3]
Ambassador Robinson is a senior career officer (Deputy Secretary level) in the Foreign Affairs and Trade portfolio. In 2009, he was made an Officer of the Order of Australia (AO) "for service to Australia's international interests through a significant and sustained contribution". The Ambassador holds a BA (Hons) and Diploma in Education from the University of Sydney.
- - -
References:
[1] Mogato, Anna Gabriela A. (8 April 2019). "Australian firm eyes Philippine Navy contract for patrol vessels". Rappler.
[2] "Australia Increases Support to PHP 975 Million For Marawi Recovery"
Retrieved from https://philippines.embassy.gov.au/mnla/medrel181026.html
[3] H.E. Steven J. Robinson's speech during Australia Day Celebration, 24 January 2019
Retrived from https://philippines.embassy.gov.au/mnla/speech20190124.html
---