Economist Dr Bernardo M. Villegas on Nickel Mining Sustainability
by Marcelle P. Villegas - May 29, 2019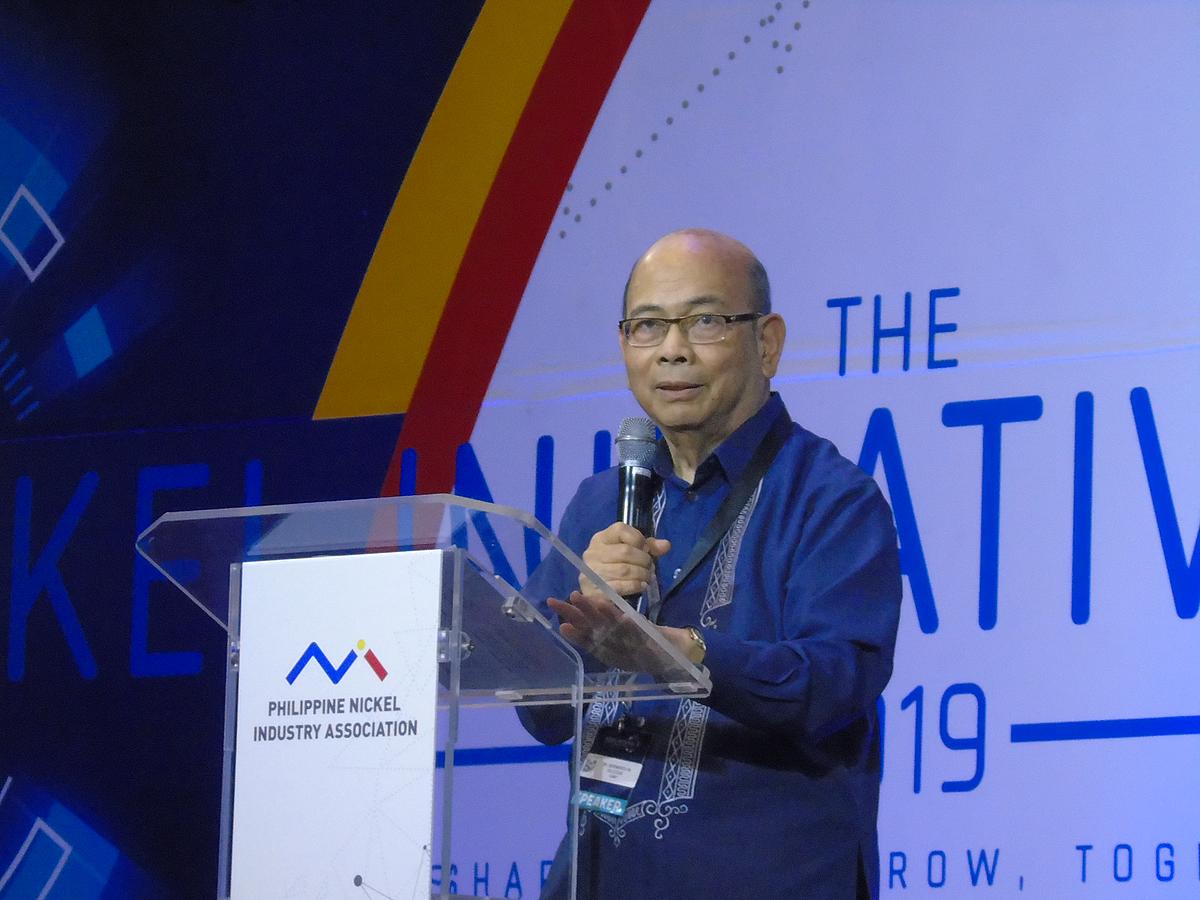 Last 19th of March 2019, Dr. Bernardo Malvar Villegas was one of the special guest speakers during the Nickel Initiative 2019 Conference which was held at Shangri-La at the Fort in Taguig City. He delivered the Closing Keynote Presentation with the title "Nickel Mining Can Be Sustainable". His speech mentioned the vital role of the Philippine government and its agencies in helping the local mining industry become successful and sustainable. Additionally, he offered proactive solutions on how University of Asia and the Pacific (UA&P), through its Centre for Corporate Responsibility, can help the government and the nickel industry in establishing sustainability, policy and structure, training and communication, stakeholder dialogue and measurement and verification systems.
Dr. Bernardo M. Villegas is a well-known Filipino writer, professor and economist. During the time of President Corazon Aquino, he was a member of the Constitutional Commission that drafted the Philippine Constitution. Through the years, he has always been an advisor to recent Philippine Presidents.
As of 2013, he is the Senior Vice-President at the University of Asia and the Pacific. Dr. Villegas is also the Chairman and Research Director of the Center for Research and Communication, and a member of the Board of Trustees of the Makati Business Club (MBC). The MBC is a forum that addresses economic and social policy issues that affect the country's development.
Aside from being a professor at UA&P, Dr. Villegas is also a visiting professor of IESE Business School, a graduate business school of the University of Navarra. IESE is one of the world's leading business schools with campuses in Barcelona, Madrid, Munich, New York and São Paulo.
Dr. Villegas is a Certified Public Accountant in the Philippines. He has a degree in Commerce and the Humanities from De La Salle University, both with Summa Cum Laude honours. Dr. Villegas earned his doctorate degree in Economics at the Harvard University. At age 21, he became a teaching fellow at the College of Arts and Sciences in Harvard University. In 1972, he received the TOYM award (Ten Outstanding Young Men). His other awards include those from Fulbright, Johnson Foundation, Asia Foundation and the Instituto de Cultura Hispanica.
With all his awards and achievements here and abroad, the 80-year-old professor is considered one of the best economists in the country with his excellence and wisdom in his field and in addressing issues concerning national development.
- - -
SPEECH OF DR. BERNARDO M. VILLEGAS
AT THE NICKEL INITIATIVE 2019
(19 March 2019, Shangri-la at the Fort, BGC, Taguig City, Philippines)
"Nickel Mining Can Be Sustainable"
by Dr. Bernardo M. Villegas
It would not be an overstatement to say that the Philippine mining industry has gone through a self-inflicted environmental and political crisis over the last two or three years. The environmental crisis can be attributed to real damage caused to the Philippine environment by some mining firms that resulted in either suspension or closure of mining operations.
The political crisis resulted from decisions made during the early years of the Duterte Administration that exaggerated these violations of rules of sustainable development to the complete disregard of the many positive contributions of the mining industry to income growth, poverty eradication and employment generation. Politics is the art of the possible. It always involves balancing different societal objectives. Some of those who formulated mining policies at the beginning of the present Administration were not able to do the necessary balancing act among conflicting objectives. They gave short shrift to the economic benefits of the mining industry.
The Centre for Social Responsibility of the University of Asia and the Pacific (UA&P), led by Dr.
Colin Hubo, is doing its best to help both public officials and private investors attain the appropriate balance among the objectives of income growth, foreign exchange earnings, employment generation, poverty alleviation and environmental protection. This is especially important in the nickel industry because the Philippines has become the world's second largest supplier of nickel ore which has surpassed the production of the former top contributors such as gold, silver and copper. In 2016 and 2017, the country exported 577,000 metric tons of nickel. In 2017, nickel ore exports totalled 230,000 metric tons—a third less than the 2016 figure—but still raked in $455.21 million (P224.533 billion) for the country. In fact, the Philippines has been the world's top nickel producer in decades past, but the shifting local political landscape combined with real environmental concerns forced it to lose ground to Indonesia.
Indonesia has capitalised on our country's uncertain situation as regards mining policies and kicked its production into high gear to feed the mineral-hungry economy of China. It has to be pointed out that as emerging markets like China, India, the Philippines, Indonesia, Vietnam and other countries in the ASEAN grow at an average of 6 or more percent in GDP in the next decades or so, there will be an explosion in demand for the first applications of nickel, such as stainless steel, nonferrous alloys, alloy steels and castings, plating, and batteries. Rapid industrialization and urbanisation in the Asia Pacific region will see an increasing use of nickel-based products in Architecture, building and construction; process engineering, oil, gas, and power; food contact materials; pulp and paper; transport; healthcare; consumer products and water.
Nickel is used in myriad products, especially in the ongoing fourth industrial revolution, because of the following qualities: high-melting point; resistance to corrosion and oxidation; highly ductile; alloys readily and can be fully recycled. The last quality gives nickel very high points in sustainability.
Researchers at the Centre for Social Responsibility of UA&P has identified the following multiple challenges facing Philippine nickel miners in the coming years:
a) First, what was once one of the most liberal mining regimes in Southeast Asia is now subject to a government crackdown that shows no sign of relenting, even with significant changes in leadership. As noted by Amanda Key in an article for Investingnews.com, "For now, one thing is certain: the direction the Philippines goes with its mining policy moving forward will impact the global nickel market."
b) The second challenge is to produce the right type of nickel ore that end-users, such as Chinese companies, will use to produce anything from stainless steel to batteries to electric vehicles. A recent Standard and Poor's analysis of the global nickel market indicates that most nickel producers started their operations geared toward producing nickel sulphide ores. When these ores became scarce, the market gravitated toward laterite ores that are costlier to extract.
c) Finally, local nickel miners have to decide what grade of ore to produce that would make the most profit, given the generally falling prices for the metal in the world market. Mining firms are slowly shifting to shipping medium-grade ores amid declining prices of the usual low-grade nickel ores—ninety percent of which goes to China from the Philippines.
Dante Bravo, President of the Philippine Nickel Industry Association (PNIA), remarked in a recent forum: "For the long term, this would mean that some mines might slow down in their production in the coming years depending on the area being mined. The shift would have to make adjustments depending on mineralization." Despite some of these uncertainties, there is still a mood of optimism among the nickel miners because of the many uses of nickel in such sunrise industries as electronic vehicles, construction, consumer goods, health care and housing.
The more enlightened members of the nickel industry, most of them active in the Philippine Nickel Industry Association, have provided a group of researchers in the Centre for Corporate Responsibility of UA&P concrete evidence that sustainability is very high in their priorities as they truly espouse the triple Ps: People, Planet and Profit. As a group, PNIA members have planted over 4.2 million trees in Caraga and Palawan as part of ongoing progressive rehabilitation and reforestation in several mining sites.
This initiative is part of the efforts of the nickel miners to offset its mining footprint with a green footprint. The reforestation effort includes planting endemic trees and grass species such as agoho, mahogany, giant bamboo, and narra, as well as fruit-bearing trees like calamansi, cashew, jackfruit, and cacao, among others. Tree planting in vast forest areas can employ numerous rural dwellers who are among the poorest of the poor in the country, including members of indigenous tribes. The increased supply of these fruit products can also help in slowing down inflation as middle-income households increasingly turn to fruits and vegetables for healthier diets. Cash crops such as rubber, coffee, vegetables and herbal plants have also been planted in the mine sites' respective nurseries. Apart from providing employment to the residents, the program also allows the companies to help their respective host communities by donating seedlings in support of various greening initiatives. This has given birth to an emerging downstream industry, agro-forestry which also focuses on the community's livelihood beyond mining. The reforestation program is part of the nickel industry's commitment and contribution to the government's National Greening Program which aims to revegetate some 1.2 million hectares of "unproductive, denuded, and degraded" forest land nationwide from 2017 to 2022.
Thanks to the responsible nickel mining firms who are actively engaging their respective local government units in their operations, there is an ongoing dramatic shift of local government authorities in their attitudes toward mining activities. LGU heads realize that their active participation in the development of the mining industry is essential to sustained mining development. This new position has been reinforced by the fact that there are initiatives to require mining companies to pay directly to local government units (LGUs) in mining areas their 2 percent share of the firms' gross sales as local business tax. The past practice was for the national government to collect the levy and then distribute this to the LGUs. There is also an increasing participation of local government authorities in getting informed consent of communities prior to the exploration or site investigation and prior to reaching decision on a development, management or concession agreement.
There is also a very healthy trend in which nickel mining companies are participating actively in regional economic development. Whereas in the past, the benefits of mining had been very limited to a relatively few areas, leading nickel mining firms are making significant contributions to building strong local economies which are more balanced and dispersed, with greater social equity. Some of them are experimenting with innovative partnership with LGUs and are pursuing different development models. To expand their multiplier effects on a broader regional level, some of the leading mining companies are collaborating with Regional Development Councils to increase the participation of stakeholders in planning and administration and improving the access of marginal groups in mining-impacted communities to resources and opportunities. It must be pointed out again and again that most mineral ores are found in remote and mountainous areas where there are very few sources of livelihood. The legitimate concern for sustainability of the environment must be tempered with the need to address the serious extreme poverty situation in mineral-rich territories.
There is no substitute to a tripartite cooperation among the Government, the mining companies and civil society. There is increased evidence that nickel mining companies are investing in the upscaling and empowerment of host communities in partnership with various groups in order to pool resources and capabilities. The LGU is expected to give approval to the operations, help in getting access to ODA funding, strategic co-ordination through the Regional Development Plans, exercise its new decentralised powers and allot budgets for long-term provision of public services. In its turn, the mining enterprises are expected to source some of its raw materials from the localities, invest in human resource development, make available supply chain facilities, provide project management, construct operational infrastructure, establish certain ethical standards and provide operating funds. Civil society organisations have the advantage of local knowledge, longevity of local presence, independence of views, relevance to household livelihoods and greater capacity to mobilise communities. Civil society is also in a better position to champion environmental sustainability.
The way forward for the Philippine nickel mining industry is to integrate sustainable and responsible policies and practices in its core business. The current push for voluntary sustainable mechanisms (codes, policies, guidelines), for example, is a positive step towards integrating social responsibility as part of the mining agenda. At present, there are several methods used to incorporate sustainability into the core business of mining enterprises. Among these are:
-Industry-specific codes of conduct such as the Chamber of Mines Code of Corporate Social Responsibility.
-Company-specific (internal) codes of conduct and policies.
-Sustainability guidelines from international institutions such as World Bank disclosure policy, Global Reporting Initiative (GRI), Extractive Industry Transparency Initiative (EITI)
-Pressure from civil society.
The application of these methods will surely have long-term positive benefits as can be gleaned from the experiences of other mineral-rich countries. These include:
-Raising the acceptable threshold for mining industry sustainability performance and standards;
-Providing some leverage upon which mining stakeholders can hold companies accountable if a company fails to implement its own code or policy;
-Raising awareness of external factors affecting the core business activity and financial viability of mining firms.
It is even more important than ever to demonstrate that industry support for sustainability goes beyond mere rhetoric and is translated into concrete action on the ground. The Philippine nickel industry has to counter prevailing perception that supporting sustainability is only a public relations gimmick but really involves a change of priorities. To accomplish this, the industry can come up with an industry sustainability code which is not only transparent but open to independent monitoring and verification by third party experts and the academe.
Some degree of third-party involvement must be in place to ensure transparency and accountability. Furthermore, for sustainability codes to raise the bar of industry performance, it must be based on minimum internationally agreed standards such as the ILO code of human rights among others. The industry needs to put in place "Disciplinary" measures for members who refuse to sign or adhere to the industry code, policies and guidelines.
More than other economic sectors, the mining industry cannot be left to free market forces alone. The role of the government is indispensable. Experience in other countries has shown that it is vital that governments themselves are genuinely committed to needed mining reforms and these reforms command a strong degree of government support and regulation. In the case of sustainability, the government, or more specifically the Mines and Geosciences Bureau (MGB) itself must be strongly committed to the "government case" for pursuing the sustainability agenda. It cannot be achieved by prescription from external agencies.
The "government case" has to be built up by a process of dialogue, which in turn means creating or adapting institutional frameworks for discussion, consolation and negotiation. The process by means of which the MGB eventually builds sustainability policies is as important as the policies themselves. Dialogues must be the core in the development of sustainability policy for the nickel mining industry.
It must also be kept in mind that "voluntary" sustainability mechanisms are not easy solutions to all mining dilemmas. It is imperative that partnership with non-corporate stakeholders is established to achieve the necessary improvements. These partnerships can yield the following advantages: they can confer greater legitimacy to mining activities because of multi-stakeholder involvement; they can encourage companies to work together to raise the bar of performance; they can allow mining firms to share capacity building costs; and they can allow corporations to address external factors beyond their core business activity. In this regard, a strong link between academe, industry and government can help the "business case" for sustainability.
As an example, the University of Asia and the Pacific, through its Centre for Corporate Responsibility, can assist the government and the nickel industry to establish sustainability, policy and structure, training and communication, stakeholder dialogue and measurement and verification systems. The products of such partnership among academe, government and business can come out with the following:
-Nickel Industry Sustainability policy and structure. Clear standards and detailed guidelines are needed to ensure that the industry has a "road map" for incorporating sustainability agenda into its operations. With such details, the industry would be able to measure performance consistently and completely to help meet the stakeholders' expectations.
-Training and communication. Training internal staff is needed because of the recognition that sustainability-type programs require a unique set of skills and competencies. On the other hand, because leadership starts at the top, it is essential for top management to consistently communicate sustainability guidelines internally in order to generate awareness and on convey management support for the program.
-Stakeholder dialogue. Dialogue and sharing of information with external parties (companies, civil society) is one of the fundamental shifts in recent years in policy making. NGOs, other civil society organisations, and companies often have information otherwise unavailable to companies or governments.
In the case of the nickel mining industry, an academic institution like UA&P with strong links to business may be able to help the industry develop guidelines and policies that are not only effective, but also acceptable and credible to all the stakeholders.
Monitoring and verification. A research wing or think tank of an academic institution like UA&P may be a more credible institution to effectively assess compliance of nickel mining firms to various voluntary sustainability mechanisms. Because of serious violations of environmental regulations in the past, the mining industry in general continues to face a public that is skeptical of its efforts to respect and protect the environment. The industry may choose to scrutinise sustainability practices of nickel firms in a more transparent manner by inviting external parties, and by issuing public reports on the findings of independent academic or research institutions.
There is no question that the Philippine nickel industry is capable of practising responsible and sustainable mining. As discussed above, what is needed is the political will of all the stakeholders concerned to commit themselves to a continuing dialogue on sustainability practices.
For comments, my email address is bernardo.villegas@uap.asia.
- - -
Acknowledgement:
Dr. Bernardo Villegas
Ms Cleah Nava, Legislative Officer, Senate of the Philippines
---