From a sleepy barangay to a thriving economic hub: How OceanaGold Philippines transformed a town
by Philippine Resources - September 06, 2019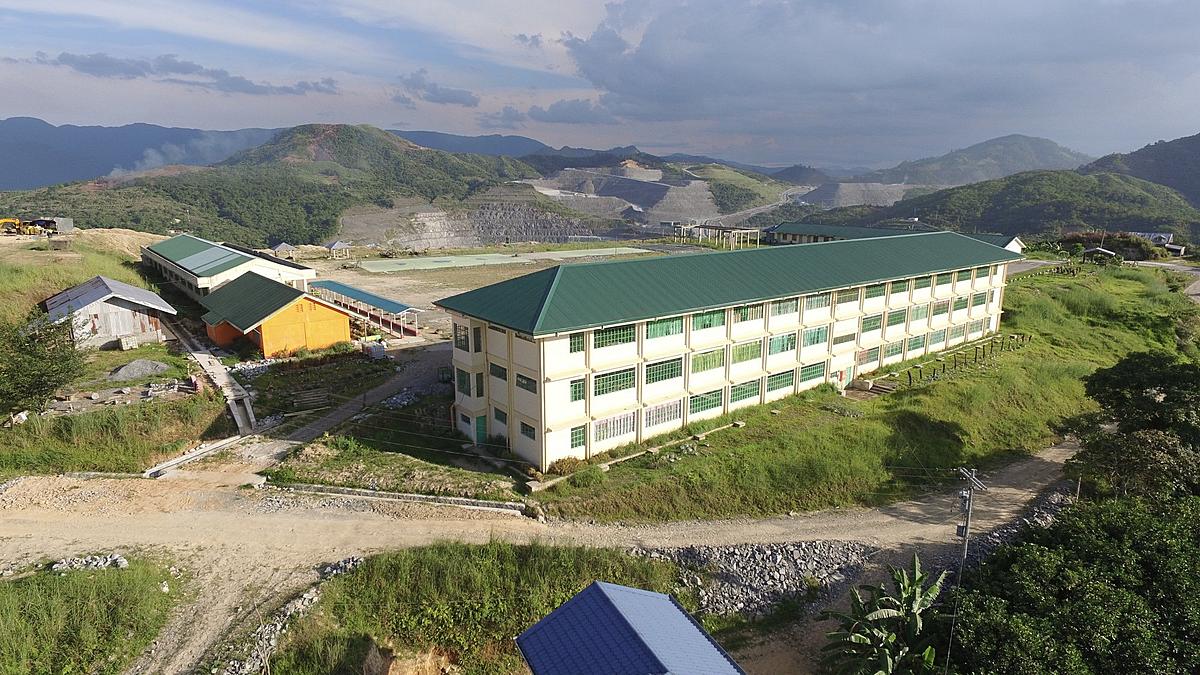 About 270-kilometers north of Metro Manila lies the mineral rich barangay of Didipio in Kasibu, Nueva Vizcaya. It is home to some 4,000 people and the Didipio gold-copper mine.
OceanaGold is working with the Philippine government through the country's first Financial or Technical Assistance Agreement (FTAA)--an agreement that allows the large-scale exploration, development and utilization of gold, copper, nickel, and other metallic minerals in the Philippines.
The mine started its commercial production in 2013 and has since paved the way for a massive economic transformation, which connected the barangay to information, education, jobs, and markets.
"We felt the hardship before OceanaGold came to Didipio. There were no roads, our agricultural products were not able to reach the market. OceanaGold has given us our three basic needs: school, roads, and electricity. The business opportunities boomed and work opportunities increased when the Company started operating," says Pastor Efren H. Bulawan, resident and one of the local leaders of Didipio.
Single dirt track and fire roads that were once only passable to pedestrians and motorcycles were turned to paved boulevards that facilitated movement of cars, goods, and people; suddenly, there was electricity and better cellular signal; suddenly, people from neighboring communities turned to Didipio for economic opportunities.
Growing opportunities from the land
The barangay's pivot to mining did not stop OceanaGold from pouring support to community agriculture--after all, the barangay has been producing mountain vegetables and some palay. It is also home to some citrus farms, which have been reporting lower yields because of the citrus tristeza virus.
In 2015, Dr. Pio Javier, an entomologist from the University of the Philippines conducted an onsite investigation and validated the findings. His research included a forum to share methods for preventing further spread of the pest and disease infestation and production and post-harvest techniques.
The company's collaboration with the Department of Agriculture and the local government units paved the way for the empowerment of close to a hundred local Kasibu farmers on coffee production and some 30 farmers for organic vegetable production.
"In Didipio, there are vegetable farms situated very close to our operating mine. We know that they have excellent produce because we buy some of it through the community's three local agricultural cooperatives. We have interventions in the production and marketing aspects to ensure that our local partners would have a solid capital and operational foundation," said David Way, General Manager of OceanaGold Philippines Inc.
OceanaGold, recognizing that agriculture is a main economic activity, also supports ten other local agriculture cooperatives in ten communities adjacent to the mine.
Jobs, jobs, jobs
About 97% of OceanaGold's employees are Filipinos, with more than half of the workforce coming from Nueva Vizcaya and Quirino. In the mine's first six years of operation, the company disbursed some PhP 2.5-billion in salaries.
To date, OceanaGold directly employs more than 1,500 people and provides additional employment opportunities for thousands more through cooperatives, suppliers and subsidized workers.
The mine requires a steady stream of mining specialists and technical experts. To safeguard this talent pipeline, OceanaGold runs training and scholarship programs which include the Development of Mining Technology and Geosciences program.
Every year, they allot scholarship slots and provide Php 170,000 in tuition fees and allowances to individual students who want to take up Mine Engineering, Geology, Metallurgical Engineering, Materials Engineering, Civil Engineering, as well as Bachelor of Science in Forestry, and Bachelor of Science in Agriculture.
Engineering, geology, and metallurgy are professions that were not in the horizon of most Didipio residents before the mine came in. The continuous investment on capacity building of both employees and community members elevated their dreams, and tremendously increased their employability and likeliness to start their own businesses.
"We are seven in the family. When I was about to enter college, I knew my parents were worried as I had two other siblings who were in college. So, I worked in DiCorp for a time to earn money for my college education. It was there I saw that OceanaGold offered scholarships, so I applied, got in, and now I'm a mining engineer and working for the Company," says Wilbur Habiling, resident and scholarship program graduate.
The need to provide for the basic needs of many workers--feeding them three times a day, seven days a week--necessitated auxiliary units, one of which is the Didipio Community Development Corporation (DiCorp).
DiCorp is owned and managed by the town's residents, with 361 local shareholders and 279 local workers. It offers a multitude of services such as housekeeping, catering, camp administration, transport services and construction services. OceanaGold has awarded several contracts to DiCorp from 2011-2018 with total gross revenue amounting to PHP 1.5B (USD 28M). The growing enterprise is now worth PHP 85.5 million and has extended their services beyond the mine.
"DiCorp. is a perfect example of what local community enterprises can achieve if plugged in to value chains," says David Way, General Manager of OceanaGold Philippines Inc. He adds, "DiCorp has come a long way and I am proud that it remains to be one of the largest taxpayers in Nueva Vizcaya."
Technology and Infrastructure
No other private firm has contributed to the infrastructure growth of Didipio as OceanaGold – from roads to health centers, to school buildings and community centers.
In 2017 it made the dreams of local students and educators a reality through the construction of a PhP 43-million senior high school building at Eastern Nueva Vizcaya National High School.
The company has provided essential healthcare for students, improvement of school buildings, and construction of day care centers in the past. The high school building, however, is one of the biggest single investments made locally for education, and this was in view of the K-12 implementation, which some high schools in Metro Manila found hard to comply with.
OceanaGold directly supports infrastructure, training and education, health and enterprise development programs not only of Didipio but of ten other communities adjacent to the mine with combined population of about 15,000 residents.
A final anecdote from a resident
"I wasn't able to take up high-school in Didipio because there was no high school then. Instead, I went to the municipality of Bayombong, which is about five hours away--very far from my family. I'm proud to say that I'm one of the graduates of the OceanaGold scholarship program. There are about 246 of us and I belong to those who took up courses like mining and geology.
For the past years, I worked as a mining engineer in the Didipio mine. I learned about the environment and how responsible OceanaGold is and I'm proud that we are where we are right now. OceanaGold offered a lot of opportunities to my community and to adjacent barangays. "The Company's operation has been a blessing to us," concludes Echievery Baguilat, Didipio's first local mining engineer.
OceanaGold's mine life is expected to last until 2032, by which time Didipio could reach or even surpass its full economic and social potential as a barangay in the midst of a lush greenery that characterizes most of Nueva Vizcaya and Quirino, with all the necessities for a comfortable life.
---