I Remember Senior Brod Jun Factoran
by Philippine Resources - April 13, 2020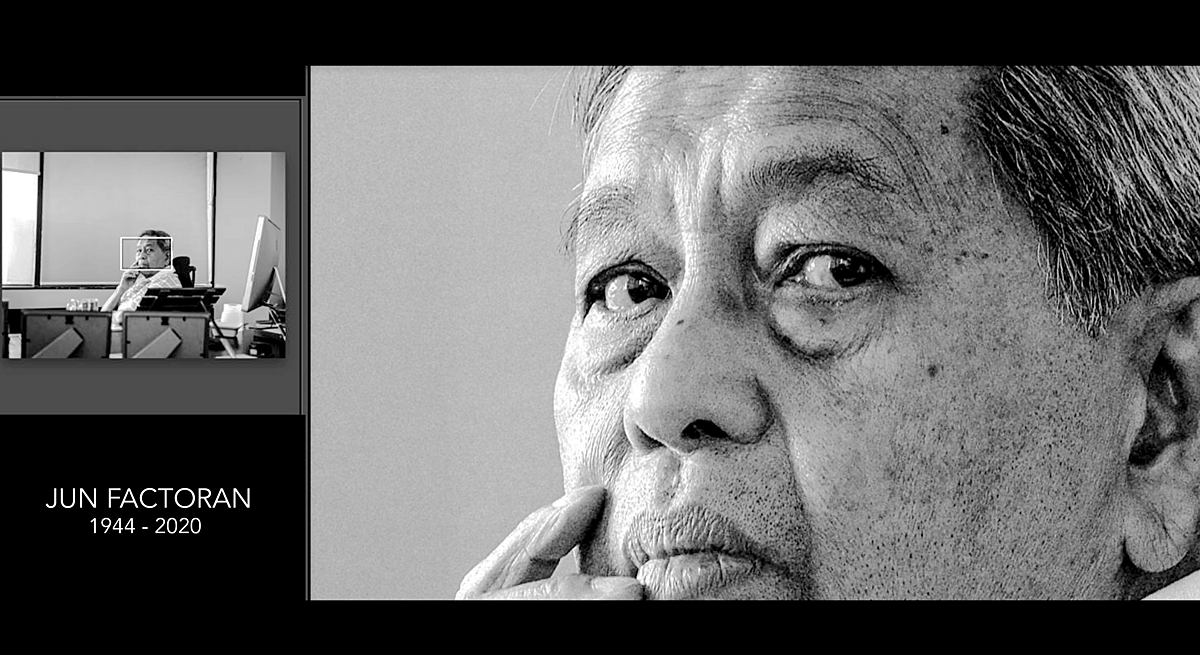 By: Fernando "Ronnie" S. Penarroyo
Last 05 April 2020, former Secretary of the Department of Environment and Natural Resources (DENR) Fulgencio "Jun" Factoran, Jr. died from a lingering illness at the age of 76. He earned his Bachelor of Arts in Humanities (cum laude) and Bachelor of Laws from the University of the Philippines (valedictorian, 1967), and his Master of Laws degree from the Harvard Law School. He was a bar topnotcher and a member of the Sigma Rho fraternity, the same UP Law-based fraternity I belong to.
Because of his impeccable academic credentials, Senior Brod Jun was recruited for membership in what was then known as the "Salas Boys" - bright, idealistic young men who worked for the government under the tutelage of Rafael Montinola Salas. Salas served as executive secretary to President Ferdinand Marcos prior to Martial Law until a falling-out on policy differences prompted Salas' resignation from the Marcos government. Salas then became the first head of the United Nations Population Fund when the agency was created in 1969. The "Salas Boys" imbibed the idealism, honesty, integrity, and spirit of public service that Salas was known for.
Senior Brod Jun was active during the Martial Law years as a human rights lawyer and co-founder of Mabini, or the Movement of Attorneys for Brotherhood, Integrity, and Nationalism Inc. With the fall of the Marcos government, Factoran served as deputy executive secretary under President Corazon Aquino from 1986 to 1987. He subsequently became DENR Secretary from 1987 to 1992.
I first met Senior Brod Jun Factoran when I started in the mining industry as a young lawyer working for an Australian company. At that time he already left government service and set up his law firm, Factoran and Associates, and environmental consultancy firm, Gaia South, which our company retained. We connected immediately as we were fraternity brothers.
I always look forward going to his office to have our regular meetings. My Australian colleagues have had high regards for Senior Brod Jun as he was well-versed not only in mining and environmental law but in other branches of resources law as well. He patiently mentored me in Philippine resources law explaining to me in great detail the nooks and crannies of various DENR administrative orders and issuances on mining, environment, forestry and protected areas. I will fondly remember on the day before I was to leave for secondment to our head office in Melbourne, he sent one big bilao of pancit (fried rice noodles) to the office as a sort of despedida, which was happily shared by all the office staff. It was a simple gesture but you know that he did it with all sincerity.
After my one year secondment in Australia, I returned to the Philippines and my first order of battle was the constitutional challenge filed by Marvic Leonen against the 100% foreign-owned Financial and Technical Assistance Agreement of my company (La Bugal-B'laan Tribal Assn. vs. Ramos). Senior Brod Jun was engaged to spearhead the defense. He assembled a battery of some of the best constitutional law experts of the country. He called on former 1986 Constitutional Commission member Fely Arroyo and former Acting Executive Secretary and Court of Appeals Justice Magdangal Elma. The litigation teams of Sycip Salazar and Quisumbing Torres were also on board the defense team. I saw firsthand how Senior Brod Jun managed to coordinate and handle the high-profile lawyers and prepare the defense like a maestro adeptly conducting an orchestra.
Much has been said about Senior Brod Jun's human rights advocacy. But to my mind, his greatest contribution is in the field of indigenous peoples' rights. During his stint as DENR Secretary, he worked for its recognition which culminated in IP rights to be more explicitly acknowledged in 1993, with the issuance of the (DENR) Administrative Order No. 2 (DAO 2). DAO 2 allowed for the delineation of ancestral domains and the issuance to indigenous communities of Certificates of Ancestral Domain Claims and Certificates of Ancestral Land Claims. DAO 2 ultimately paved the way for the eventual passage of the Indigenous Peoples Rights of 1997. Now IPs must give their free and prior informed consent on any projects in their ancestral domain and are entitled to royalties from the revenue of resources companies.
Forestry was another of Senior Brod Jun's advocacy. He contributed to the promotion of the ideals of community-based resource management through the rules and regulations pertinent to Community-Based Forest Management (CBFM) issued under his authority. CBFM is a program of the government to encourage reforestation and sustainable management of forests. Under a CBFM agreement, a community is entitled to develop and use a forest area and its resources for twenty (25) years.
Senior Brod Jun, in his capacity as DENR Secretary was named as respondent in the case of Oposa vs. Factoran (1993), a landmark decision of the Philippine Supreme Court, which recognizes the doctrine of intergenerational responsibility and a contributor to the development of international environmental law. He encouraged the petitioners, through their parents, to enjoin the DENR Secretary from issuing timber licenses, invoking their right to a healthy environment pursuant to Sections 15 and 16 of Article II of the 1987 Constitution. Intergenerational equity in economic, psychological, and sociological contexts, is the concept or idea of fairness or justice between generations currently living and generations yet to be born. After the case was decided, it paved the way for the Philippine government to create an inventory of the remnant old growth forests and restricted logging in those areas.
Because of his standing in the civil society movement and his experience as environment secretary, Senior Brod Jun was appointed as an independent director in mining firms such as Atlas Consolidated Mining and Nickel Asia. He also brought his management skills and legal experience to government corporations and entities like the National Electrification Administration, Philippine National Oil Company, Philippine Charity Sweepstakes Office, Development Academy of the Philippines, and Government Service Insurance System.
The last time I saw Senior Brod Jun was during the launching of Senior Brod Rick Ricamora's (2016) documentary portfolio Blood, Sweat, Hope and Quiapo at the Ayala Museum. He personally introduced me to another senior brod in attendance, the distinguished mining tycoon, Manny Zamora, Chairman of Nickel Asia Corporation. We talked mostly about the mining and energy industry. Unfortunately, I forgot to take a souvenir photo for posterity with two captains of industry.
I will surely miss Senior Brod Jun. It's rather unfortunate that he passed away at this time of Covid-19 pandemic, we could have given the man the accolades due him. Whatever his political inclination was, I hope that this humble tribute will enshrine his memory in the halls of national statesmen. He was certainly one of Sigma Rho's greatest gifts to the country.
Fernando "Ronnie" S. Penarroyo specializes in Energy and Resources Law, Project Finance and Business Development. He may be contacted at fspenarroyo@gmail.com for any matters or inquiries in relation to the Philippine resources industry. Feel free to follow Atty. Penarroyo on LinkedIn (https://www.linkedin.com/in/fernando-s-penarroyo-2b8a7312/)
---