Architect Palafox on urban planning advice for pandemic survival
by Marcelle P. Villegas - June 02, 2020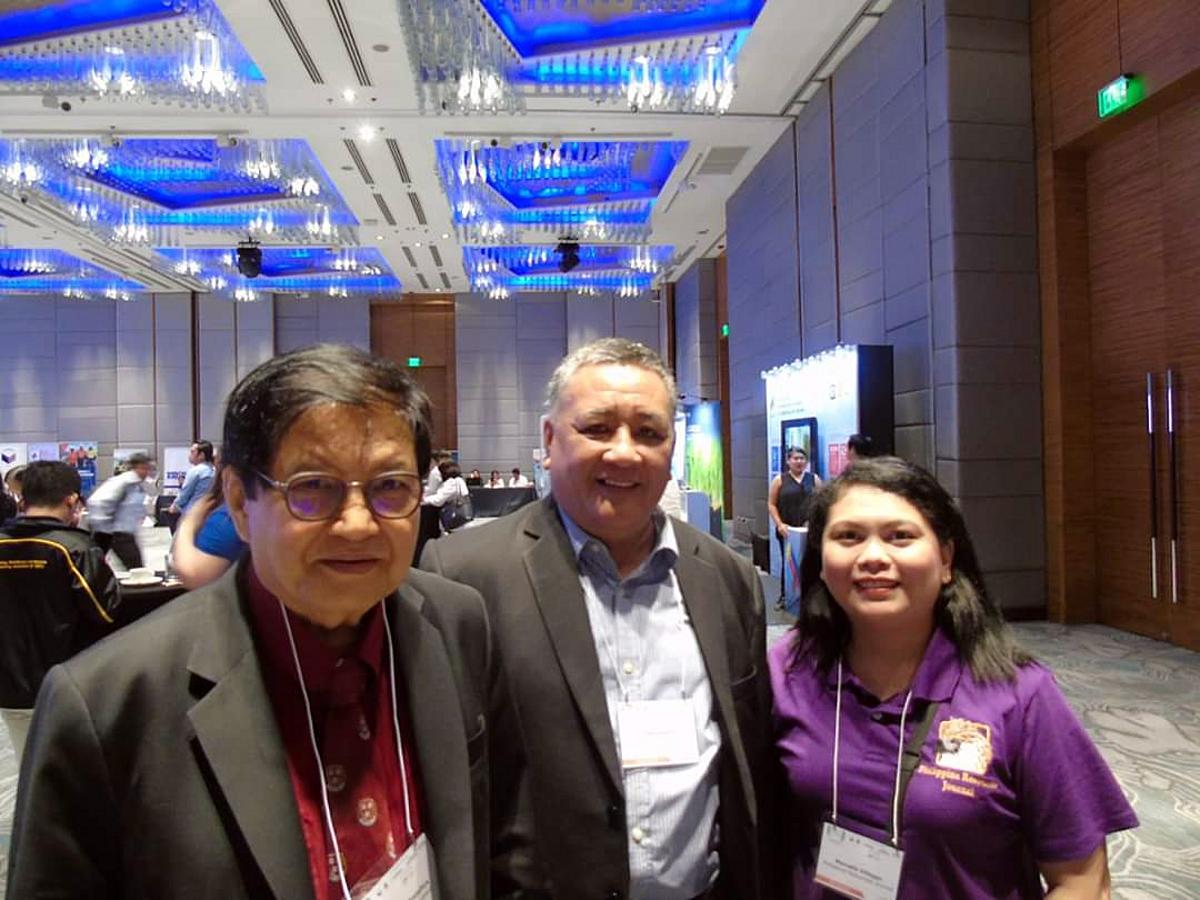 (L-R) Urban planner and Architect Felino "Jun" A. Palafox, Jr., Mr Joey Nelson R. Ayson (President, Philippine Mining and Exploration Association), Marcelle P. Villegas (Journalist, Philippine Resources Journal) (Photo by Matthew Brimble, Philippine Resources Journal)
By: Marcelle P. Villegas
"Livable cities have forward planning." (Architect Jun Palafox, Jr., on ANC's "Market Edge")
Architect Felino "Jun" A. Palafox, Jr. is a multi-awarded urban planner and founder of Palafox Associates. Some of his well-known designs include the City of Manila Comprehensive Land Use Plan and Zoning, Rockwell Center and Makati Streetscapes, Manila Polo Club redevelopment in Makati City, Ortigas Streetscapes, La Mesa Ecopark in Quezon City, Santa Elena Golf Course Community in Bulacan, Manila Southwoods in Cavite, First Industrial Park in Batangas, Qatar Embassy in Paranaque, and more.
During his T.V. interview last April 13th at ANC's "Market Edge" by Ms Cathy Yang, he gave his professional insights and analysis on how other countries survived pandemics in the past, the flaws in the city design and systems in the Philippines that make it prone to more problems during a pandemic, and his advice on how we can improve in addressing the COVID-19 crisis properly and in preparation for future pandemics.
He was asked by Ms Cathy Yang on "Market Edge", "Nobody has been spared from the COVID-19 pandemic, not even countries with top-notch healthcare systems. Why do you think that is?"
"I think they were not prepared. The whole world was not prepared for this pandemic. And although there were already warnings in the year 2000 - 2005 and some investments internationally had already been prepared for the next pandemic, but it seems they only planned it when the epidemic started and not before. So everybody was caught unaware of it. We have a disaster preparedness plan but not for this pandemic," replied Mr Palafox. [1]
When asked how he thinks countries can cope to increase resiliency from where we are now, he said, "Now we are doing the observation and what's going on in this situation and everybody is addressing this problem. We should now have a plan for the transition into the new world order... If you've seen our planning, we have a very weak urban planning system here. We should now include healthcare systems as part of the planning and disaster preparedness for this pandemic."
Mr Palafox added that there are a lot of lessons to learn from history on how to successfully deal with a pandemic. He mentioned in his weekly newspaper column at The Manila Times that various studies and historical evidence support the connection between climate change and environmental changes with the occurrence of diseases. [2]
"...it has been proven that climate change is making the world more hospitable for viruses, bacteria and pathogens to thrive. Moreover, health experts believe that by pushing into the last wild spaces of the planet, humans come in contact with wildlife populations that carry new kinds of diseases." [2]
"But history teaches us that much can be done through proper design and urban planning to battle health emergencies and even prevent it. In the mid-1800s, urban planner Frederick Law Olmstead was able to integrate urban planning and public health by promoting the concept that community design is key in enhancing physical and mental health. As a result, he designed hundreds of green spaces, including New York's Central Park. In the mid-19th century, the city of London was experiencing recurring cholera outbreaks. This pushed parliament to pass legislation enabling the Metropolitan Board of Works to develop a sanitation system and begin street improvements. Joseph Bazalgette, the board's chief engineer, designed an efficient sewage system that intercepted and diverted wastewater from old sewers and underground rivers to treatment facilities. Years later, most of the city was already connected to the new sewer network."[2]
Moreover, he stated that in the 19th and early 20th centuries, the correlation between urban planning and public health became more evident in the following: 1) prevention of diseases through community infrastructure like drinking water and sewage systems; 2) development of green spaces to encourage physical activity and promote better mental health; and 3) establishment of land use and zoning ordinances to protect people from hazardous risks. [2]
Mr Palafox also mentioned during his interview in "Market Edge", "I've been saying that Metro Manila, with the way it is, can no longer be sustainable." He pointed out that we do not have enough parks and open spaces, and social distancing is hard in our transportation system.
He suggested that in EDSA, "Walking and bicycle should be the first mode of transportation. Our planning has always been automobile centric and bias for the automobile. Our national development is to the primacy of Metro Manila. It is Metro Manila centric, so if Metro Manila is paralyzed, the rest of our country is paralysed. There had been so many proposals before to develop the regions and make other cities in the country more attractive so people don't have to migrate to Metro Manila."
He also wrote in his weekly column in The Manila Times, "Sadly, there will be more future pandemics. According to the World Health Organization, the next pandemic is a matter of 'when', not 'if'. The coronavirus disease 2019 (COVID-19) is not the last major outbreak we will experience. This will be the result of our choices and how we humans have been negligent in inhabiting the planet." [2]
"In urban planning, guidelines are laid out to determine how many hospitals and other medical facilities are necessary for municipalities and cities to cope with health emergencies and other disasters. According to the Department of Health, the components of urban health system development comprises programs and strategies for Healthy Cities Initiative, citywide investment planning for health, and urban health equity assessment and response, among others." [2]
He mentioned how other countries are dealing with the coronavirus pandemic and what we can learn from them. "Hong Kong, Singapore and Taiwan received praise from health experts because they were able to prepare for the coronavirus before it reached them, and they were able to immediately and aggressively act on it when it arrived. Hence, these territories have only less than 300 confirmed Covid-19 patients even though the virus reached them way before it reached Italy, France and Spain, which now have thousands of cases. Hong Kong was able to quickly develop diagnostic tests and promptly deploy these to major hospitals in the city. Social distancing was extensively implemented at once, and many locations were readily repurposed to serve as quarantine facilities."
"Singapore's prime minister, and health and foreign ministers issued clear messages and were very transparent to the public and the rest of the world. The government learned from its experiences dealing with SARS, or the severe acute respiratory syndrome, and H1N1, also known as swine flu, and was able to establish a sound system for tracking and containing epidemics. The country immediately developed tests for COVID-19, intensified production of the materials needed to carry out the tests, and offered free healthcare services related to the disease. Taiwan enforced 124 safety protocols that reflect comprehensive and well-designed policies and strategies. Taiwan was able to restrain the rise of confirmed cases by maximizing public health infrastructure and data analytics, affordable healthcare, swift action from the national government, and wide-ranging educational outreach."
He then concluded, "Seeing what has been happening to our country recently, we could definitely learn a lot from the overall response of Hong Kong, Singapore and Taiwan. What we are witnessing in the news reflects that our strategies and protocols to mitigate the spread of the coronavirus need further study and enhancements. If worse comes to the worst, our healthcare system will not be able to cope with only 89,000 hospital beds and 1,000 ICU or intensive care unit beds. Clearly, we are simply not as prepared as we want to be. We lack investments in our healthcare system, and we are missing well-planned systems and policies for health emergencies."
Last April, his own family experienced a great loss when his niece passed away. UP-PGH Head Nurse Faye Marie Palafox was a frontliner and a safety officer-in-charge with an important role of assuring her team has complete PPEs before facing patients with COVID-19.
Mr Palafox wrote on his newspaper column, "In keeping with our belief in philanthropic and patriotic architecture in times of crisis, we at Palafox Associates and Palafox Architecture Group are donating the full design manual of the Ligtas Covid Centers. We prepared this with hospital managers, health systems professionals, emergency and disasters experts, and graduate students from the Asian Institute of Management Masters in Innovation and Business (AIM MSIB). Using infection prevention and control principles, the design manual can convert basketball courts into isolation units for suspect and probable COVID-19 patients. We hope our architectural design for the COVID centers will help decongest hospitals and help our nation in the fight against this pandemic." [3]
Palafox Associates is the first Filipino architectural firm listed in the World's Top 500 Architectural Firms of the World Architecture Magazine. His company ranked 94th in the list and has a distinction of being the only Southeast Asian company in this list. By 2012, Palafox Associates was Top 8 in the Leisure Market sector. Mr Palafox was included in the "People of the Year" list by People Asia Magazine in 2010. He received the Gusi Peace Prize Award in 2011. In 2017, he was awarded the Outstanding Filipino (TOFIL) Awards for Architectural and Urban Planning Honoree.
-----
Acknowledgement: Thank you to Ms Cathy Yang and the team of "Market Edge" on ANC.
-----
References:
[1] Yang, Cathy (13 April 2020). "How can countries better prepare for pandemics?" Interview of Mr Felino Palafox, Jr. on ANC's TV show "Market Edge". Retrieved from ttps://youtu.be/Va5I1fXYK-w
[2] Palafox, Felino A. Jr. (19 March 2020). "Silver lining: Lessons to learn". The Manila Times.
https://www.manilatimes.net/2020/03/19/opinion/columnists/silver-lining-lessons-to-learn/704158/
[3] Palafox, Felino A. Jr. (23 April 2020). "Frontliners". The Manila Times. Retrieved from https://www.manilatimes.net/2020/04/23/opinion/columnists/frontliners-2/717480/
---