Renewables Can Make Mining a Sustainable Industry
by Fernando Penarroyo - June 08, 2021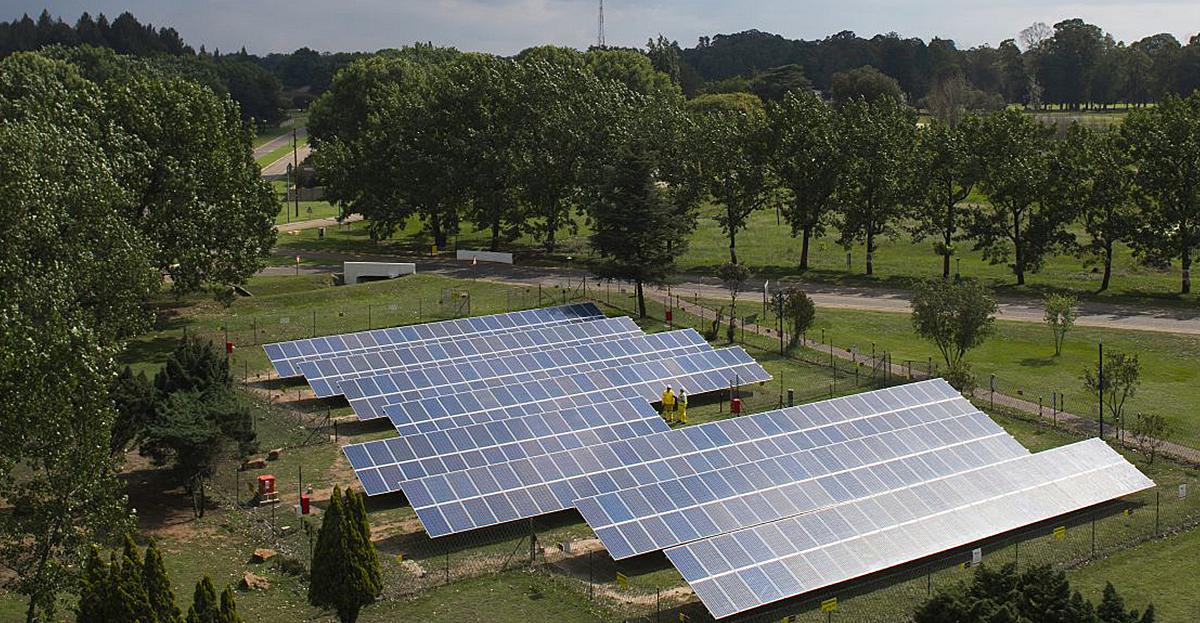 There is no doubt that public perception of mining is that of a dirty, hazardous, and ecologically-destructive industry. Sustainable mining is non-existent to critics because of the industry's perceived large carbon footprint brought about by deforestation and large contribution to greenhouse gas emissions.
By its very nature, mining is also energy-intensive starting with the development and production processes requiring fuel for heavy equipment and machinery, up to the processing stage where metallurgical plants consume a huge amount of electricity. Energy expenses constitute approximately 30 percent of cash operating costs as majority of mining operations continue to rely on fossil fuel-based grid power or off-grid diesel-generated power. While accounting for up to 11% of global energy consumption, the industry is responsible for 22% of global industrial greenhouse gas emissions.
Despite the pandemic, the mining index has now recovered by an astonishing US$636 billion thanks to a boom in spending brought about by the current green and digital transition, and unprecedented infrastructure-focused stimulus packages initiated by many governments. The Philippines also benefitted from this development. According to a report by the Mines and Geosciences Bureau, metallic mineral production value ended 2020 on a positive note with a 1.13% gain from PhP130.74 billion in 2019 to PhP132.21 billion, a PhP1.47 billion increase.
As mining operations need a consistent and reliable source of power, and renewables becoming a mainstream energy source, mining companies have a material opportunity to lower costs and improve safety, reliability, and sustainability. The regulatory and risk mitigation landscape is also changing with many governments enacting legislation to bring their economies in accordance with the 21st Conference of the Parties to the 1992 United Nations Framework Convention on Climate Change or Paris Agreement goals of net-zero greenhouse gas emissions by 2050 and maintaining planetary warming below 2°C of preindustrial levels.
The industry and its investors need to urgently promote less carbon-intensive energy consumption to address future pressures on the climate in order for the public and stakeholders to be more receptive and appreciative of the contributions of mining. This article discusses how mining and innovative renewable energy technologies can combine to achieve the transition to a more sustainable energy system.
Attracting Investors' Appetite Back to the Mining Industry
While demand for renewable energy continues to grow, investors' and lenders' appetite in mining is shrinking. The sector is facing a market that is smaller, pricier, and subject to an increasing regulatory oversight to help manage its exposure to environmental and social risks.
On the other hand, the cost of producing renewable energy has dropped dramatically making it more competitive with fossil fuels with technological innovation and huge investments from China pushing down the its costs. The opportunity lies in companies focusing on clean metal production and investors supporting cleaner and greener minerals extraction.
While mining companies see the opportunity, they are in a catch-22 situation. According to an Ernst and Young report, environmental, social and governance (ESG) issues are getting in the way of the green transition because how the needed minerals are produced is under more scrutiny from governments, investors and end consumers. Institutional investors have pledged to completely remove fossil fuels from their portfolios by 2030 and banks have priced their loan products in correlation to the environmental risks of the borrower. BloombergNEF confirms the change in investor perspective most notably with the move by BlackRock – the world's largest asset manager with $7.4tn on its books – to divest from companies not aligned with the policy goals of the low-carbon energy transition. Investors, governments and top companies like Amazon to JPMorgan Chase are injecting billions of dollars into sustainable projects.
In addition, corporate directors are required to ensure compliance with all applicable environmental laws and regulation and consumers are demanding sustainable business practices, persuading hundreds of major companies to issue net zero emissions commitments. Clients of institutional investors are also pushing fund managers to create sustainability-focused portfolios and banks are requiring more rigorous covenant packages in their loan agreements with extractive industry businesses. Mining companies have no choice but to engage in decarbonization in order to access capital.
How Renewable Energy is Transforming the Mining Industry
Minerals are critical to the clean, green, and digital transition. The growth of renewable energy is heavily reliant on commodities like copper, gold, lithium, cobalt which are used in the manufacture of new technologies that could one day replace fossil fuels in the global energy mix.
Copper supplies, for example, need to increase by as much as six percent (6%) per year to meet the goals laid out in the Paris Agreement. Copper is needed for wind farms, solar panels and electric vehicles, and generally essential to all power generation infrastructure. Solar power, expected by the International Renewable Energy Agency to reach 8,519 GW of capacity worldwide by 2050, relies on the supply of aluminium, copper and certain rare earth elements (including indium and cadmium) to produce photovoltaic (PV) panels. Wind turbines are made from steel and is therefore dependent on the production of iron. Certain rare-earth elements such as neodymium are needed for the magnets used inside turbine generators, as well as electric vehicle (EV) technology. Zinc and titanium are used mostly for wind and geothermal energy. Metals are also used in high tech devices like aircraft engines, rockets, and other military equipment, hence, the label of critical minerals.
Driven by the demand for EV batteries and renewable energy infrastructure in battery storage, the need for lithium, graphite, nickel, cobalt, platinum-group and rare earth elements is primed to explode. The World Bank predicts that production of these minerals could increase nearly five hundred percent (500%) by 2050. For cobalt, lithium, and nickel, projected demand is greater than known reserves. As the demand for renewables continues to grow, the mining industry indeed faces a bright future in becoming a recognized vital contributor to the clean energy transition.
With advancements in renewable energy technology and the commitment of some key industry players, there are many benefits for mining companies to switch to renewables. In addition to the financial botomline, renewables also offer important social, health, safety, and environmental benefits that are harder to quantify, which can potentially include:
Stability in power price, increased energy security, and reduced reliance on fossil fuels that are vulnerable to global price fluctuations - Solar and wind facilities have high upfront costs to build but input costs drop to near-zero when operational. The cost of battery production is also predicted to halve in the next decade, making large-scale energy storage capable of powering a mine's operations even in the absence of a consistent supply;
Sustainable development support - Satisfaction of environmental and social criteria used to measure the sustainability and green credentials of a given project will be a pre-requisite for off-takers, investors, and lenders. Debt and capital markets will shift towards sustainable and green investments;
Lower greenhouse gas emissions and reduced carbon liabilities;
Energy efficiency in mine sites by synchronizing peak load with cheaper renewable energy sources, thus bringing down the overall cost of mining operations and maintenance; and
Additional revenue from selling excess generation capacity and providing ancillary services to grid operators.
RE Projects at Minesites Around the World
Realizing the benefits from efficient energy management systems, some miners are now driving down their energy costs by up to 25% in existing operations and 50% in new mines. Renewables, whose levelized costs have achieved parity with traditional fossil fuels, is a major component. These developments in the mining sector are part of a larger, global trend toward greater procurement of renewables by corporations.
A report by Fitch Solutions Macro Research revealed that around 1 GW of renewables was already built at mining sites across the world, and that another 1 GW is in the pipeline. Solar PV and wind are leading the way in installed renewables generation among mining companies, with thirty percent (37%) and fifty-nine percent (59%) share in 2017 respectively. By one estimate, investment in renewables just for mining will reach nearly US$4 billion by 2022, which represents more than a tenfold increase from a decade before. Several large mining companies have been integrating renewables at progressively higher ratios, and all four of the world's biggest miners plan to source more of their energy needs from renewables.
Table No. 1. Renewable Energy Projects at Minesites Around the World
Mining Company

Renewable Energy Project

Anglo American

Signed a deal to run its Quellaveco copper mine in Peru 100% on renewables, effectively allowing the miner to deliver on its promise of powering all of its Latin American operations by green energy by 2022. The facility is expected to provide 150 MW for an initial eight-year period to Anglo's Quellaveco, located in the Moquegua region.

Also inked a 15-year contract in Brazil to buy 70 MW of solar power from Atlas Renewable Energy as of 2022 for its iron ore operation in Minas Gerais.

Rio Tinto

Announced that it would reduce the annual carbon footprint associated with its Kennecott Utah copper mine by as much as 65%, by purchasing renewable energy certificates and permanently shutting its coal power plant. The mine's electricity needs will now be supplied with 1.5 million megawatt hours (MWh) of renewable energy certificates supplied by energy company Rocky Mountain Power, primarily sourced from its renewables portfolio in Utah and including wind power from Wyoming.

Supported a 9MW wind farm in the Arctic near its mine.

Added an additional 5MW of solar panels, and advanced battery storage, to an existing solar/diesel microgrid to further decrease diesel use at a bauxite mine.

Gold Fields

Announced plans to predominantly operate its Agnew gold mine in Western Australia (WA) using renewable energy in partnership with global energy group EDL and involving an AUD112m ($77.59m) investment in an energy microgrid combining wind, solar, gas and battery storage.

In February 2019, Aggreko was contracted to create a hybrid solar-battery generation system to power the Granny Smith mine. The hybrid system will be integrated with the 24.2MW already generated by the natural gas engine station.

Antofagasta

Signed an agreement in June 2018 with utility company Colbún to make the Zaldívar mine the first Chilean mine to operate with 100% renewable energy. From 2020 the mine will be powered by a mix of hydro, solar and wind power producing 550 gigawatt hours per year, which is expected to remove emissions equivalent to 350,000 tons of greenhouse gases per year.

Newmont

In September 2018, UK-based solar company Cambridge Energy Partners (CEP) announced that American mining corporation Newmont had deployed CEP's Nomad mobile solar power array at the Akyem gold mine in Ghana.

Zijin

In May 2017, UK-based power generation company Aggreko announced that it had signed a ten year deal to provide solar-diesel hybrid power to the Bisha mine in Eritrea owned by Chinese mining group Zijin. Aggreko provides 22MW of diesel and 7.5MW of solar-generated power for the Bisha mine's copper and zinc operations.

Sandfire Resources

Added a 10.6MW solar power plant at the DeGrussa mine in Australia.

B2Gold

Added 7MW of solar panels to its Namibia mine to complement existing heavy fuel oil generators.

Caterpillar

Began marketing hybrid microgrids that incorporate solar, diesel and natural gas generators, and advanced storage options. Target customers include remote mines and drill sites.

While energy management practices using renewables are becoming more prevalent in the sector, some have yet to integrate renewable energy sources and enabling technologies. This may be due to the existing perceptions of renewables in terms of complexity, cost, reliability, and performance. Many miners still think of renewables like solar and wind, as the higher cost option for mines operating both on and off the grid. In addition to cost, reliability is another often-cited reason for not considering renewables.
However, these concerns have largely been addressed. When speaking of renewables, there are two facets to reliability. The first relates to the efficacy of the technology itself, while the second relates to intermittency. Intermittency is being addressed and demonstrated to be manageable since the viability of battery storage is now enhanced by new technologies and the cost of utility-scale batteries is starting to decline.
Incentivizing RE Technologies
Various factors are influencing the optimal electricity generation at mining sites. Some of these are external factors such as sun and wind conditions, grid-availability or grid stability, while some are directly related to the mining company like environmental sustainability policies and availability of capital. Other factors are related to the mining site, among which are the remaining lifetime of the mine, the load-profile or the need of process-heat.
Depending on several internal or external factors, a mining company may apply various business models for renewable energy:
Plant Ownership
Self-consumption (plant ownership). The power plant is constructed on-site and the mine consumes the energy (electricity or process heat). An added option is selling excess electricity to the grid or to adjacent consumers.
Co-ownership (joint venture). The mining company and a third-party investor create a joint venture, which then acts similarly as an IPP and sells electricity to the mine.
Leasing or rental agreements. The mine has no investment costs, but instead pays a leasing rate, operates the renewable energy plant and consumes or sells excess electricity that is produced from the leased power plant.
Power Purchase Agreement (PPA)
Standard PPA. The mine purchases the electricity at a predefined price from an independent power producer (IPP). The IPP can be off-grid or grid-connected and the PPA may contain flexible mechanisms such as link to diesel price or spot market price.
Synthetic PPA. Even if it is not viable for a mine to establish its own renewable energy source in close proximity to its operations, the rise in so-called synthetic or virtual PPAs provides an incentive for mining companies to invest in renewables. The IPP sells at market price and power marketers provide a guaranteed price and compensate for certain deviations. This business model requires a grid-connection and a functioning spot-market. A mine enters into an agreement directly with a renewable energy producer at a fixed price but pays a fee to the utility, via which electricity will pass through to cover the cost of managing the grid.
Energy-metal Swap. Basically it is a PPA, but the electricity is paid with mining products, which may eliminate some of the metals market price risk.
Hybrid Microgrids. A key advantage of renewable energy is that it can power the energy needs of mining operations in remote areas, where the cost of building the infrastructure required to hook the mine up to the grid network or building a conventional power station will be significant. By having a dedicated off-grid renewable power source, a mining operation can meet all its energy requirements from green sources and make significant cost savings in the price it pays for electricity. Micro-grids involve a combination of power sources, usually diesel or natural gas generators combined with some renewable resources. Several mines have started down this path, integrating wind or solar PV generation with short duration lithium-ion batteries that produces 10-25% of a mine's total electricity needs. The microgrid continues to be controlled by the diesel gensets with renewables acting as a reduction to the overall mine load. Fortunately, battery technology has advanced rapidly in recent years to keep up with the need to store increasingly large amounts of renewable energy at a lower cost and lesser physical footprint.
One of the keys to this relationship is the rapid development of suitable renewable power supplies to both existing and new mining operations. The sooner mining operators adapt their models to accommodate this development, the sooner they will be able to persuade investors, lenders, and off-takers to support them. Miners must soon decide whether to push forward in the direction of renewables or else they risk becoming high-cost producers in their respective commodities as renewables are increasingly becoming factors for competitiveness. Renewables should also be examined as part of a broader social and environmental agenda in addition to their financial proposition as a replacement for existing traditional energy sources.
Legacy Mines as RE Sites
Mine site conversion can provide ongoing and long term value in the form of an alternative income stream well after mining operations have ceased. Specific benefits can include reusing infrastructure, reduced cleanup and decommissioning costs, re-employment of a skilled mining workforce and/or new local employment opportunities, and a clean after-use for a mine site that can also create a potential source of carbon credits with tradable value.
Mine sites may prove to be ideal locations for the generation of renewable energy because they often cover extensive areas where wind and solar power structures will have less environmental impact and are therefore less likely to meet opposition. In addition, mine sites often already have the necessary electricity transmission lines and transport infrastructure in place, avoiding extra capital costs. Other forms of redevelopment may not be an option due to the remoteness of the site, or environmental conditions may rule out residential or commercial use without significant extra development cost. Although interest is increasing, the re-use of mine sites for alternative energy generation remains at a small scale but already in place in some sites.
Table No. 2. Renewable Energy Technologies at Former Mines Sites
Technology

Former Mine Sites

Wind Power

In the largest wind farm planned in Virginia, 166 turbines will be sited on over 4000 hectares of land disturbed by coal and hard rock mining activities. 99% of the land remains usable for other activities including farming.

In Scotland, Black Law Wind Farm near Forth covers 1850 hectares of abandoned coal mine land, grazing land and commercial forestry, with 42 wind turbines generating 97 MW, and plans for expansion potentially increasing the total generating capacity to 193 MW.

At the Hazlehead Wind Farm site in West Yorkshire, wind power is now being generated on the site of a former clay quarry spoil tip and landfill site, with three turbines and a proposed installed capacity of 6 MW.

Solar Power

The Geosol solar plant at Espenhain, Leipzig, constructed on a former lignite mine ash site, generates 5 MW and saves around 3700 tonnes of CO2 every year.

UK's first large-scale solar PV farm developed by Lightsource Renewable Energy is located on the south-facing site of the former Wheal Jane tin mine near Truro in Cornwall. The solar farm houses 5680 panels with a peak generating capacity of 1437 MWh.
If not done responsibly, researchers have found that the mining necessary for producing more metals and creating the required renewable energy infrastructure could exacerbate threats to ecosystems. While they fully support the move away from fossil fuel production as an essential part of the fight against climate change, alternative energy production must not happen at the expense of biodiversity, rainforests, and the livelihoods of indigenous peoples.
In response to increasing corporate demand for clean energy, industry associations and coalitions have sprung up to make it easier for mining companies to enter into power PPAs with developers and utilities, or to self-generate their own electricity. There's an optimal point in any proposed mining project where a decision needs to be made to integrate renewables, or else the mine life will expire before the full benefits of renewables can be realized.
Conclusion
If the mining and renewable energy industries pursue a strong symbiotic relationship, both will benefit in cost savings, reduced emissions and more importantly, preserving their social license to operate. This will be a very long transformation process but with new technologies in commercial development especially in battery storage, the mining industry has an incredible opportunity to drastically curb climate change impacts in its operations. Investors and lenders will also need to be part of the solution by revisiting the mining industry as an investment opportunity. They have to work with mining companies to implement ESG improvements and transition to sustainability. Instead of dismissing these efforts as industry "greenwashing", critics and skeptics must exercise open mindedness in giving a chance to mining that, whilst historically perceived as dirty, is essential for the global aspiration of a clean and green energy transition.
Fernando "Ronnie" S. Penarroyo specializes in Energy and Resources Law, Project Finance and Business Development. He may be contacted at fspenarroyo@penpalaw.com for any matters or inquiries in relation to the Philippine resources industry. Atty. Penarroyo's commentaries are also archived at his professional blogsite at www.penarroyo.com
References
Ali, Umar, Going green: renewable energy projects at mines around the world, Mining Technology, April 15, 2021, https://www.mining-technology.com/features/going-green-renewable-energy-projects-at-mines-around-the-world/
Better fit for mining and renewable energy, THEnergy, 2020, https://www.th-energy.net/english/platform-renewable-energy-and-mining/business-models/
Cormack, David and Wood, Michael, Renewables in Mining: Rethink, Reconsider, Replay, Deloitte, 2017, https://www2.deloitte.com/content/dam/Deloitte/global/Documents/Energy-and-Resources/gx-renewables-in-mining-final-report-for-web.pdf
Fawthrop, Andrew, Why the mining industry must continue to embrace renewable energy, NS Energy, 20 March 2020, https://www.nsenergybusiness.com/features/renewable-
energy-mining-bnef/#:~:text=Financial%20incentives%20for%20mining
%20industry%20to%20embrace%20renewable%20energy&text=%E2%80%9CThis%20means%20
miners%20can%2
0negotiate,the%20volatility%20of%20energy%20markets.
Gracey, Kyle, How can renewable energy technologies support mining and drilling?, Prescouter, October 2017, https://www.prescouter.com/2017/10/renewable-energy-mining-drilling/
Jamasmie, Cecilia, Anglo American to run South America mines 100% on renewables, MINING.COM. April 15, 2021 https://www.mining.com/anglo-to-run-south-america-mines-100-on-renewables/#:~:text=Anglo%20American%20(LON%3AAAL),by%20green%20energy%20by%202022.
Kostigen, Thomas M., The might of metals in the clean energy transition, GreenBiz, 10 February 2021, https://www.greenbiz.com/article/might-metals-clean-energy-transition#:~:text=Here's%20why%3A%20
Minerals%20are%20critical,in%20the%20
Paris%20Climate%20Agreement.
Maisch, Marija, Mining sector to rely increasingly on renewables, report finds, PV Magazine,11 September 2018, https://www.pv-magazine.com/2018/09/11/mining-sector-to-rely-increasingly-on-renewables-report-finds/
Mining & Renewable Energy – A Greener Way Forward, Watson, Farley, and Williams, 23 November 2020, https://www.wfw.com/articles/mining-renewable-energy-a-greener-way-forward/
Sonter, Laura, Watson, James and Valenta, Richard, Renewable energy can save the natural world – but if we're not careful, it will also hurt it, The Conversation, 02 September 2020, https://theconversation.com/renewable-energy-can-save-the-natural-world-but-if-were-not-careful-it-will-also-hurt-it-145166
Thomas, Tobi, Mining needed for renewable energy 'could harm biodiversity', The Guardian, 01 September 2020, https://www.theguardian.com/environment/2020/sep/01/mining-needed-for-renewable-energy-could-harm-biodiversity#:~:text=The%2
0mining%20necessary%20for%20producing,to%20biodiversity%2C%20researchers%20have%20
found.&text=The%20scientists%20f
ound%20mining%20potentially,used%20in%20renew
able%20energy%20production
Whitbread-Abrutat, Peter and Coppin, Nick, Wardell Armstrong International, Renewables Revive Abandoned Mines, Renewable Energy World, 13 April 2021, https://www.renewableenergyworld.com/baseload/renewables-revive-abandoned-mines/#gref
Zuliani, Jocelyn and Guilbaus, Joel, Renewable energy in mining: A practical application for active operations, Canadian Mining Journal, 01August 2020, http://www.canadianminingjournal.com/features/renewable-energy-in-mining-a-practical-application-for-active-operations/
---