06 June 2022, PMEA Monthly Membership Meeting at Makati City with Mr Joey Nelson Ayson (PMEA President) and Mr Sukalp Sharma (Asian Digital Leader, GHD Digital) [Photo by Marcelle Villegas, Philippine Resources Journal]
Mining events are slowly transitioning back to face-to-face gatherings, and this is something that Philippine Mining and Exploration Association (PMEA) has been initiating since April with their hybrid meeting. Last 6 June 2022, PMEA's Monthly Membership Meeting resumes with several attendees who were present at Manila Elks Club that evening.
Mr Joey Nelson Ayson, PMEA President, reported some PMEA matters and industry updates/news from MGB. Here are some of the topics he discussed:
~ 9th Annual PMEA Invitational Golf tournament - Proposed venues and date are not yet set. (Perhaps it will be scheduled early in August of this year.) Golf Committee Chair is Mr George Yap III.
~ 4 May 2022 – Atty. Ernesto D. Adobo Jr. was designated as Supervising Undersecretary for Mining Affairs.
~ 1 June 2022 – Glenn Noble was reassigned back as MGB MIMAROPA Regional Director.
~ MGB's current new projects (Phase 1) includes: 7 new nickel mines, 2 gold mines, 4 iron / chromite mines, 2 offshore marine sand projects, 3 limestone projects supporting cement plants, and 18 non-metallic mines (aggregates, industrial sand and gravel).
For upcoming mining projects (Phase 2), there will be 8 new nickel mining projects, 7 new gold mining projects, 4 new copper mining projects, 2 new iron / chromite mining projects, 12 new non-metallic mining projects (feldspar, basalt), 7 new limestone mining projects, and 5 new magnetite sand mining projects.
~ As for the top producers for the first quarter of 2022, we have the following:
GOLD
1. MGP / PGPRC (1,859 kgs)
2. OGPI (917 kgs)
3. Philsaga Co-o (706 kgs)
SILVER
1. TVIRD Phils Balabag (5,155 kgs)
2. AMCI Maco (2,966 kgs)
3. MGP / PGPRC (1,436 kgs)
NICKEL
1. RTNMC (1,028,119 DMT)
2. TMC (451,265 DMT)
COPPER
1. CCC (35,423 DMT)
2. OGPI (15,452 DMT)
3. Philex Padcal (13,966 DMT)
CHROMITE
1. Techiron Resources
2. THPAL (by-product)
IRON
1. Ore Asia Mining Bulacan (41,124 DMT)
2. Strongbuilt Mining Leyte (3,009 DMT)
More industry updates:
~ 16 March 2022 - Marinduque RTC Branch 38, finds Marcopper Mining Corporation accountable for the March 1996 mine spill and awards each of the plaintiffs the amounts of P200,000 in temperate damages, P100,000 in moral damages and another P1 million as exemplary damages.
~ 2 May 2022 – DENR issued Administrative Order (AO) 171-2022 which is a moratorium on the acceptance of all new applications for special exploration permit/government seabed quarry permits.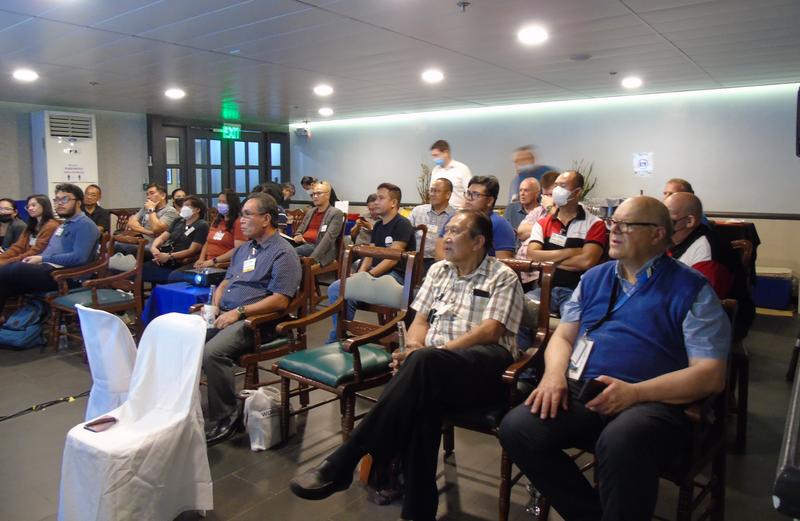 Company News:
Oceana Gold Philippines Inc.
- Probable + Proven Mineral Reserve of 42.2 Mmt of 0.91g/t Au (different cut-offs for OP & UG)
- 2022 Q1 production of 29,446 oz Au and 3,500 tons Cu
- Purchase Agreement with Bangko Sentral to sell 25% of Au signed last May 05, 2022 and the first
gold bar delivered the other week.
B2Gold / MGP - Production for 1Q 2022 is 59,764 oz.
Sagittarius Mines Inc.
- SP has issued a Resolution lifting the open pit ban.
- Gov. Tamayo of South Cotabato has VETOED the SP Resolution, though he clarifies that it does not
cover projects approved by the national government.
Mt. Labo Exploration and Development Corporation
- They are currently resolving all issues, including restructuring brought about by the entry of TVIRD in the project.
Celsius Resources Limited
- Drilling is ongoing at their flagship MCB Project (Kalinga) with significant assays obtained in MCB037
- Initial scoping study recently completed.
Greenstone Resources (Siana Mine)
- Ongoing rehabilitation of Tailings Storage Facility and other mining infrastructures, access and in-pit
roads
- Target resumption of mining operations including gold-silver production: 2nd quarter 2023
TVIRD Balabag
- Ongoing ramp-up of mining and milling operations in order to reach target capacity of 2,000 tons per
day
- Continuous production of gold-silver dore sold to direct markets in Asia, Australia and Switzerland
-----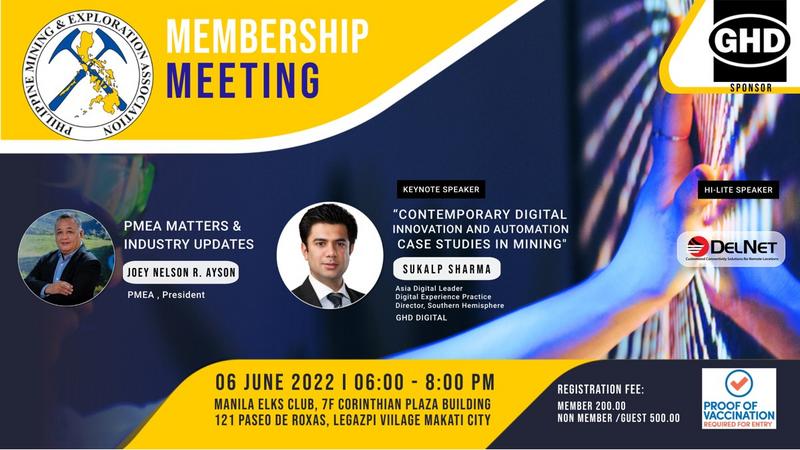 The PMEA Monthly Membership Meeting last June 6 was sponsored by GHD, while the keynote speaker was Mr Sukalp Sharma. He is GHD's Asia Digital Leader and Southern Hemisphere Practice Director for Digital Experience in Singapore.
A week after the PMEA Meeting, Mr Sharma posted on LinkedIn, "Last week, I had the pleasure of being the keynote speaker at a Philippine Mining and Exploration Association Event in Manila, Philippines. The topic of my address was 'Contemporary digital innovation and automation case studies in Mining'."
"I had a great time discussing with a very receptive audience, some recent #GHDDigital case studies focusing on five key themes pertinent to the sector. The key themes included:
(i) Increasing ESG and sustainability focus among miners globally is driving a push towards the adoption of digital led innovation
(ii) IoT devises are increasingly being adopted in the Mining sector for operational, safety and compliance purposes. Sensors generated big-data finds useful applications though Automation / Integration
(iii) High impact automation in Mining does not have to be complex; there are many low complexity, high benefit, high impact use cases with rapid ROI's that can fuel the digital transformation program of a mining organization
(iv) The pandemic accelerated the need for being nimble, flexible and agile to be resilient to disruption. Digital emerged as the clear enabler
(v) Increase in sophistication of Industrial Control Systems (ICS) enabled by the Industrial Internet of Things (IIoT) and convergence of OT and IT systems has made critical infrastructure more vulnerable than ever before."
"Thank you, PMEA, for being a very gracious host. I look forward to our ongoing association."
#innovation #sustainability #GHDDigital #digitaltransformation #automation #miningindustry #PMEA
-----
For additional reading:
"Digitalising mining for sustainability and resilience"
by Sukalp Sharma