Figure 3. Cross section of drill hole MCB-039 relative to the interpreted geology and significant assay results.
We (Celsius Resources) are pleased to announce we have received further shallow and high-grade copper assay results from the ongoing drilling program at our flagship MCB copper-gold project, held under our Philippine subsidiary Makilala Mining Company, Inc. ("MMCI").
The results continue to identify new positions of shallow mineralisation which are in line with other recent drilling results from holes MCB-036, MCB-037 and MCB-038 (see CLA announcements dated 13 December 2021, 23 May 2022 and 4 July 2022 respectively) confirming the presence of an extensive shallow higher-grade position.
The results from MCB-039 were designed to further expand the size of the shallow higher-grade copper zones which are considered to have an important positive impact on early mining options at MCB. The current drill hole in progress (MCB-040) is similarly designed to further expand the higher-grade copper mineralisation leading to potential improvements to the economics of the already positive Scoping Study at MCB as reported by Celsius on 1 December 2021.
"The results from MCB are continuing to grow the size of the shallow higher-grade copper zones," said Country Operations Director, Peter Hume.
"We are getting much better definition now on the various high-grade zones, which are important for the optimisation of the MCB mine plan. We can see many good high-grade intersections coming together to expand on the earlier understanding of these high-grade zones. Where we get multiple high-grade zones staked on top of each other, we can achieve outstanding results, as recently announced from hole MCB-038 which intersected 611.4m @ 1.39% copper and 0.75g/t gold from 32.5m."
RESULTS FROM MCB-039
Drill hole MCB-039 was drilled to further confirm the interpretation that further shallow high-grade positions exist as a relatively flat body extending into the surrounding host rocks (see Figures 2 and 3).
This drill hole was more specifically targeted to fill a gap in the drilling information where there was previously defined lower grade copper mineralisation.
The results from MCB-039 have confirmed the further extensions to the higher-grade copper mineralisation as part of a series of relatively flat lying, high-grade zones which are extending away from vertically orientated feeder structures which are all closely related to an intrusive Tonalite rock (Figure 3).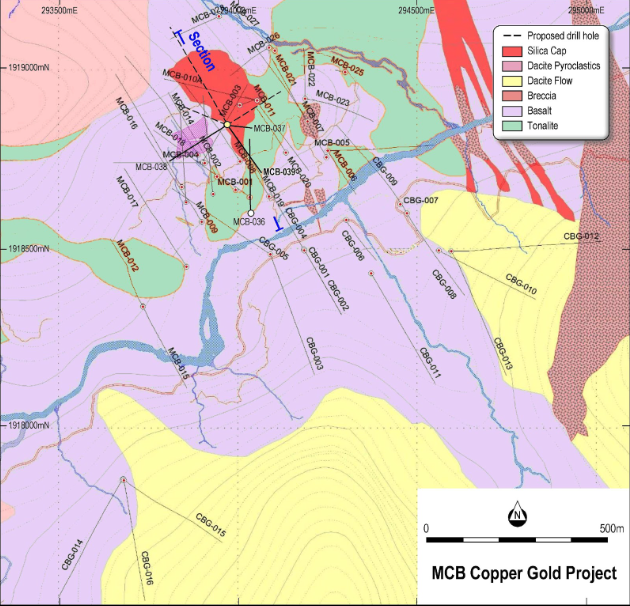 A large broader envelope of copper mineralisation at a lower cut-off grade at approximately 0.2% copper also continues to be better defined, highlighting the very large scale of the copper-gold mineralisation at the MCB deposit.

Article courtesy of Celsius Resources. Full press release can be found HERE