Photo credit: TVI-Agata's nickel DSO process
To paraphrase a popular mining saying, "They are making a ton of money and the Philippines is not getting a nickel." The Philippines needs to maximize revenue from its nickel mining operations. Further up, the mining value chain presents more opportunities for the country to realize the contribution of mining. The US Geological Survey (USGS) lists nickel, cobalt, lithium, and rare earth metals as critical minerals. Stainless steel production, super alloys, and rechargeable batteries all use nickel. It is one of the world's most important metal markets at $20 billion in size. The World Economic Forum reports that the world's battery capacity must grow 40 times larger than it is today, and electric vehicles will require 80% of that future capacity. A Tesla car battery would require up to 50 kilograms of nickel.
In addition, many major countries vowing to stop gas and diesel vehicles are driving further the global boom in electric vehicles (EVs). As the world's second top nickel ore producer, it is time for the Philippines to advance further up the nickel mining value chain. But is the country ready or is it too late?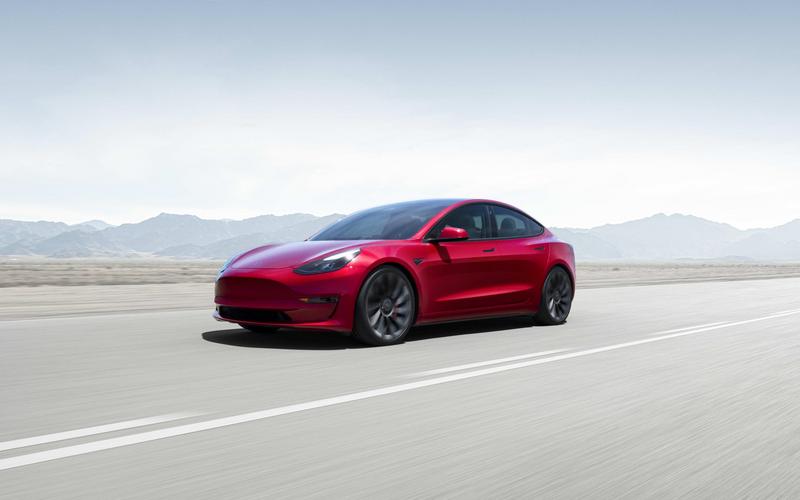 The Mining Value Chain
The mining value chain starts with the first stage of the mine life cycle, exploration and analysis. Value steadily rises with new information that is favorable to the project. Each bit of knowledge brings it closer to the project construction and commissioning stage, known as the development stage. The value of a mine rises sharply in this stage as it closes to the production stage. Value remains steady in the production stage and declines as it approaches closure and rehabilitation. If we magnify into the production stage and look further into the sale and marketing of metals, we will realize that the most significant value added is in the final product. While this might be as simple as it looks in precious metals such as gold, the process is complex in critical minerals like nickel.
Current Position in the Value Chain
According to the Observatory of Economic Complexity (OEC), nickel is the 9th most exported product in the Philippines. The product comes from 32 operating nickel mines and 2 processing facilities. It is classified as direct-shipping ore (DSO), as most nickel operations in the Philippines directly ship nickel laterites to China without further processing to increase its value. However, this is suitable for high-pressure acid leach (HPAL) ores. The Philippines, Indonesia, Cuba, and New Caledonia contribute nickel laterites to the world market.
In 2022, the Philippines was the world's largest nickel producer, producing 370,000 metric tonnes or 10% of the global mined nickel output. S&P reports that the Philippines' nickel ore exports to China amounted to $2.67 billion in 2022, according to data from China's General Administration of Customs. That is 96.5% of the Philippines' nickel ore exports according to the Philippine Statistics Authority.[1]
Nickel laterites or nickel oxides are low-grade, high-tonnage ore that accounts for 62.4% of the global supply. Chinese steel uses the typical products of nickel laterites such as nickel pig iron and ferronickel. The remaining 37.5% nickel supply is nickel sulfide, which is high-grade but rare nickel found in countries like Canada, Australia, China, Russia, and Greenland. Their products are typically nickel metal and sulfate, primarily used in electroplating and lithium-ion cathode material. Less than 10% of that supply is in sulfate form; not all are battery grade. [2]
Of the nickel mines operating in the country, only Nickel Asia Corporation (NAC), the country's top producer of nickel, processes its nickel laterite ores. Coral Bay Nickel Corporation and Taganito HPAL operate a hydrometallurgical processing plant that uses the High-Pressure Acid Leach (HPAL) process. HPAL can effectively and efficiently convert low-grade nickel lateritic ores from 1.14%-1.44% nickel to 55 to 60% nickel, also known as mixed sulfides (MS).
Mixed sulfides, a mixture of cobalt and nickel sulfides and an intermediate product, are refined further in Japan at the Niihama Nickel Refinery and Harima Refinery. They produce electrolytic nickel and cobalt, nickel chloride, and nickel sulfate. These are further processed at the Isoura Plant to produce either battery-grade nickel or ferronickel. Battery grade nickel or Class 1 nickel is typically >99.8% Ni. Nickel pig iron (NPI) or ferronickel used for stainless steel and alloy is class 2 nickel or <99.7% Ni.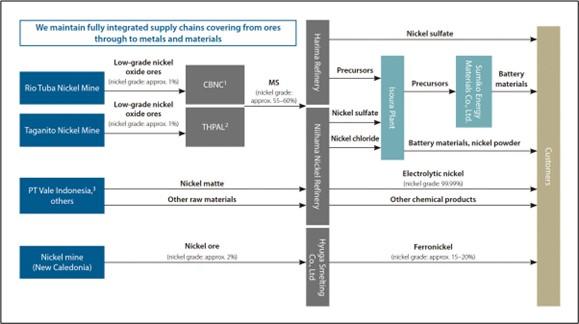 Value increases as the products are refined up to their final form in the supply chain. More value is added to battery production, and eventually electric vehicle production. Thus, the Philippines needs to get added value and opportunities along the production line, at least for the primary products. Countries like China, Indonesia, and Japan get this added value in the processed product stream.
The Philippines, from its current standing, needs to move further up the value stream at least to the primary products. Additionally, it might be best if it can go to battery cathode or stainless-steel production, as most nickel ore is suitable for this.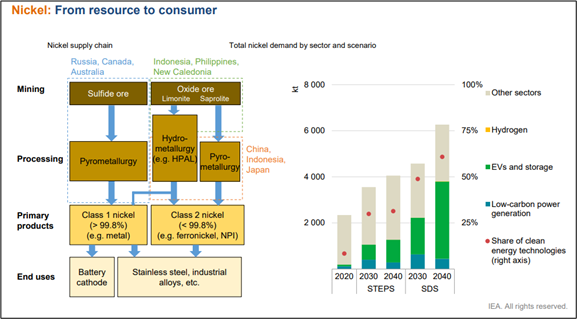 Recharging the Philippine Nickel Mining Industry
The Philippines, through the Department of Trade and Industry (DTI) participated in the Indo-Pacific Economic Framework for Prosperity (IPEF) Ministerial Meeting in Los Angeles, U.S.A last September 2022. The meeting highlighted that the U.S. Government will extend a grant for the Philippines' nickel ore processing for the manufacture of batteries through a partnership with an American firm. [5]
In December 2022, a study grant was awarded to Eramen Minerals Inc. (EMI) to evaluate the technical and economic viability of developing a nickel processing facility at the site of EMI's mine in Zambales province. The plant is expected to use EMI's nickel ore to produce refined nickel and cobalt products for sale as battery precursor materials. The study will help define the technical specifications for the facility and promote alignment with high environmental, social, and governance standards. [6]
Last January, Chinese investors pledged to invest US$7.32 billion in the electric vehicle and mineral processing sectors in the Philippines during President Ferdinand Marcos Jr.'s first state visit to China on January 05, 2023. [7] Last February, Global Ferronickel Holdings Inc. coordinated with a potential technology partner for its plan to build a $100-million steel plant in Bataan. The plant aims to capture around 10% of the market for imported steel. [8]
These are exciting opportunities for the nickel mining space, but policy changes especially on taxes must be balanced as the country needs to maintain a healthy business environment favorable to foreign investors, the government, and its citizens.
Balancing Interests
The government is planning to impose up to 10% tax on nickel ore exports in what the Department of Environment and Natural Resources (DENR) Secretary Antonia Yulo Loyzaga describes as moving out of the supply chain to the value chain. Inspired by the success of nickel's high-value production in Indonesia, DTI is initiating the government's industrial policy study to determine whether it will impose an export tax or nickel ban. Another statement from Trade Secretary Alfredo E. Pascual encourages investment in local processing to produce higher-value export products and not resource-based exports. However, following the footsteps of Indonesia is not as easy as it seems for several reasons.
Depleting Reserves. The Philippines' class A nickel reserves dropped by 4.8% to 474.49 million tonnes in 2021, according to The Philippine Statistics Authority. [9] While the Philippines remains among the top countries with nickel ore reserves, there is a huge difference compared to the ore reserves of Australia, Brazil, and Indonesia. Favorable circumstances could quickly shift investors into moving into these countries in the long term. By the time nickel peaks, the Philippines might no longer have that impact on global production. In addition, a future tax on nickel would be meaningless and only discourage smaller mining projects. Dante Bravo, president of the Philippine Nickel Industry Association (PNIA), said the comparison to Indonesia is flawed because it has more reserves to support investments in local mineral processing.
Capital Requirement. A processing facility is a capital-intensive infrastructure, and many small nickel mining operations need to satisfy processing capacities to operate. A more attractive investment solution would be a centralized nickel processing facility for mining operations near each other.
Energy Requirement and Environmental Concerns. Lateritic nickel ores of the Philippines are amendable to high-pressure acid leach (HPAL) requiring substantial energy input. Processing low-grade nickel ores require high volumes of water, resulting in expensive water treatment and disposal. Lateritic ore mining also warrants high tonnage, thus, a larger environmental footprint.
Policy Shifts. The Philippines has an unstable political climate where policies, especially in mining, change every time a new administration takes over. The industry is always at risk. The deposit is not the only focus of mining investment. It also means investment in the national and local government, the community, and the environment. Thus, changing policies is a significant concern for foreign investors.
Overall, the environmental and social costs are the most significant reason for the Philippines to maximize value from mining. Processing facilities abroad do not assume that cost because they just buy into the product after mining, while we struggle to defend the industry and what is left after mining. The Philippines' nickel mines will not be here forever and not for a very long time. Decisions need to be guided by facts and science for the interest of the common good.
Reference:
[1] Chen. A. (2023, February 02). Philippines seeks to follow in Indonesia's footsteps with Nickel Export Ban. S&P Global Market Intelligence. https://www.spglobal.com/marketintelligence/en/news-insights/latest-news-headlines/philippines-seeks-to-follow-in-indonesia-s-footsteps-with-nickel-export-ban-74109353
[2] Desjardins, J. (2017, October 30). Nickel: The Secret Driver of the Battery Revolution. Visual Capitalist. https://www.visualcapitalist.com/nickel-secret-driver-battery-revolution/
[3] Sumitomo Metal Mining. (n.d). HPAL Technology for Nickel Recovery. https://www.smm.co.jp/en/sustainability/activity_highlights/article_12/
[4] International Energy Association. (2022, March). The Role of Critical Minerals in Clean Energy Transitions. https://iea.blob.core.windows.net/assets/ffd2a83b-8c30-4e9d-980a-52b6d9a86fdc/TheRoleofCriticalMineralsinCleanEnergyTransitions.pdf
[5] Magkilat, B. (2022, September 15). US vows grant for PH nickel ore processing — DTI. Manila Bulletin. https://mb.com.ph/2022/09/15/us-vows-grant-for-ph-nickel-ore-processing-dti/
[6] Eramen Minerals gets US trade grant. (2022, December 14). Philstar Global
[7] Magkilat, B. (2023, February 06). Chinese firms to invest $7.32 B in nickel, EV, steel, electronics ventures in PH. Manila Bulletin. https://mb.com.ph/2023/01/06/chinese-firms-to-invest-7-32-b-in-nickel-ev-steel-electronics-ventures-in-ph/
[8] Philippine Nickel Industry Associations (PNIA). (2023, February 09). Global Ferronickel in Talks With Potential Partner For $100m Steel Plant. https://www.philippinenickel.org/news-and-updates/mining-news/philippines-proposed-tax-on-nickel-ore-exports-could-kill-industry-group-head/
[9] Philippine Statistics Authority. (2022, June 02). Philippines' Class A Nickel, Gold, Copper, and Chromite Resources Valued at Php378.04 Billion in 2021 (Press Release). https://psa.gov.ph/content/philippines%E2%80%99-class-nickel-gold-copper-and-chromite-resources-valued-php-37804-billion-2021