[Photo credit: Philippine Nickel Industry Association]
When we think of mining, one might hardly imagine women who are operating heavy equipment in a mine site. It is a male-dominated industry basically. Even the word "engineer" has a masculine affinity with it. But our modern times has brought to our awareness that women also have a place in the mining industry as engineers, planners, and other important roles.
Perhaps the iconic Hollywood movie star from the 1950s, Marilyn Monroe, was thinking ahead of her time when she said, "I don't mind living in a man's world as long as I can be a woman in it." Her words reflect women empowerment which is not only about the entertainment and fashion industry, but rather, in any career path that a woman chooses to pursue.
Although Women's Month in March is over, the role of women in the mining industry is a daily reality that needs more awareness, sensitivity and acceptance.
Last 30 April 2021, Philippine Nickel Industry Association presented their third episode of the Nickel Initiative Talks and Webinars Series with the title "Promoting Sustainable Development by Advancing the Role of Women in Mining".
"It is a program that seeks to promote dialogue and learning among nickel development players, stakeholders and experts through the sharing of information, insights and best practices. Through this forum, we hope to promote informed discussion on industry initiatives and enhance cooperation and collaboration between the industry and its stakeholders," according to PNIA's announcement.
"Within the mining industry, the role of women continues to gain traction in international discussions consistent with the industry's support to achieving the Sustainable Development Goals and promoting gender inclusion policies of nations. We now see more and more women actively participating in the advancement of the mining sector from the mining fields to the boardroom."
"This webinar will look into the participation of women in mining, particularly in the nickel development sector, and how the industry and stakeholders can collectively work towards increasing women's participation and inclusion in mining."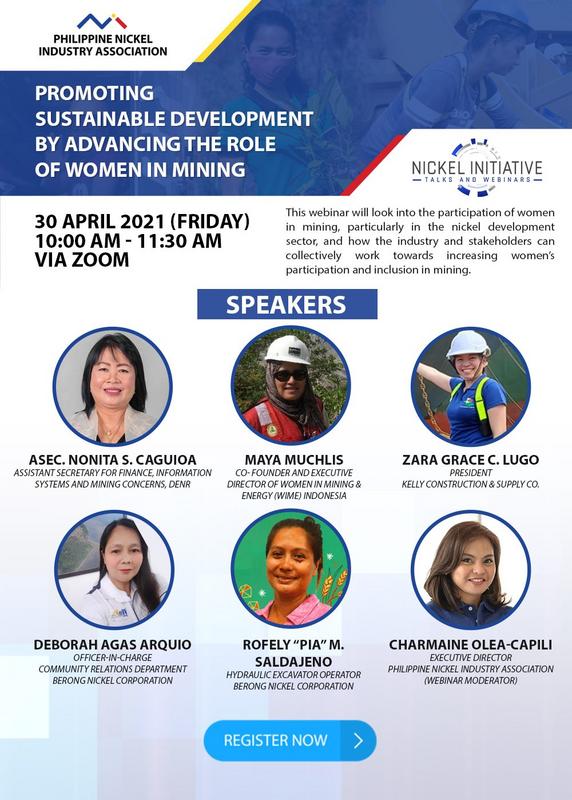 The speakers in the webinar include:
- Engineer Nonita S. Caguioa, Assistant Secretary for Finance, Information Systems and Mining Concerns, DENR
- Ms. Maya Muchlis, Executive Director of Women in Mining & Energy Indonesia
- Zara Grace C. Lugo, President, Kelly Construction and Supply Corporation
- Rofely "Pia" M. Saldajeno, Hydraulic Excavator Operator at Berong Nickel Corporation
- Deborah Agas Arquio, Officer-in-Charge, Community Relations Department at Berong Nickel Corporation

The webinar was hosted by Charmaine Olea-Capili, Executive Director, Philipine Nickel Industry Association. Her guest speakers for the webinar are mostly outstanding women in their field with inspiring stories about their struggles and triumphs in their careers in mining while being a mother or wife as well.
Engineer Nonita S. Caguioa is the Assistant Secretary for Finance, Information Systems and Mining Concerns at Department of Environment and Natural Resources. ASec Caguioa is a mining engineer by profession. She graduated from Cebu Institute of Technology – University. ASec Caguioa has been with DENR for more than three decades since she joined in 1990. Since then, she has held various positions in the national and regional offices of DENR and the MGB particularly in areas that involved her in the creation and implementation of policies, programs and regulations for the mining sector. With her extensive knowledge and experience in the field, she is a sought-after resource person in international and local stakeholder fora.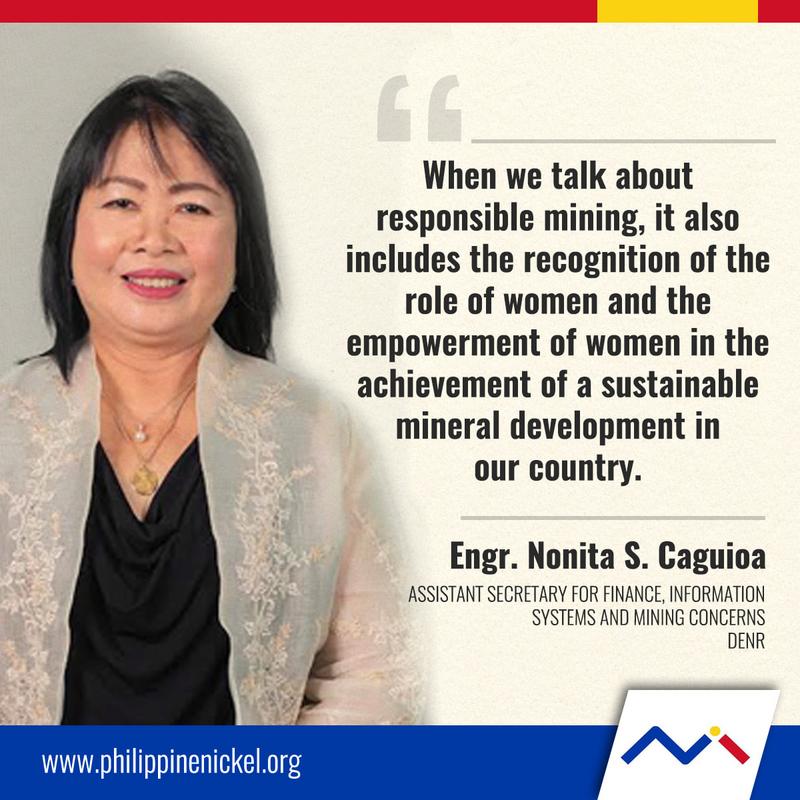 From Indonesia, the webinar featured Maya Muchlis, founder and Executive Director of Women in Mining & Energy Indonesia. Muchlis has over 13 years of extensive professional experience in Mining, Oil and Gas industry. Her work focuses on environmental and biodiversity best management practice; and environmental planning and sustainability management.
During her talk, she gave some insightful background on the traditional culture in Indonesia (or Asia in general) where a married woman may not always have the freedom to choose her career. For example, women usually quit their jobs or college studies just because their husbands are against it. This is because women are expected by their parents and spouse to stay home and take care of their children.
Zara Grace C. Lugo is the President of Kelly Construction & Supply Co., Manager of Kelly Logistics, Manager of Kelly Trucking Services & General Merchandise and owner of Farmacia Surigao. Lugo is one of the few women who heads a company engaged in the mining industry since 2012. She is from Surigao City and graduated from National University in 2007 with a Bachelor's Degree in Pharmacy.
In her personal sharing of difficulties, she mentioned her struggle being a non-engineer in an industry where most of her colleagues and clients are engineers. She also mentioned that the harsh environment in mine sites is also a difficult work scenario.
Pia Saldajeno, is a hydraulic excavator operator at the Berong Nickel Corporation. She was recognized as 2021 Most Empowered Women in Mining in the MIMAROPA REGION by MGB "for her fearlessness and grit in rising above her circumstances to succeed in a demanding and male-dominated profession".

Another lady from Berong Nickel Corporation is Deborah Arquio. She is the Officer-in-Charge of Community Relations department. Her main responsibility is to establish and maintain a mutually beneficial relationship with the communities in which the company operates. Arquio is also responsible in implementing projects, programs and activities identified by the community, coordinates with various local government units in promoting Company's interest and preserving good relation with them.
They shared their stories of difficulty in the past as a young mother who is pregnant while in a mine site. Another story was about struggling to overcome her fear of operating heavy machinery while her male colleagues were often judging her as someone weak and incompetent just because she is a woman.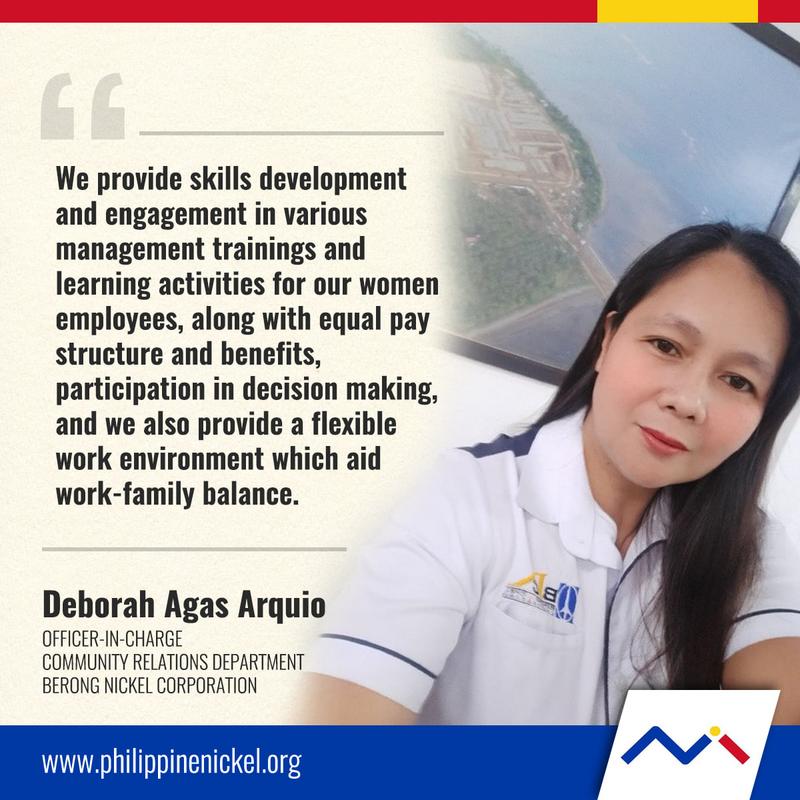 In a nutshell, what is nice about hearing the stories of these women is the happy ending where eventually they were able to master and excel in their work. Also, most of them shared stories where eventually, being a woman was no longer a hindrance for success and work-life balance. They were also able to gain acceptance and respect from their male colleagues in the end.