Commentary by: Mr. Francisco "Jun" Delfin
Introduction
Over the past 2-3 years, we have seen dramatic disruptions in global energy markets brought among others by the Covid-19 pandemic, Russia's invasion of Ukraine, and deepening concerns about fossil fuels' impact on the earth's climate. Such challenges have caused escalating energy costs, power supply shortfalls, rejection of fossil fuels especially coal, sustained shift to renewables and even a renewed focus on nuclear energy in many countries. The collective transition to a more sustainable, low-carbon energy future has led countries and organizations to adopt net zero policies, committing by different target years to reduce their greenhouse gas emissions to as close to zero as possible.
Offshore wind development benefits from these sweeping changes in the global energy landscape. In 2021, a record 21.1 GW of offshore wind capacity was installed, bringing cumulative global offshore wind capacity to 56 GW according to the Global Wind Energy Council (GWEC). Europe and Asia are the leading regional market with 50.4% and 49.5% of the world's total installations, respectively. Moreover, annual offshore wind energy growth is forecast to rise significantly to 8.4% in 2025-2030 from a modest 1.7% growth in 2020-2024. In Asia, high growth are expected in the following countries: China with 60-70 GW of capacity by 2030, Japan with 10GW by 2030 and 30-45 GW by 2040, Taiwan with 5.5 GW by 2025 and 20 GW by 2035, South Korea with 12 GW by 2030, and Vietnam with 9 GW by 2035 and 15 GW by 2040.
Given its geographic setting, the Philippines should harness this fastgrowing clean energy resource not only for much needed power supply but also for the benefits it will confer on the country's S&T and industrial sectors.
Offshore Wind Development in Philippines
The offshore wind (OSW) industry is in a nascent stage and can be said to officially begun in the country in April 2022 when the World Bank and the DOE completed and launched the Offshore Wind Road Map for the Philippines. This study is groundbreaking because it documented the country's 178 GW OSW technical potential, identified six (6) high priority zones for development (Fig. 1), outlined two growth scenarios for the OSW industry, and specified recommendations to overcome challenges to such growth.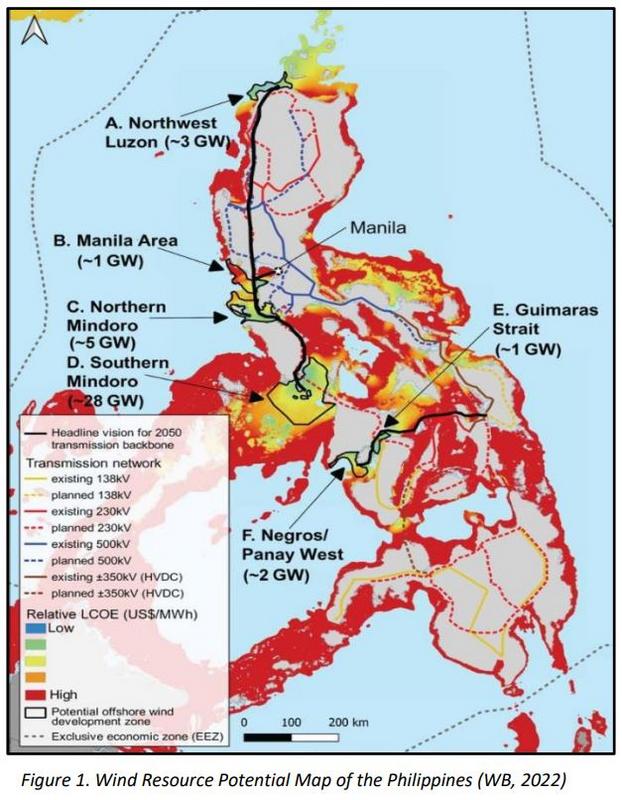 This fledgling industry got a tremendous policy boost in the new Marcos, Jr.'s administration with the country's top two energy officials – President Ferdinand Marcos, Jr. and DOE Secretary Raphael P.M. Lotilla – being staunch advocates of indigenous renewable energy development in general and wind power in particular. Several major policy decisions in quick succession demonstrated the government's commitment to renewable energy and offshore wind and thus laid the groundwork for necessary private investments in the industry. In September 2022, the Department of Justice (DOJ) issued an opinion that the foreign equity cap on certain natural resources does not apply to wind, solar, and tidal energy resources. In November 2022, the President approved the DOE's proposed offshore wind program and directed the agency, among others, to lead and harmonize the permitting process to expedite development and utilization of offshore wind (Figure 2). In December 2022, the DOE amended the implementing rules and regulations (IRR) of the 2008 RE Law, allowing 100% foreign ownership in wind, solar, and tidal energy resources.
But even before the World Bank study and the onset of the new government a few local companies and their foreign partners have quietly moved into offshore wind. Two such early venturers were Triconti ECC Renewables and PetroGreen Energy Corp. (PGEC). The latter, a member of the Yuchengco Group of Companies (YGC), partnered with Danish firm Copenhagen Energy to acquire three service contract blocs in Northern Luzon, Northern Mindoro, and East Panay. Admittedly, decisive policy actions by the new administration spurred more private sector interest in OSW. Thus, by end 2022, the DOE had awarded forty-three (43) OSW service contracts to twenty (20) individual companies with an aggregate target capacity of 33 GW. Even if only a fraction of these blocs is eventually developed, the medium- and long-term benefits for the country would be enormous.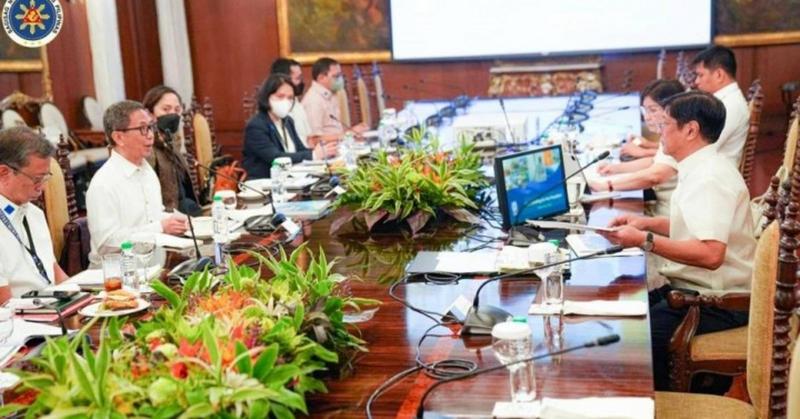 OSW Benefits: Payoff for Science & Technology (S&T)
Clearly, the country's power sector will be the primary beneficiary of OSW development. It can help achieve the DOE's goal of increasing RE's share in the generation mix from the current ~20% to 35% by 2030 and 50% by 2040. Such aspiration requires additional RE capacities of 22 GW by 2030 and by another 52 GW by 2040 under the clean energy scenario in the DOE's 2020-2040 Philippine Energy Plan. OSW can help provide these additions even if only a modest fraction of OSW's 178 GW technical potential is harnessed. Also, with its ideally large capacity of >300-500 MW for a single wind farm combined with its high capacity factors (35-45%), OSW is arguably the best among RE options to replace coal generation in the country.
But while advantages of OSW are obvious for the country's power supply, less recognized is the significant positive spill-over benefits that OSW can contribute to the country's science and technology (S&T) sector. The first immediate S&T beneficiaries of large-scale OSW development are our applied geological and environmental sciences and professions. There are three interrelated facets of OSW development where geological and environmental sciences will be employed and knowledge enhanced.First, a multi-agency marine spatial planning is necessary to minimize conflicts among competing uses of the marine environment. Whether government- or academe-led, marine spatial planning involves the collection not only of primary geoscientific and environmental data but also of social and cultural data over prospective or identified zones of OSW development. These data and their objective and professional analyses would be the foundation from which prospective OSW and pre-existing activities could be coordinated, integrated, and regulated and thus help avoid or reduce disputes among legitimate uses.
During the feasibility study and development of the OSW projects, geological, atmospheric, and environmental sciences will be critical tools by which private developers can validate their block's energy yield, establish the area's average and extreme wind and ocean current conditions, characterize the bathymetry and bedrock geology of the prospective site, and evaluate the most appropriate foundations and mooring for their offshore wind turbines. Considerable primary scientific data will be gathered by such survey methodologies as floating LIDAR (Fig. 3), multi-beam echo sounding, side-scan sonar, magnetomery, shallow seismic survey, seabed coring, and many others.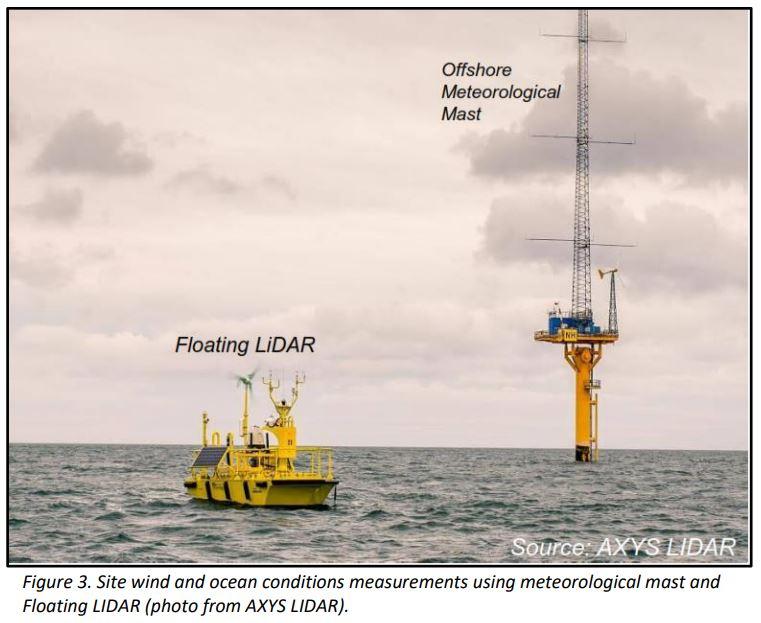 Environmental impact and geo-hazards risk assessments are the third facet of OSW development where environmental and geological knowledge will be enhanced and employed. Characterization of the baseline marine environment, including aquatic life and cultural artifacts, is necessary in assessing potential transient- and long-term environmental effects of OSW development. Among these possible consequences are seabed disturbance and noise, under-sea electromagnetic fields, marine habitat and livelihood loss. Similarly, geo-hazards investigation and monitoring would play critical role in ensuring the safe operations of the wind farms from extreme events such as super-typhoons, earthquake-induced tsunamis and landslides, ground shaking, and liquefaction.
Apart from the positive externalities to applied geological and environmental sciences, OSW utilization can also bring about large-scale commercial green hydrogen production in the Philippines. This technological payoff will have many industrial and commercial applications a few decades from now, including energy medium for hard-to-abate sectors such as land transportation, aviation, and shipping, fuel for industrial heating, and chemical feedstock for refining, ammonia, and fertilizers.
How is OSW going to birth a green hydrogen industry in the Philippines? Globally, hydrogen is already in use especially in chemical and petroleum refining. But the hydrogen used is one derived from hydrocarbons and the process emits significant CO2. Large capacity OSW power plants in the future can provide the potentially cheaper power source by which "green" hydrogen can be produced through electrolysis of water more economically and without any carbon involvement either in the raw material or in the process by-product.
OSW Benefits: Payoff for the Supply Chain Sector
Building the country's capacity to deliver the components and services to build, operate, and maintain offshore wind farms is a major challenge but can also be a boon for our supply chain industries. To be sure, foreign suppliers and service providers will play an important role in the process but a sustainable and competitive OSW industry will inevitably require national capacities nurtured by public investments and private resources.
Setting aside those related to our power transmission infrastructures, among the key services, sectors, and professions in the country that can benefit immensely from an OSW industry are vessels, ports and harbors, storage and warehousing facilities, logistics companies, manufacturing, construction including crane services, survey companies, environmental and geological professionals, civil, mechanical, and electrical engineering, and educational institutions.
In the Philippines, perhaps the supply chain sector in most in need of early and focused government action are ports and harbors. During development of OSW farms, ports near the site with sufficient depths and large lateral areas are needed for delivery, laydown and storage of large components imported from overseas suppliers. Assembly of wind turbines will be done quayside and with hardstand suitable for heavy lift cranes as the turbines will be towed fully assembled from the port to their final installation site at sea. And during the operations and maintenance phases of OSW farms, the port will serve as warehouse, office, and housing facilities for staff and contractors transiting out to the wind power site.
Hence, existing Philippine ports have to be expanded or new ones close to the sites constructed. Key parameters for OSW ports are given in Figure 4. In should be stressed that though port improvements for OSW can be costly, such large facilities can generate not only employment during construction but can serve non-OSW related economic activities such as fisheries, inter-island shipping, cruise ships and tourism, and even educational facilities.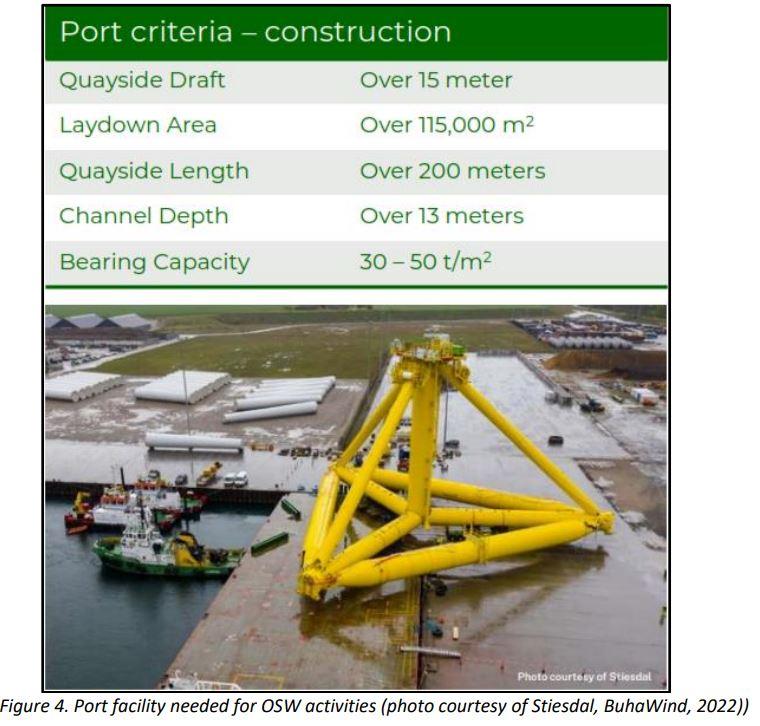 It is not hard to imagine that creating a national OSW supply chain can generate thousands of skilled and non-skilled jobs in the Philippines. Such commitment, efforts, and funds for building a viable delivery system, however, would only payoff in terms of employment generated, CO2 emissions avoided, gross value added to the economy, and of course power generated if the target OSW capacity is relatively large. If the goal is only 3GW of OSW capacity by 2040, as in the World Bank's low-growth scenario, the costs of building a national supply chain system to service a small OSW industry may not make economic sense.
Closing Remarks: Challenges to OSW Development and Utilization
Even as the energy, environmental, scientific, technological, and commercial imperatives of large-scale OSW development are clear and compelling, we must be realistic that significant obstacles exist that can prevent the country from achieving those benefits. At the most optimistic scenario, the earliest the country can see OSW power generation would be around 2030. If the Marcos Jr administration hopes to compress this timeline to around 2028, then much work and hard decisions must be done now.
Challenges come in two broad arenas: policy alignment and infrastructure development. Building on the welcome lifting of foreign equity restrictions on renewables, realignment of differing or conflicting policies among executive agencies involved in maritime resources and grid connection is absolutely crucial. Perennial but so far wishful recommendation on a "one-stop shop facility" for energy permitting must be replaced by the hard but inescapable need for the DOE to be in charge of all permits on behalf of other government units, if the permitting process will not become the quicksand in which OSW development will sink and vanish. In other words, private developers should only face the DOE in securing national government approvals; in turn, the DOE should be vested with procedural rights, through an Executive Order, to issue all permits on behalf of other agencies so long as the latters' substantive rules on offshore wind are respected by the DOE. Obviously, this is easier said than done but piloting such a simplified permitting process for one advanced OSW project maybe the way to go initially. Implementation of such system to all OSW projects can then done subsequently once kinks have been ironed out.
Though there are many supporting infrastructures, broadly defined, that will be crucial in birthing a viable OSW industry, three fields are especially critical. These are high-voltage transmission connection, ports and harbors, and an offtake mechanism for power generated. Discussions about grid enhancements are too detailed and beyond the scope of this brief paper. Suffice it to say, however, that NGCP and TRANSCO have the resources and access to internal and external expertise needed to build and enhance our existing grid facilities and protocol to allow utilization of large-scale OSW if given clear mandate from the political leadership. But for ports and harbors, much more planning, investments, and hard infrastructures are needed now for maritime agencies of the Department of Transportation, namely the Philippine Ports Authority (PPA), the Philippine Coast Guard (PCG) and the Maritime Industry Administration (MARINA). The third "supportive infrastructure" relates to an offtake mechanism and the DOE and the Energy Regulatory Commissions (ERC) must by this time study an offtake auction mechanism exclusive to OSW. For the government, this is a way to kick-start development by structuring auction to realize early capacity at the lowest possible cost. For private developers and lenders, offtake security via auction enhances commitment to mobilize risk money and motivates efficiency and innovation. Admittedly, it will take a while for such an auction mechanism to be fashioned but even a general early statement from the government that such mechanism is under consideration will send a strong positive signal to investors.
In closing, it should be stressed that while many sectors will benefit from large-scale OSW development, the ultimate goal of such investments and efforts should be to lower retail electricity costs to consumers. An abundant, indigenous, and clean power source less immune to global fuel prices and foreign exchange disruptions can help eventually bring down power rates while transitioning to a low-carbon society. Offshore wind energy provides that opportunity.
Mr. Francisco "Jun" Delfin is Vice President & COO of PetroGreen Energy Corp. (PGEC) and President of Maibarara Geothermal Inc. (MGI), subsidiaries of publicly-listed and Yuchengco Group of Companies (YGC) affiliate PetroEnergy Resources Corp. He is a geologist with a PhD in public administration from the University of Southern California (USC). His work experience spans private industry as YGC executive since 2008, professional geological practice with PNOC-EDC, government service as DOE Asst. Secretary and Undersecretary during the Arroyo administration, academia as Asst. Professor at UP National College of Public Administration & Governance and non-profit as past President of the Geological Society of the Philippines in 2009.
References:
UN. 2023. For a livable planet: Net-zero commitments must be backed by credible action. Available at https://www.un.org/en/climatechange/net-zero-coalition?gclid=EAIaIQobChMIh6-Ptq3- _AIVEjUrCh2e3wdYEAAYBCAAEgKLpfD_BwE.
GWEC. 2022. Global Offshore Wind Report 2022. Available at https://gwec.net/wpcontent/uploads/2022/06/GWEC-Global-Offshore-Wind-Report-2022.pdf.
World Bank Group. 2022. Offshore Wind Road Map for the Philippines. Washington, DC: International Bank for Reconstruction and Development/The World Bank Group.
See for example: CNN Philippines Staff. 2022. DOJ: Renewable energy sector excluded from foreign investment cap. https://www.cnnphilippines.com/business/2022/10/2/DOJ-renewable-energy-sector-excluded-from-foreigninvestment-cap.html.; DOE. 2022. Media Releases dated Nov. 11, Nov. 17, and Nov. 22. Available at https://www.facebook.com/DOEgovph/. and https://www.doe.gov.ph/content/press%20releases?withshield=1.
DOE. 2022. Philippine Energy Plan 2020-2040. Taguig City: Department of Energy.
Delfin, Jr. F.G., Vasquez, A.A., Olivar, M.V.M. and Ventura, Y.V. 2022. Offshore Wind Energy: The Next Frontier in Renewable Energy Development and Applied Geosciences in the Philippines. Plenary Presentation at the 2022 Geocon. Geological Society of the Philippines.
DNV. 2022. Hydrogen Forecast to 2050. Energy Transition Outlook 2022. Available at https://www.dnv.com/focus-areas/hydrogen/forecast-to-2050.html.
Carbon Trust. 2021. ASEAN Low Carbon Energy Programme: Offshore Wind Delivery Framework (Part 2). Webinar Presentation, 18 June 2021
BuhaWind Energy. 2022. Initial View on Infrastructure. Internal BuhaWind Report, Nov. 8, 2022.