Diwata-Women in Resource Development, Inc. (Diwata) celebrates on 17 July 2023, 11 years since its founding. However, due to the "lost year" due to the pandemic, Diwata's leadership considers it only its 10th anniversary.
Notwithstanding this, and in view of its active presence in the mining industry, it would seem that Diwata has been around for much longer.
Founded on 18 July 2012 on Nelson Mandela Day, Diwata is a non-government organization advocating the responsible development of the Philippines' wealth in resources, principally in extractive industries such as mining, oil and gas, quarrying, and other mineral resources from the earth for processing. Through their initiatives, projects, and activities, it has consistently provided a platform to promote the responsible development of the Philippines' resources. It also promotes initiatives to protect the land and communities, particularly indigenous people, with most of projects focusing on improving the livelihood, health, education, and culture of indigenous people.
Diwata was founded by Ambassador Delia Domingo Albert [see accompanying article], a Filipina career diplomat who served as the first female and 23rd Philippine Secretary of Foreign Affairs from 22 December 2003 until 18 August 2004. She was the first woman career diplomat to serve as foreign minister of a Southeast Asian country.
Back in September 2012, the late Philippine Star columnist Domini M. Torrevillas wrote, "I'd like to call former Ambassador Delia Domingo Albert as a diwata, on the good, beneficent side. She is the driving force in the creation of Diwata, a non-government organization advocating the responsible development of the Philippines' wealth of resources…"
Wrote Torrevillas of Diwata's beginnings, "Diwata Delia was able to attract the top men and women of different industries to attend the launch and sign up as members of Diwata. These members are enjoined to educate inform, stimulate, challenge, and enable all stakeholders in responsible minerals development to recognize our country's competitive advantage as one of the top five most mineralized countries in the world, and use this competitive advantage as a growth driver."
Atty. Patricia A. O. Bunye was the Founding President (2012-2015), followed by Cleotilde A. Marzo (2015-2017), Eliza R. Laudencia (2017-2018), Atty. Joan Adaci-Cattiling (2018-2021) and Eleanore A. Layug (2021-present).
Diwata's Accomplishment Report
Through the years, Diwata has achieved many milestones. Here are some memorable moments and important events highlighting its mission to advocate for the responsible development and use of the country's natural resources, while protecting the rights of indigenous people, women, and communities. From the very outset, Diwata has presented itself as a positive platform for dialogue and understanding by bringing together and promoting meaningful connections among stakeholders.
18 July 2012 - Launch at Ayala Museum
It was very fitting that Diwata's launch at the Ayala Museum, which gathered mining industry leaders and stakeholders, showcased the museum's "Gold of Ancestors" exhibit which features archaeological gold objects and celebrates the indigenous cultures that flourished before the Spanish colonization of the country. Diwata sought to show that, even in pre-colonial times, the Philippines' strategic location and its rich natural resources made it culturally and economically significant among South and East Asian civilizations.
30 August 2012 - EO 79: The IPs' and Women's Views
Diwata's first major activity was forum on Executive Order No. 79, featuring women IP leaders from the the B'laan, Subanen and Palaw-an tribes as resource persons. The event was organized in partnership with the Asian Institute of Management.
14 November 2012 - Mining as Means for Development
Diwata worked with Philippine Mine Safety and Environment Association (PMSEA), the South African Embassy and Gold Fields Philippines Corporation during the Annual National Mine Safety Convention.
The event featured the South Africa Deputy Minister of Mines, Godfrey Oliphant.
19 March 2013 - Kababaihan: Tanglaw ng Minahan
In celebration of International Women's Month, Diwata launched a photo exhibit at the Yuchengco Museum about women in the mines. GREAT Women Project (Gender-Responsive Economic Actions for the Transformation of Women).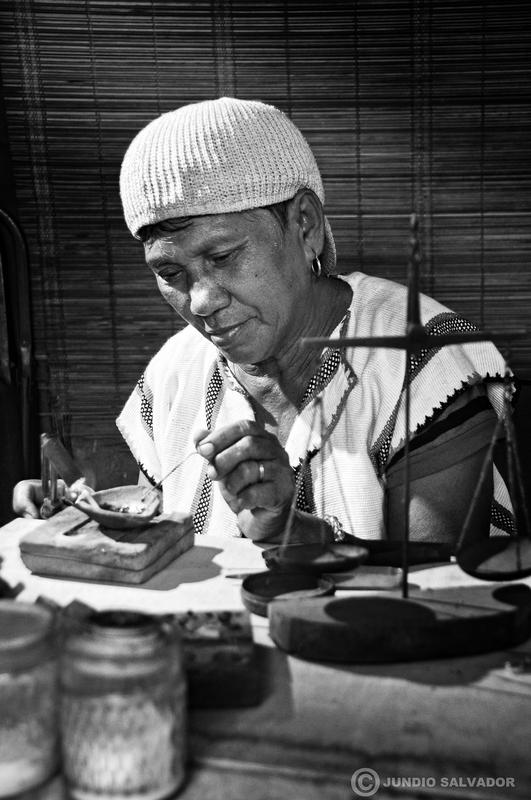 23 July, 2013 - Everything You Wanted To Know About Mining But Were Afraid To Ask (Geology 101)
In coordination with the "Bulong Pulungan" journalists, Diwata held a forum with its "rock stars": three geologists and a mining engineer in an interactive engagement with members of the media. The event was held at the Sofitel Philippine Plaza Manila.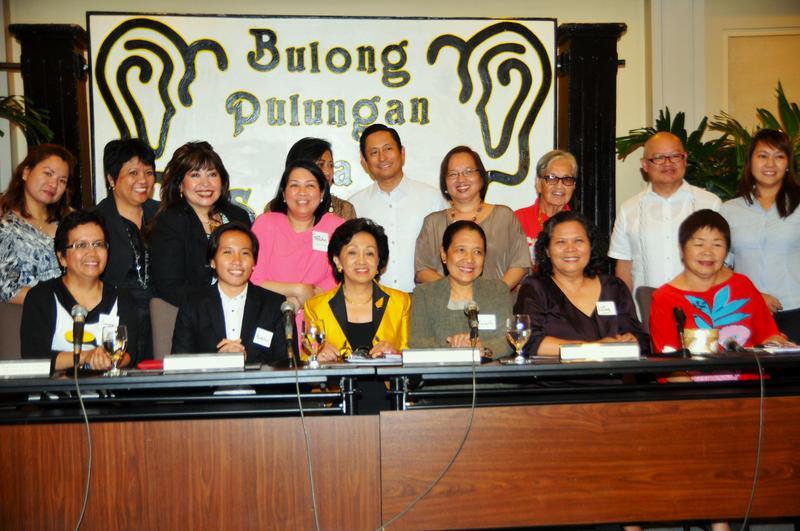 20 November 2013 - Conversations with the Daughters of Mining's Dirty Dozen
This event featured Mel Alonso and Mercedes Suleik, ​​​​​authors of the books "Mining's Dirty Dozen: The Legacy of the First Mining Engineering Graduates of the Philippines", and Ms. Edda Villaluna Henson.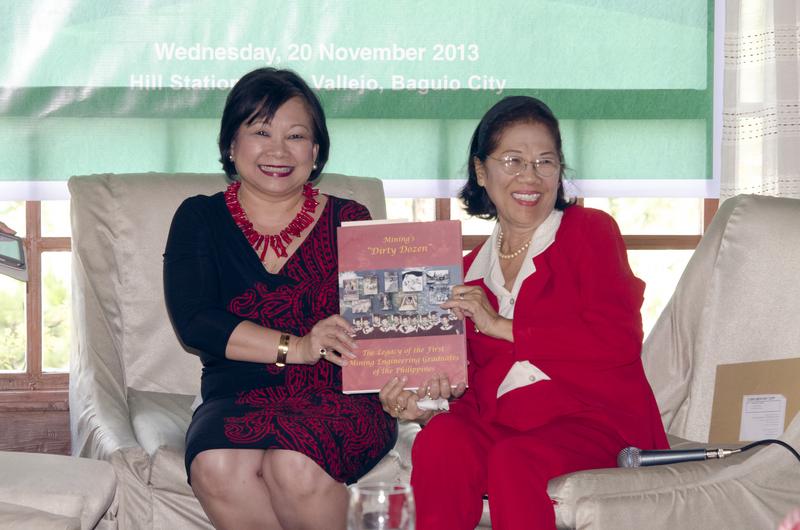 11 April 2014 - Philippine Mining Club Luncheon: "Women as Game Changers in Resource Development"
Members of Diwata from various companies shared their insights on the growing role of women in the mining industry. Dr. Geraldine McGuire spoke via Skype. This was the first of several engagements with the Philippine Mining Club Luncheon, a private business networking and social club affiliated with The Melbourne Mining Club in Australia.
17-19 July 2014 - RTN Mine Visit and Mandela Day
On its 2nd year anniversary, together with delegates from the South African Embassy, Diwata visited Bataraza, Palawan to check on the rehabilitation practices, sustainable development programs, and community projects that have made Rio Tuba Nickel Mining Corp. and Nickel Asia Corporation (NAC) leaders in best practices in the mining industry.
09 August 2014 - Diwata on the Rocks: "A Roadtrip to Rizal Province"
The Land Rover Club of the Philippines (LRCP) took Diwata members for a ride to explore the Province of Rizal, particularly the projects of Rapid City Reality Development, CEMEX and Teresa Marble.
16 September 2014 - Turning IP Grandmothers into Solar Engineers
Diwata sent off the first batch of "Solar Lolas" to attend the Barefoot College in Tilonia, India as part of its flagship project, "Tanging Tanglaw: Turning IP Grandmothers into Solar Engineers", a collaboration among Diwata, PMSEA and LRCP.
Through this project illiterate, older indigenous women are trained to assemble, repair and maintain solar panels. After their 6-months training, the panels will be installed in their respective communities.
For the first batch, four Aeta women were chosen: Evelyn Clemente and Sharon Flores from Gala, Zambales, and Cita Diaz, and Magda Salvador from Bamban, Tarlac.
The Solar Lolas' return in March 2015 was extensively covered by the media due to the interest in unique background and their newly acquired skills to improve their communities.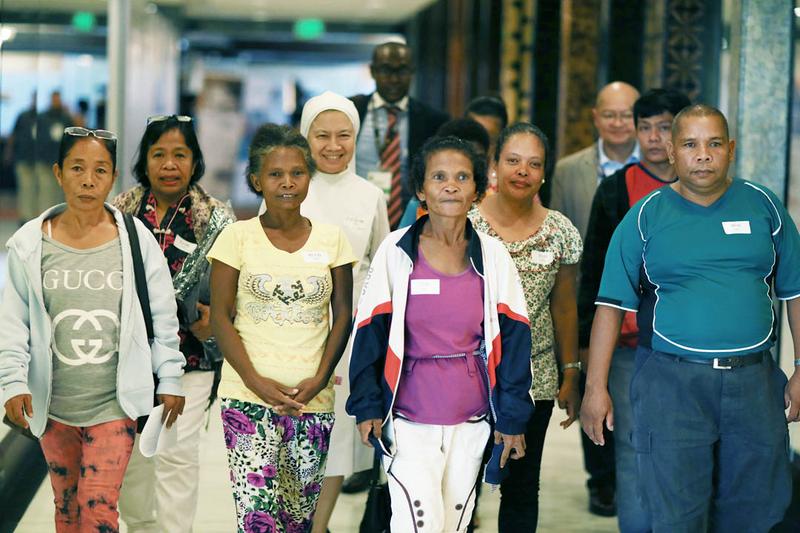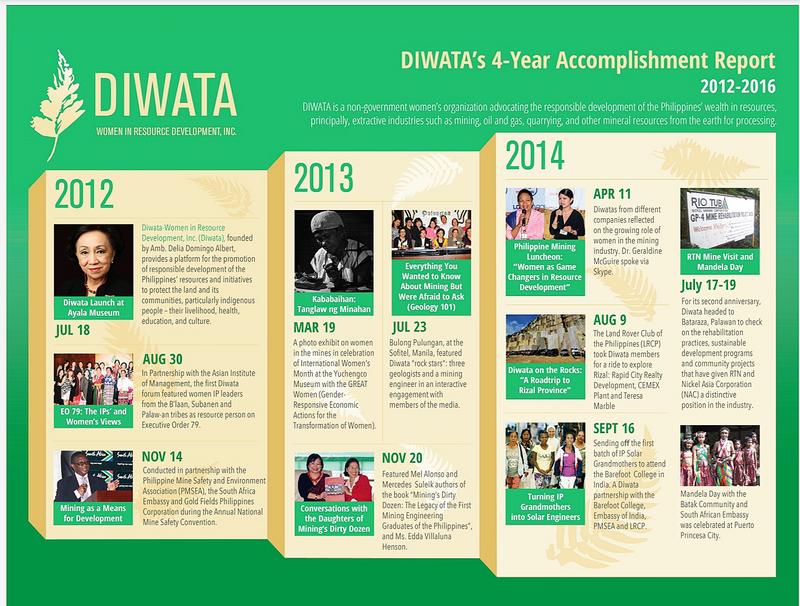 09-11 March 2015 - Women's Day Celebration
Women's Day Celebration at the OceanaGold Philippines Minesite, Barangay Didipio, Municipality of Kasibu, Province of Nueva Vizcaya.
17 November 2015 – "Reverse the Curse"
Diwata held a forum in cooperation with UP National Institute of Geological Sciences (UP-NIGS) on McKinsey & Company's report entitled "Reverse the Curse: Maximizing the potential of resource-driven economies", co-sponsored by Benguet Corp. and Philex Mining.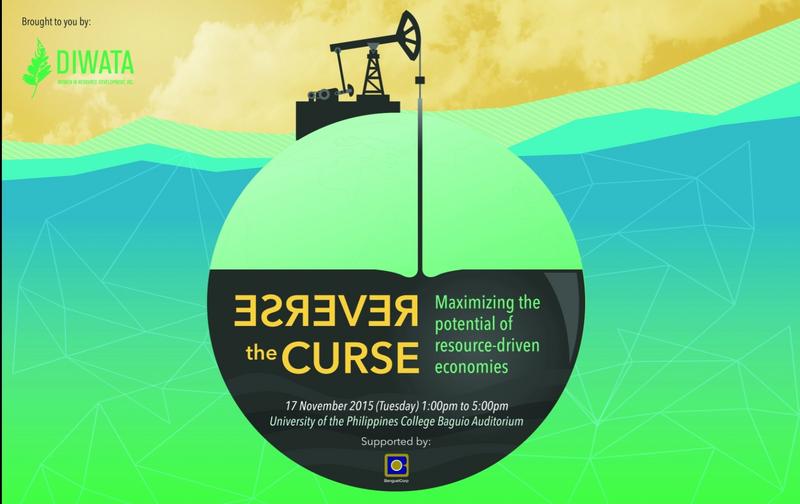 27 June 2016 - MOA Signing with BCDA and CDC
Diwata signed a Memorandum of Agreement with the Bases Conversion and Development Authority and Clark Development Corporation, whereby the latter would provide two classrooms to serve as a training facility and storage room at the Clark Polytechnic College.
16 July and 13 August 2016
The first installation of solar panels took place in Bamban, Tarlac on 16 July 2016, and in Gala, Zambales took place on 13 August 2016.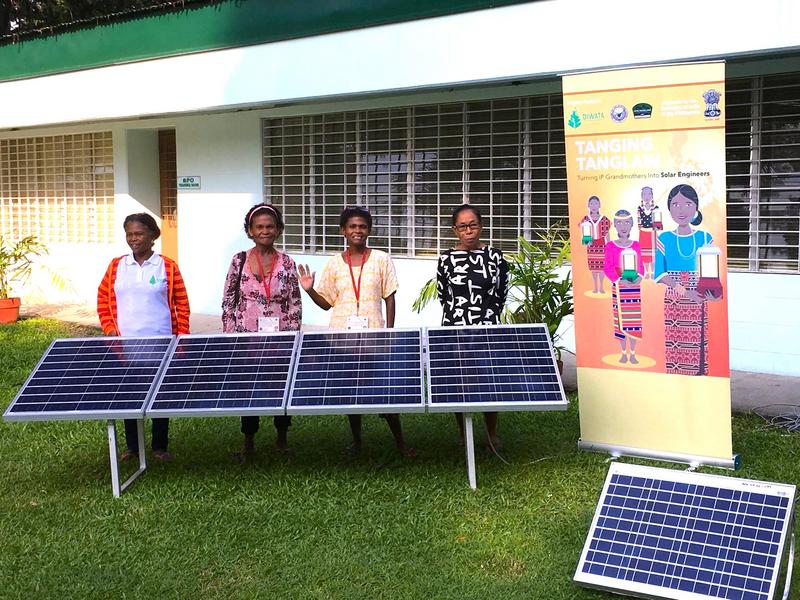 August 2016 Roadshows
Diwata had roadshows in Santiago, Isabela (16 August 2016) and Padcal, Tuba, Benguet (17 August 2016), and a Panel Discussion on "Opportunities for Women in Mining" at Mining Philippines 2016 (23 August 2016).
23 September 2016 - Diwata has conquered Davao!
The Mindanao Association of Mining Engineers had their 22nd Annual Mining Symposium at SMX, Convention Center Davao City. Diwata led a technical forum with guest speaker Engr. Debbie Ruth Liao-Yasay who spoke on Women and Natural Resources Development.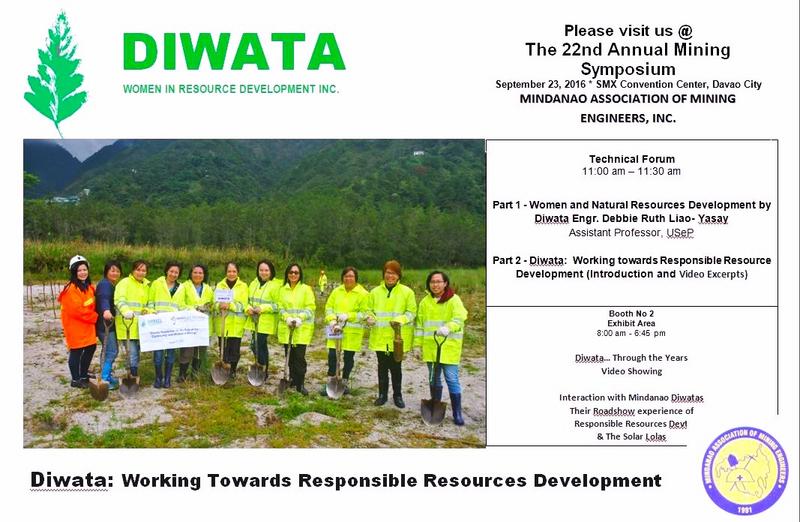 06 October 2016
Diwata's Founding President Atty. Patricia A. O. Bunye was the keynote speaker at the American Chamber of Commerce of the Philippines' PWOA (Professional Women of AmCham) and Extractive Industries Committees. The special forum highlighted the role of women in resource development, promotion of extractive industries and their advocacy to protect the land and its communities, particularly our indigenous people.
23 January 2017 – Solar Lolas recognized by the Miss Universe Organization
Diwata's four Solar Lolas were among the honorees at the 65th Miss Universe National Gift Auction and Women of Excellence Night. They were chosen in line with the Miss Universe Organization's vision to empower women to develop the confidence they need to achieve their personal best. During the event, they shared a table with Broadway star, Ms. Lea Salonga.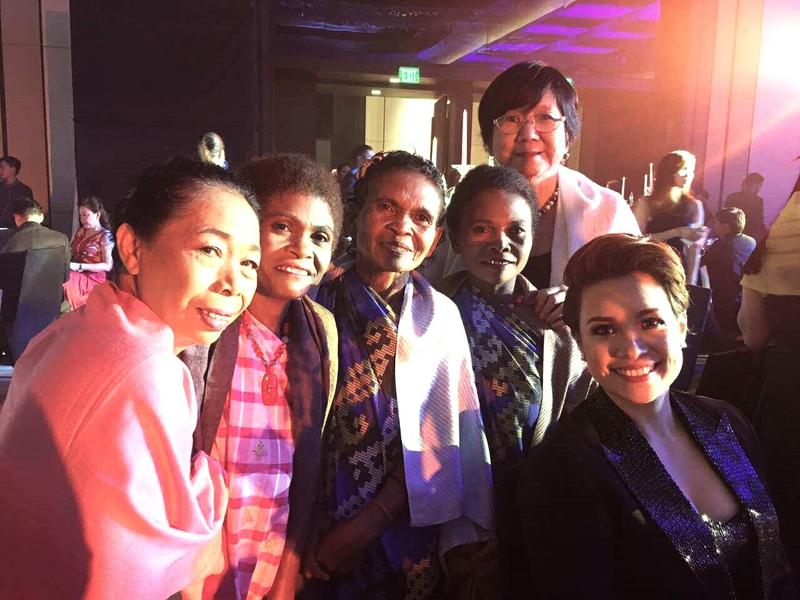 05 September 2017
Diwata co-sponsored a Focus Group Discussion at Mining Philippines 2017 International Conference and Exhibition at the Sofitel Philippine Plaza Manila.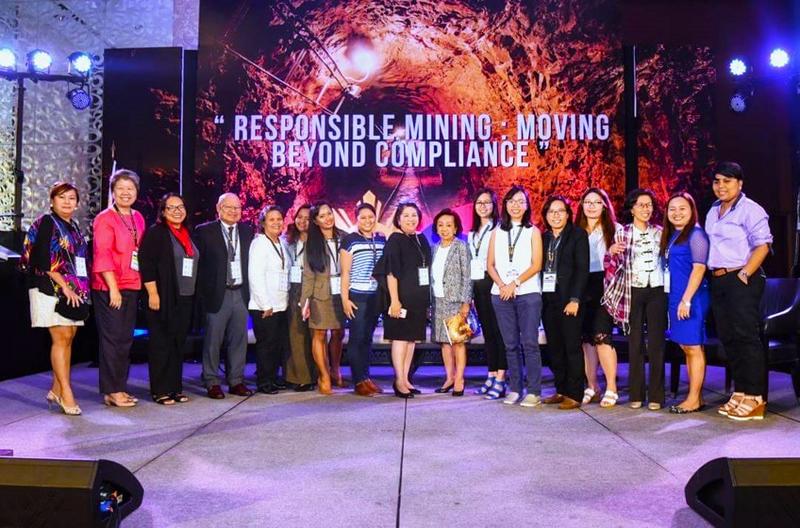 (05 September 2017 – Diwata at the Mining Philippines 2017 International Conference and Exhibition at the Sofitel Philippine Plaza Manila)

22 November 2017
Diwata sponsored a session at the Annual National Mine Safety and Environment Conference (ANMSEC) National Community Relations Practitioners Conference in Baguio City entitled "Responding to SDMP Challenges: A Diwata Discussion".
May 2018 - Geoscience Training for Science Teachers
The provision of appropriate scientific education to different stakeholders is one of the main strategies of Diwata to achieve its vision for responsible resource development. Working with the Geoscience Foundation Inc. based at UP-NIGS, Diwata initiated a geosciences training for high school science teachers starting in Aroroy, Masbate.
July 2018
Diwata participated in the South Africa Embassy's mangrove planting activity with the United Nations at the Las Pinas-Paranaque Critical Habitat and Ecotourism Area in celebration of Nelson Mandela International Day.
October 2018 Philippine Mining Luncheon
Opening new conversations, Diwata brought together the mining and the renewable energy industries in a stimulating discussion on the interface between these sectors.
November 2018
Diwata participated at the 2018 conference of the National Community Relations Practitioners in the Philippines in PMSEA where Diwata shared its program on the Geoscience Training for Science Teachers that companies can pilot in their communities.
December 2018
As continuing support to the beneficiary communities of the Tanging Tanglaw project, Diwata, FWD Insurance and Bayan Academy launched a financial literacy program for the Solar Lolas and their community leaders. The venue was at Clark Polytechnic College pursuant to Diwata's MOA with BCDA and CDC. The financial literacy training sessions ran from December 2018 to May 2019.
19 November 2019
On the occasion of the PMSEA's 66th Annual National Mine Safety and Environment (ANSMEC) Conference in Baguio City, Diwata spearheaded a bougainvillea planting activity as a permanent contribution to the continued beautification of the City which has been the host to PMSEA and ANMSEC for all the past years. The ceremonial planting was held within the grounds of Burnham Park.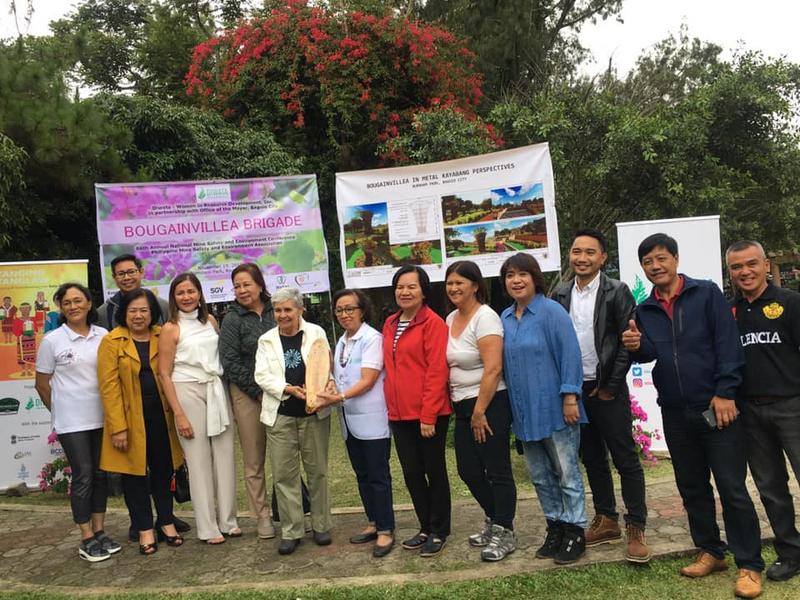 29 February 2020 - Sulong 2020
One of Diwata's major activities for 2020 was "Sulong 2020 in partnership with the Land Rover Club of the Philippines, PMSEA and FWD Insurance. A program was hosted by SGV & Co at their office in Clark Freeport Zone. Present during the event were foreign dignitaries, namely H.E. Jaideep Madumdar, Indian Ambassador; H.E. Harald Fries, Swedish Ambassador; H.E. Shobini Gunasekera, Sri Lanka's Ambassador; and Counsellor Sheona McKenna from the Australian Embassy in the Philippines. They later visited the project site of "Tanging Tanglaw" at Sitio Caguing, Bamban Tarlac.
This was Diwata's last major activity before the pandemic.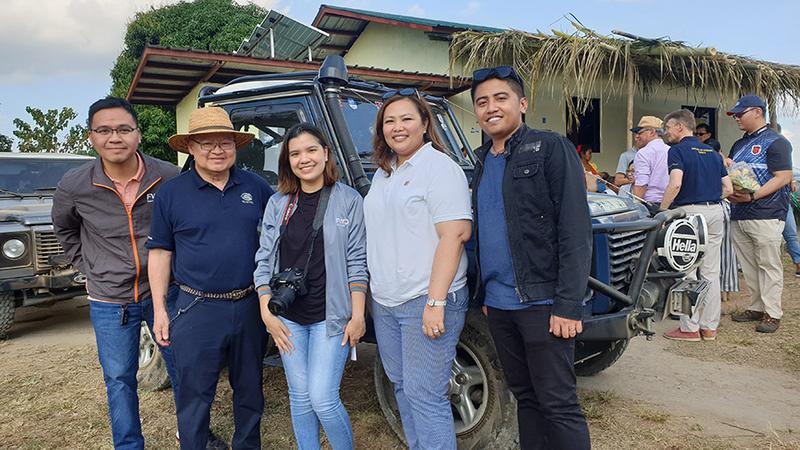 (Diwata Group Photo – Diwata with its Project Partners and the Sitio Caguing, Bamban, Tarlac Community. Second from left is the late Atty. Leo Dominguez, President of OLLI Consulting Group, Inc. and "Chief Diwato".)
17 December 2021
Recognizing the challenges of the pandemic, Diwata, with the support of Didipio Mine, organized a mental health webinar.
07 November 2022
Diwata at PH-EITI Women Leaders Forum
18 November 2022
Diwata launched it "Pagkilala: Likas-Kaya Pag-unlad" Award at the 68th Annual PMSEA event in Baguio.
04 March 2023
First site visit of Diwata and its project partners to the Tanging Tanglaw project site in Bamban, Tarlac after relaxation of COVID-19 restrictions.
08 March 2023
Award of Diwata's grant from USAID-Energy Secure Philippines for the Tanging Tanglaw Project.
10 March 2023
In celebration of International Women's Day, Diwata co-sponsored the Philippine Mining Club Luncheon at Seda Hotel, BGC. The special guest and keynote speaker was DENR Secretary Maria Antonia "Toni" Yulo-Loyzaga. Also present during the event was the newly appointed Australian Ambassador to the Philippines, Her Excellency Hae Kyong Yu.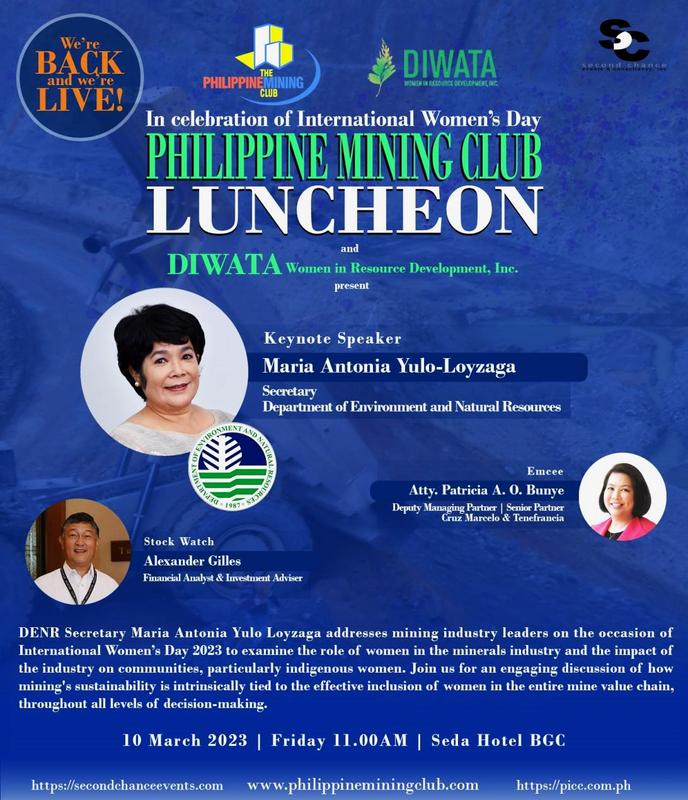 22 April 2023
On the occasion of Earth Day, Diwata held a consultation meeting with the Aeta chieftains of the Bamban, Tarlac community regarding the implementation of its USAID-ESP grant.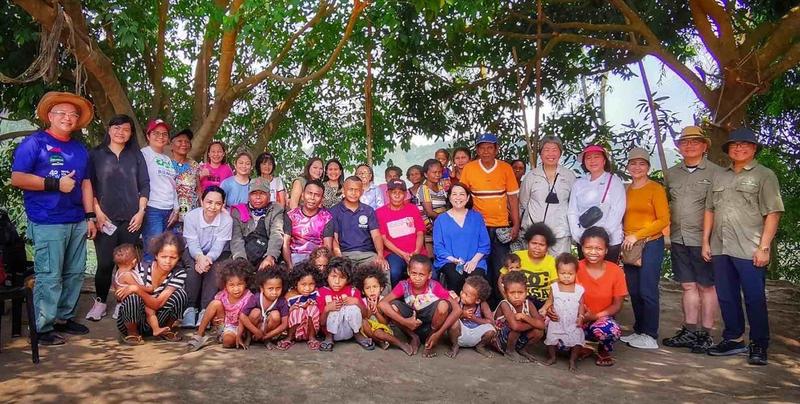 ---
For more information or enquiries, please visit DIWATA's website at:
https://www.diwata.org/
To be a member, simply fill up the form in this link:
https://www.diwata.org/membership-application/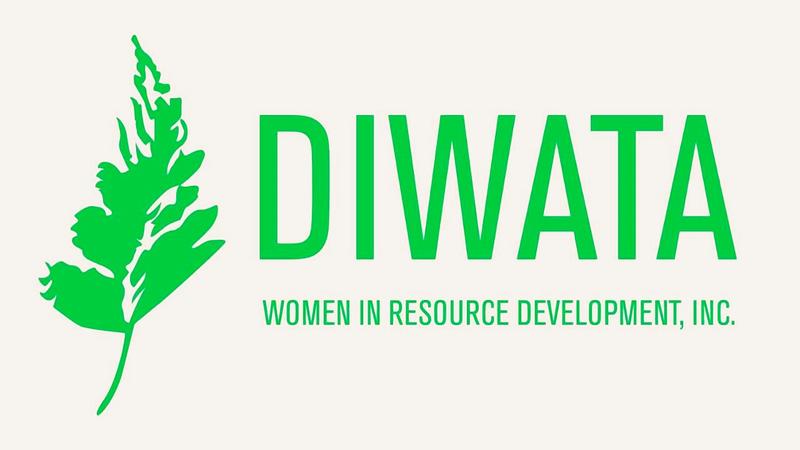 Diwata - Women In Resource Development, Inc.
diwatawomeninresourcedevt@gmail.com
Twitter: https://twitter.com/DiwataResrcDevt
Facebook: https://www.facebook.com/DiwataResourceDevt
You may also contact Diwata at https://www.diwata.org/contact-us/.
-----
Reference:
[1] Torrevillas, Domini M. (13 Sept. 2012). "Diwata Delia Domingo Albert". Column: From The Stands. The Philippine Star.