[Seda Hotel, BGC] 10 March 2023, 72nd Philippine Mining Club Luncheon with DENR Secretary Maria Antonia Yulo Loyzaga was the keynote speaker. [Photo by Marcelle P. Villegas for Philippine Resources Journal]
---
During the 72nd Philippine Mining Club Luncheon last 10 March 2023, DENR Secretary Maria Antonia "Toni" Yulo Loyzaga was the keynote speaker.
She addressed the mining industry leaders on the occasion of International Women's Day 2023 to examine the role of women in the minerals industry and the impact of the industry on communities, with an emphasis on the welfare of indigenous women.
Diwata-Women in Resource Development, Inc. co-sponsored this event in Seda Hotel, BGC.
On her keynote speech, the Secretary mentioned how DENR is working towards the true implementation of responsible mining.
She also gave an update about DENR's monitoring of natural resources.
"We, as you know, have also established now a national environment and natural resources (ENR) geospatial database whose goal is to enable us to have a single database of our natural resources as a baseline for our country's capital accounting."
"A use case for the mining industry has already been developed and that would be in determining for example, which MPSAs are not being utilised, which development areas overlap with critical ecosystems and protected areas, and quantifying the reforestation efforts of mining companies within MPSAs over time."
"We believe in this case that what is not measured cannot be managed, nor can it be valued or treasured."
Further in her speech, she talked about issues concerning women in the mining industry.
Ms Loyzaga emphasised the need for the mining sector to take actions that will end gender inequality as part of achieving responsible mining.
She said that the mining sector should ensure that women's representation in the industry is meaningful, substantive, and has an active role in all levels of decision-making.
She noted that from the 2020 scoping study by the Philippine Extractive Industries Transparency Initiative (EITI), women face several issues in the mining industry. For instance, there is gender-inequality in the workplace. Second, women face several challenges as a result of environmental problems due to mining operations, lack of livelihood outside employment by mining firms, and absence of guidelines on the inclusion of gender-responsive projects in the Social Development and Management Programs (SDMP).
Ms Loyzaga pointed out that women comprise only the minority in the workforce in mining, and only a few women are part of the technical and leadership positions. With that, her message calls for "an enabling and empowering environment for women."
She said, "We hope that this will include the upscaling, strengthening STEM (Science, Technology, Engineering and Mathematics) education to motivate women to pursue careers that are very important and related to the industry."
Moreover, she mentioned that women are most affected by environmental decline connected with mining operations, such as pollution of rivers and drying up of water sources, as these puts added pressures on women as managers of their household.
The EITI-commissioned study also revealed that there are gaps in context and deployment of policies that address gender aspects in the mining industry.
The Secretary said that this is one area that can be looked into when revisiting the Philippine Mining Act of 1995. "We will be looking at this in tandem with the Magna Carta for Women".
And finally, during an open-forum session, she gave a message to all women. "We cannot just rest on our laurels and say we need to be recognized. We must be women of substance, women of purpose, and women of achievement," she pointed out.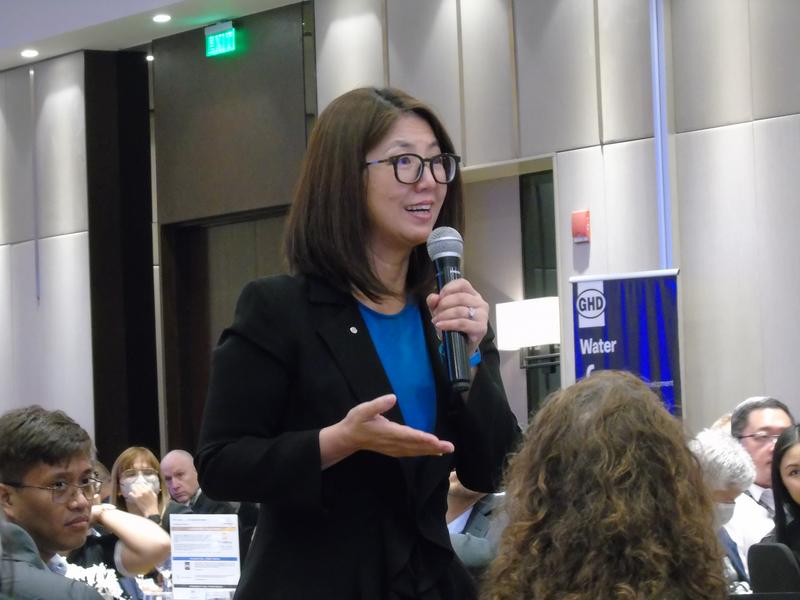 [Seda Hotel, BGC] 10 March 2023, 72nd Philippine Mining Club Luncheon | Her Excellency Hae Kyong Yu, Australian Ambassador to the Philippines [Photo by Marcelle P. Villegas for Philippine Resources Journal]
Her Excellency Hae Kyong Yu, Australian Ambassador to the Philippines, was present during the event. She acknowledged and thanked Sec. Loyzaga about her kind comment that recognises women in ambassadorship.
She said, "As an Australian representative, I am learning a great deal from the Philippines about women in mining. Frankly, I think you're doing a lot better job of it than we are in Australia. So there is a lot we can learn on how the Philippines is organising itself and using their powerful women to advance this very important industry."
"It's all about what value we bring to the business world, to the industries..."
About Secretary Loyzaga
Sec. Loyzaga holds a Master of Arts degree in Government from Georgetown University, Washington, DC., and Bachelor of Arts degree in Political Science from the Ateneo de Manila University.
Sec. Loyzaga was the President of the National Resilience Council (NRC) from 2017-2022. NCR is a science and technology-based public-private partnership aimed at the implementation of the Sendai Framework for Disaster Risk Reduction, the Sustainable Development Goals, and the Paris Climate Agreement.
She is a member of the United Nations Office from Disaster Risk Reduction (UNDRR)'s Asia Pacific Science Technology Advisory Group (APSTAG) and a Director of the UNDRR's Alliance for Disaster Resilient Societies (ARISE) Philippines initiative, where NRC leads the Disaster Risk Management Strategies work there. She part of the Science Advisory Board of the Integrated Research on Disaster Risk International Center of Excellent-Taipei (IRDR ICoE) and is a governing board member of the Future Earth Global Secretariat Hub (GSH) Taipei. Sec. Yulo Loyzaga is also the Vice Chairperson of Forest Foundation Philippines.
Additionally, she was a trustee of the Zuellig Family Foundation, Manila Observatory, Ateneo de Manila University, and Ateneo de Naga University. She was also the Executive Director of the Manila Observatory from 2007-2016. At that time, she was appointed to the Department of Science and Technology (DOST)'s Committee on Space Technology Applications and to the United Nations Educational, Scientific, and Cultural Organization (UNESCO) National Commission's Committee on Science and Technology.
In 2013, Sec. Loyzaga was recognized by the Armed Forces of the Philippines for her contributions to the Philippine military's emergency disaster response operations during Super Typhoon Haiyan.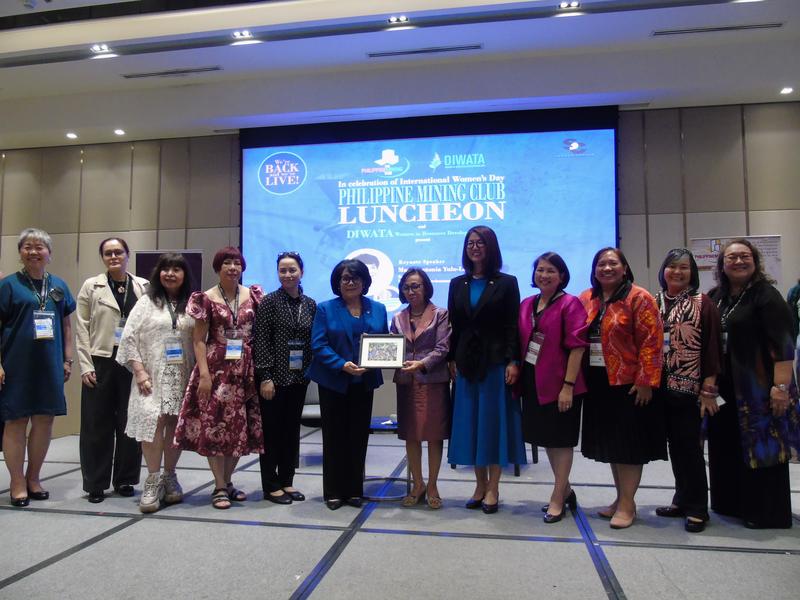 [Seda Hotel, BGC] 10 March 2023, 72nd Philippine Mining Club Luncheon | DENR Secretary Maria Antonia Yulo Loyzaga, H.E. Delia Domingo Albert (founder of Diwata-Women in Resource Development, Inc.), Atty Patricia A.O. Bunye (PH Mining Club Luncheon - Emcee, Deputy Managing Partner/Senior Partner of Cruz Marcelo & Tenefrancia), and the women of Diwata. [Photo by Marcelle P. Villegas for Philippine Resources Journal