Atty. Joan Adaci-Cattiling (President, 2018-2021), Atty. Patricia A. O. Bunye (Founding President, 2012-2015), DENR Secretary Maria Antonia Yulo-Loyzaga, Ambassador Delia Domingo Albert, Ms Eleanore A. Layug (President, 2021-present)
---
[Ayala Museum, Makati City] 18 July 2023 – The non-government organization, Diwata - Women In Resource Development, Inc., celebrated its 10th Anniversary. Although Diwata was founded 11 years ago on July 18, 2012 (Nelson Mandela Day), the pandemic hindered the celebration last year, thus this year's event is referred to as its 10th year anniversary.
Diwata is a non-government organization advocating the responsible development of the Philippines' wealth in resources, principally in extractive industries such as mining, oil and gas, quarrying, and other mineral resources from the earth for processing. For the past years, Diwata leaders and members are behind initiatives, projects, and activities that have consistently provided a platform to promote the responsible development of the Philippines' resources. The organization also promotes initiatives to protect the land and communities, particularly indigenous people, with most projects focusing on improving the livelihood, health, education, and culture of indigenous people.
Diwata was founded by Ambassador Delia Domingo Albert, a Filipina career diplomat who served as the first female and 23rd Philippine Secretary of Foreign Affairs from December 22, 2003 until August 18 2004. She was the first woman career diplomat to serve as foreign minister of a Southeast Asian country.
The guest of honor and keynote speaker was DENR Secretary Maria Antonia "Toni" Yulo-Loyzaga (DENR Secretary), and was attended by, among others, representatives of the Australian Embassy in the Philippines, South African Embassy in Manila, Embassy of India in Manila, representatives of the United States Agency for International Development (USAID), mining executives, friends of Diwata and many others.
In Ambassador Albert's welcome speech, she said, "We are also remembering and we are reminded of a very important message that was delivered by former Justice Artemio Panganiban of the Philippine Supreme Court at the International Mining Investment Conference held in Manila in February 2005."
"Following the decision of the Supreme Court upholding the constitutionality of the 1995 Mining Law, which we are aware defined among others the extent of foreign participation in large-scale mining in the country."
"Justice Panganiban emphatically said, and I quote,
'The mining wealth of the country is meant to benefit not nearly a select group of people living the areas locally affected by mining activities but the entire Filipino nation, present and future, to whom the mineral wealth of the country really belongs.'
"So that has been our battle cry when we formed Diwata here 10 years ago."
In her speech, she also mentioned how her organization focused on helping the most underserved indigenous people in the remote mining areas.
"Diwata has been able to extend the light of day with solar lamps assembled by indigenous grandmother, fondly called Solar Lolas, who training at the Barefoot College in India." With that, she thanked the Indian Embassy and the Indian Government for this example of a South-South development corporation.
"We are here this evening to acknowledge and thank all those who have been our dedicated and loyal partners without whom our work would have been Mission Impossible."
"I particularly thank The Land Rover Club of the Philippines for providing the wheels for bringing us where they said, the carabao cannot even dare to go."
"We look forward to more activities with the mining and related communities in extending their assistance to other underserved indigenous communities."
Ambassador Albert also expressed her gratitude to the past Presidents of Diwata for the past 11 years, namely: Atty. Patricia A. O. Bunye was the Founding President (2012-2015), followed by Cleotilde A. Marzo (2015-2017), Eliza R. Laudencia (2017-2018), Atty. Joan Adaci-Cattiling (2018-2021), and Eleanore A. Layug (2021-present).
In her speech, Secretary Loyzaga, called for "Let this 10th year of Diwata be a celebration of the remarkable achievements of the women in the mining industry and at the same time a call for greater participation of women in this vital industry," remarked Secretary Loyzaga in her speech.
She also mentioned how climate change can affect mining operations and women within mining communities.
"Mining companies and stakeholders in the mining sector are increasingly acknowledging the remarkable potential and significant role of women in the minerals industry and the intersection of gender issues with climate change and environmental protection."
"The threats that the mining industry face because of climate change remain urgent. Climate hazards such as heavy precipitation, drought, and heat will get more frequent and intense, increasing physical challenges to mining operations."
The Secretary urged mining companies to prepare for the climate hazards as the production of copper, gold, iron ore, and nickel is generally concentrated in areas where water stress is already high. "Climate change is expected to cause more frequent droughts and floods, altering the supply of water and disrupting operations. Even with areas with low water stress, certain water-intensive mining processes can be affected."
"We acknowledge that the impacts of development activities, especially in mining, can increase the marginalization of women and impose greater burdens on them, when women are limited to fulfill traditional gender roles related to agricultural production for example, energy provision and caregiving. Women's abilities to provide water, food, and energy for their households are undermined and can increase their workloads as a whole."
She added that, "Deforestation caused by illegal and irresponsible mining activities not only has a negative impact on global carbon emissions, but also it takes away critical resources for women in particular, and exposes communities to increased risks for flood and soil erosion."
"…Since women are typically characterized as the most vulnerable to changes in the local environment and the fact that their multiple social roles can lead to the intersectionality to their vulnerabilities, they should be given an essential platform to lead and be the keys to solutions in many conversations by harnessing the unique perspectives, to cope and adapt, the knowledge, skills, and experiences women bring to mineral exploration."
Thus, she pointed out that groups such as Diwata can drive integrity, innovation, efficiency, improve safety measures, and promote sustainable practices in mining. "The intersectionality of vulnerability that women face also gives rise to the intersectionality of opportunity where one single and incremental shift towards resilience can cascade and have multiple positive benefits."
The next speaker was Atty Patricia A. O. Bunye, Diwata's Founding President, who presented "Diwata's 10-year Achievements, Milestones and Looking Ahead."
Atty. Bunye also presented a video-recorded message from Barbara Dischinger, Director and Founder of International Women in Mining (IWiM) in UK, who gave her congratulations and well wishes for Diwata.
In Atty. Bunye's speech, she enumerated some of the most note-worthy achievements of Diwata from 2012 to the present. "I am thrilled to be back at the same venue where we launched Diwata on 18 July 2012 on Nelson Mandela Day."
"Perhaps the most significant event in 2014 was when we sent off our first batch of 'Solar Lolas' to train at the Barefoot College in Tilonia, India as part of our flagship project, 'Tanging Tanglaw: Turning IP Grandmothers into Solar Engineers', a collaboration among Diwata, PMSEA and LRCP. The training was made possible through the Indian Technical and Economic Cooperation Programme (or ITEC) of the Indian Government."
The project gave an opportunity for older indigenous women to undergo a 6-month training that makes them competent solar engineers who are trained to assemble, repair, and maintain solar panels. After the training in India, the panels were installed in their respective communities.
"The Tanging Tanglaw Project is perhaps what Diwata is best known for. While it is the most challenging among the projects we have embarked on, it is also what allows us to directly engage with, and impact the lives of Aeta communities. This is in line with Diwata's other major advocacy of protecting the land and communities, particularly indigenous people, with a special emphasis on IP women and girls."
On 08 March 2023, Diwata received a grant from USAID Energy Secure Philippines (or USAID ESP) for their flagship project, "Tanging Tanglaw: Turning IP Women into Solar Engineers"
"Although Diwata has been engaged in this project since 2014, our work with indigenous women from the Aeta communities in Bamban, Tarlac and Gala, Zambales has always been supported by funding from sponsorships."
Atty. Bunye mentioned that with the USAID ESP grant, they now have the means to take our project to its next phases, which include: (1) studying the community's water needs and installing solar-powered water pumps; (2) training more Solar Lolas; (3) funding educational programs; and (4) replicating our project in other communities.
"The grant will be implemented over a period of two (2) years, during which Diwata, under USAID ESP's guidance, will work on these initiatives which we hope will leave a lasting positive impact on the community."
Atty. Bunye expressed her gratitude to Ambassador Albert for for asking her to serve as Diwata's founding President from 2012-2015. "Not only have I had the opportunity work alongside women and men who are similarly committed, I have had the privilege of learning so much from Ambassador Albert's example and continue to do so every day."
She ended her presentation by showing a short video to recap Diwata's 10 year journey.
Following this, various organizations and individuals were given recognition for their support for Diwata.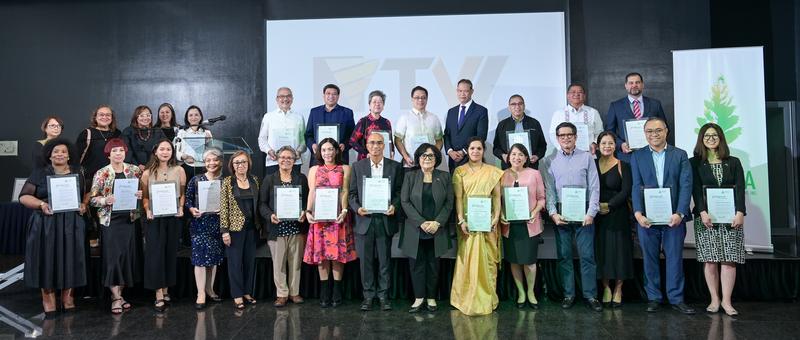 Diwata awarded Certificates of Appreciation to the governments, agencies, organizations and
individuals which have supported it throughout the years.
---
Eleven years ago, Diwata's launching day was also held here in Ayala Museum. As part of this year's celebration on the same venue, the guests were treated with complimentary access to tour the upper floors of Ayala Museum for the exhibits entitled "Gold of Ancestors: Pre-colonial Treasures in the Philippines", and "Splendor - Juan Luna: Painter As Hero".
In this art exhibition that honors the Philippine National Artist, Juan Luna, one can view his award-winning masterpiece "Hymen, oh Hyménée!" (1886-1887). The painting is also known as "Boda Romana" and is considered as the "Holy Grail of Philippine Art". Back in June of this year before Philippine Independence Day, Leon Gallery founder and director, Jaime Ponce de Leon, made headlines when he unveiled this "long-lost" painting of Juan Luna at the Ayala Museum. For the past 132 years, this oil-on-canvas painting has not been seen in public. Thus, access, to this exhibition in Ayala Museum was indeed a rare treat for the guests of Diwata's 10th year anniversary celebration.
---