Women Take the Lead in TechVoc Welding Course
by Philippine Resources - September 24, 2020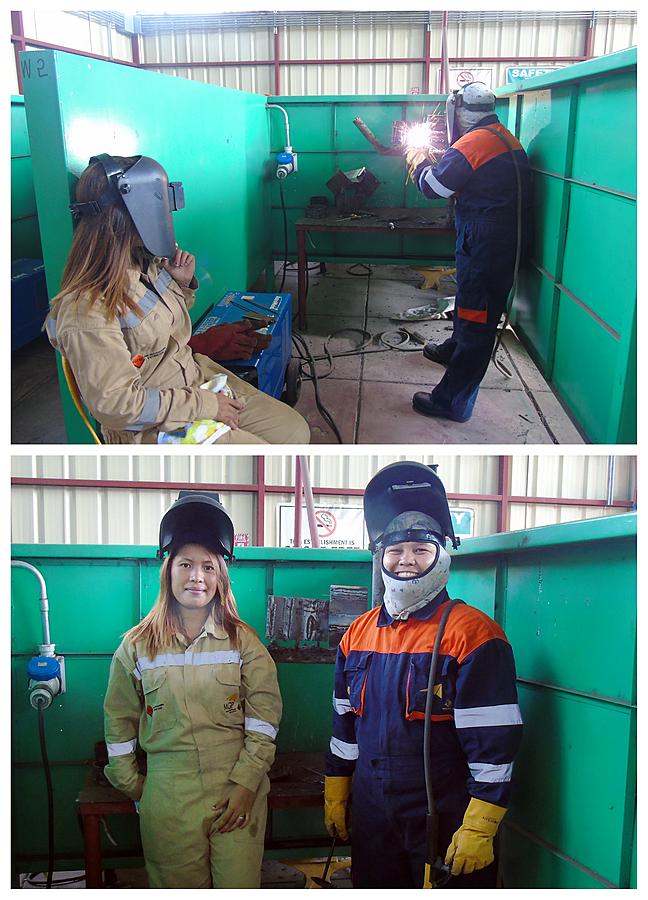 Aroroy, Masbate -- Niña Acuña and Ivy O. Rivero, trainees for the Shielded Metal Arc Welding (SMAW) NC-I and NC-II courses (Photo by Marcelle Villegas, Philippine Resources Journal)
By Marcelle P. Villegas
In the male-dominated industry of construction and infrastructure, women are starting to make their mark and participating in its development as well. In Aroroy, the Masbate Gold Project (MGP) and its eight host barangays organised and established a technical and vocational training center for various qualifications such as welding, plumbing and more. These qualifications are open to both male and female trainees.
Is there a significant impact on women in this training program? How is this TechVoc program able to support its trainees in building a bright future?
Philippine Resources Journal visited "The MGP Eight Impact Barangay Training Center" in Aroroy, Masbate to get to know the story behind this program. The Training Center is funded by the Social Development and Management Program (SDMP) of the eight impact barangays of Phil. Gold Processing and Refining Corp. and Filminera Resources Corporation (FRC), the two companies operating the MGP. This program is dedicated not only to residents of Aroroy, but to the entire province of Masbate.
According to Marilanie Lanuzo, former COMREL and SDMP Manager, the TechVoc Center offers TESDA-certified courses with national certifications that are accredited by POEA. The goal is to provide training for locals who wish to acquire skills for employment within the country or abroad. Currently, they offer Shielded Metal and Art Welding (SMAW) NC-I and NC-II (National Certification) and Plumbing courses.
"The eight barangay captains of host communities, together with the management of MGP, underwent a series of consultation to find what is the most effective way of service for the locals using the SDMP funds. They decided to focus on technical and vocational education," said Ms Lanuzo.
"Many adults who are looking for employment have very limited skills. Most of them cannot go back to high school or college because they are already married and with families. So, the most efficient solution is to train them in a short-term course where they can easily get a job afterwards."
The MGP Eight Impact Barangays Training Center (MGP8IBTC) started operating after its inauguration on June 18, 2018.
Aroroy, Masbate -- Mr Cesar Manual Campomanes II, trainer for Shielded Metal Arc Welding (SMAW) NC-I and NC-II courses with trainees Niña Acuña and Ivy O. Rivero, and Mr Melecio E. Recto, Jr., Center Administrator and Chairman of the Board of Trustees - The MGP Eight Impact Barangays Training Center (Photo by Marcelle Villegas, Philippine Resources Journal)
The MGP8IBTC training program aims to give training and work opportunities even to those who do not have high school diplomas. That is why courses like driving, tile setting, masonry and other skills are also included in their curriculum. "The strategy is to offer courses that can benefit many people, including women," Lanuzo said.
"Night classes are also offered to give chance to working people who want to upscale their skills. And we built a two-storey dormitory beside the center to accommodate enrollees coming from far places," Lanuzo added.
The MGP8IBTC is the first training center in Masbate to offer Plumbing qualifications. "So far in the entire province of Masbate, our school is the only one that was able to complete the required equipment for Plumbing training. Plumbing course is rare because the investment costs millions."
Female trainees
Cesar Manual Campomanes II is the trainer for the Shielded Metal Arc Welding (SMAW) NC-I and NC-II courses. Two of his students are women, namely Ivy O. Rivero and Niña Acuña.
"I find that female welders perform better compared to the males. In my three years as a trainer, I observed that female trainees are more meticulous and detail-oriented, thus effective with welding works. I believe it is their feminine touch that makes them excel, because welding is a delicate task."
Ivy and Niña admitted that they used to have low self-confidence which made their training hard at first. Most people are quick to judge that because they are ladies, they are incapable of learning and doing welding jobs correctly. However, through the course of the training, they have proven their skills, talent and competence in welding.
"Our goal in the center is to produce well-trained students on courses like welding, plumbing and others regardless of their gender," said Melecio Recto, MGP8IBTC Administrator.
At present, the center was able to produce 153 graduates in plumbing and SMAW. All are NC1 and NC2 certificate holders.
---