Be Confident to Make Good, Timely Decisions During your Nickel and Base Metal Mining Process
by Philippine Resources - June 30, 2021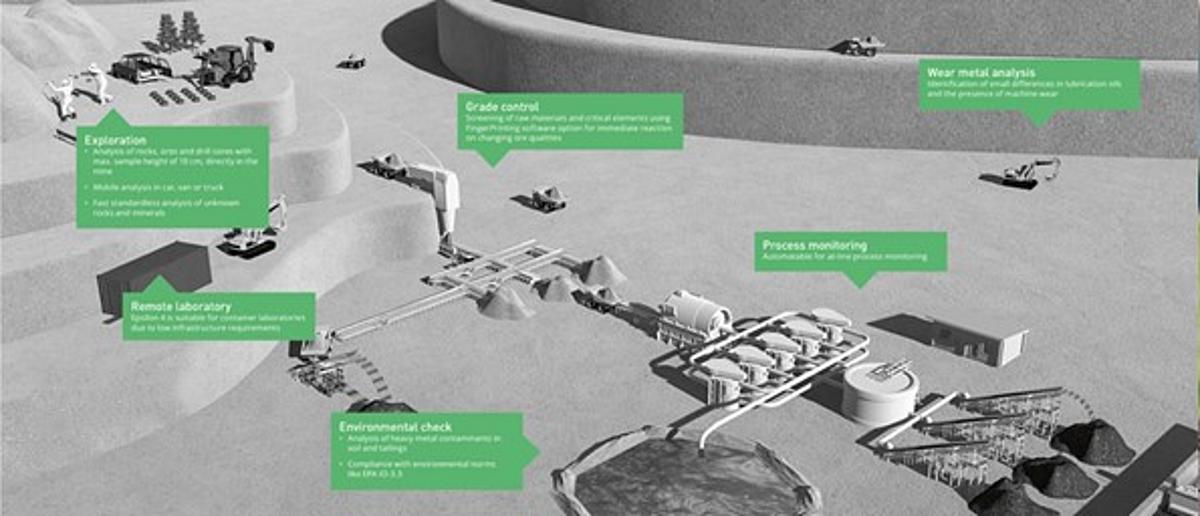 With new smart, easy and affordable XRF elemental analysis
With extensive mining across the world, many mining companies are challenged with decreasing ore grades. "Geologists need not only reliable but frequent monitoring of the elemental composition of ores; so that they can make snap decisions to accurately predict and optimize recovery rates. This in turn making the extraction and separation of base metals - whether nickel, copper, zinc, a profitable process," shares Dr Uwe Konig, global mining manager and geologist at Malvern Panalytical.
Increase your process efficiency and recovery rate
That is exactly why Malvern Panalytical offers comprehensive suite of material characterization tools, a safe, quick, and non-destructive method of elemental analysis known as X-ray fluorescence spectroscopy (XRF). XRF and in particular Malvern Panalytical's Epsilon range of benchtop spectrometers are widely used by global to small and medium-sized mining companies across the world.
Delivering reliable high throughput analysis, so you can be confident to make good decisions
Malvern Panalytical's R&D team has designed a revolutionary model, the Epsilon 4. We are proud that Epsilon 4 combines high analytical performance with low running costs. One of our customers, Ms. Monica Velasco of Berong Nickel Corporation shared, "The Epsilon4 is easy to use. It consistently delivers results according to set standards and is reproducible across different analysis methods. Initial cost is justifiable for the quality of the product. "
"The Epsilon 4 is easy to use. It consistently delivers results according to set standards and is reproducible across different analysis methods. Initial cost is justifiable for the quality of the product," says Ms Monica Velasco of Berong Nickel Corporation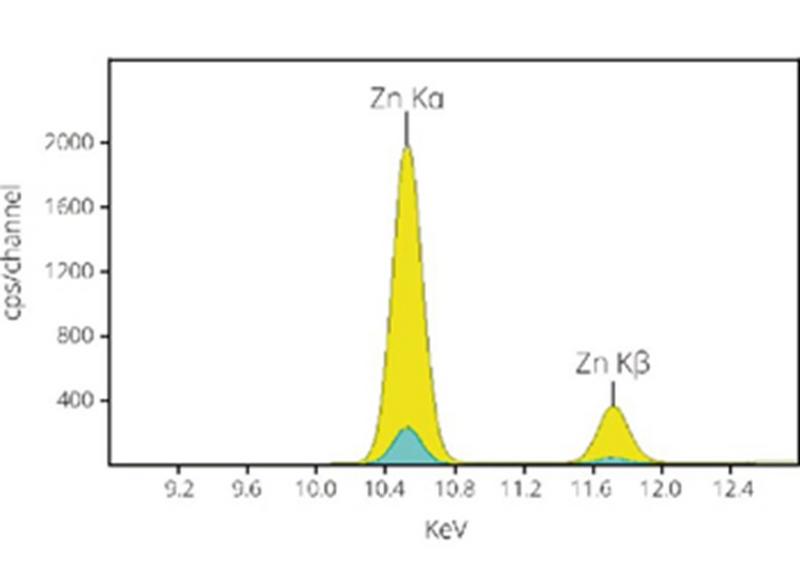 Fast and sensitive
Fast measurements are achieved by using latest silicon drift detector technology that produces significantly higher intensities. Unique detector electronics enable a linear count rate capacity to over 1,500,000 cps (at 50% dead time) and a count rate independent resolution typically better than 135 eV for better separation of analytical lines in the spectrum. This allows the Epsilon 4 spectrometer to run at full power, resulting in higher intensities and therefore, giving better data quality, better limits of detection, lesser interference from overlapping elements and a much higher sample throughput compared to traditional EDXRF benchtop instruments. (See comparison with earlier model in Figure 1).
Case study: accurate & repeatable measurements of nickel in as fast as 5minutes
25 secondary nickel ore standards containing Ni, Co, Mg, Mn, Zn, Al, Cr, Ca and Si were used to set up the calibration. All elements were measured in air medium.

On the left, note that the calibration plots demonstrate good correlation between the given concentrations and the measured intensities. On the right, notice the low standard deviations and high repeatability (Repeatability data missing) achieved. Combining the latest excitation & detection technologies and smart design, this data demonstrates how the analytical performance of Epsilon 4 approaches that of more powerful and floor-standing spectrometers.
High throughput analysis with unattended operations of Epsilon 4
The combination of a 10-position removable sample changer with spinner enables the automatic processing of sample batches without the need for operator attention. Continuous rotation of the sample during measurement minimizes any errors caused by non-homogeneity or surface irregularities within individual samples and provides more accurate results.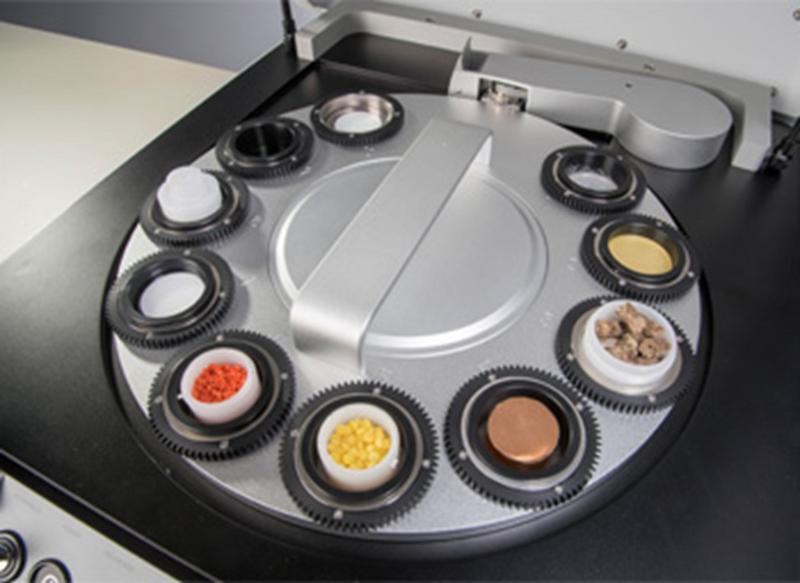 Automatic transfer of data to a central location gives you access to the latest results. Did you know that you can even link the Epsilon 4 to an automation arm for continuous sample loading?
Reduce expensive running costs with smart Epsilon 4 technology
Little or no expensive sample preparation unlike other traditional elemental methods like ICP or AAS which require long durations of samples digested in acid.
Reduce overheads without comprising on performance. The high performance of Epsilon 4 enables many applications to be operated in air atmosphere, without longer overhead time and costs involved for helium or maintenance of vacuum system. Even when measuring in air, Epsilon 4's smart built-in sensors compensate for temperature or pressure variations. Hence ensuring excellent results whatever the weather.
Save on calibration maintenance thanks to our new low-drift X-ray tube and automatic drift correction. Especially for high throughput environments, this ensures no downtime for calibration maintenance. You can be confident of your results always.
We take care of your needs from instrumentation to CRMs to tailored standards For the mining and minerals industry, Malvern Panalytical has specially developed a unique set of 15 synthetic, multi-element wide-range oxide known as the WROXI standards. Together with Epsilon 4, WROXI can be used for the analysis of major and minor elements in fused beads.
Added benefits!
Did you know? WROXI-CRM is manufactured under ISO 17034 accreditation which means the traceability is guaranteed. Being synthetic, WROXI standards will be available forever, and that means there is no risk of the requested CRM being sold out or otherwise unavailable.
All of this is possible because of our accredited Nottingham laboratory, in the UK. Through our Nottingham lab, you have easy access to expert knowledge, accredited reference standards and tailored custom applications and standards.
Why you consider the Epsilon 4 from Malvern Panalytical for your mine site:
Easy, non-destructive analysis with X-ray fluorescence
Widely embraced among global mining companies
Accurate and repeatable analysis in as fast as 5 minutes
Malvern Panalytical, a trusted supplier
We provide end to end solutions from calibration reference materials to reliable and smart service support
Global outreach with strong local support
Malvern Panalytical is proud of its strong network of service support. All instruments undergo rigorous checks and comply with the latest radiation safety norms like the Machinery Directive, CSA, IEC standards.
Global, regional and local training hubs have been established for all service engineers and application specialists to be ready to support your demanding requirements. In addition, we also established cutting edge technology and software for remote support. This is much appreciated by clients who are in remote mine-sites. Malvern Panalytical is the only X-ray analytical instrumentation company that has its own X-ray tubes factory. That means no unnecessary downtime waiting for the delivery of your tube. Also no unnecessary middle-man expenses.
Great performance, versatile usage
The Epsilon 4 has been proven in offering accurate, reliable and fast results. While having the benefits of smart technology to eliminate any unnecessary operational costs and downtime. Global mining companies are using the Epsilon 4 either in their laboratory or next to their site. We hope that the below illustration gives more ideas in terms of its versatile applications.
For more information, visit www.malvernpanalytical.com/Epsilon4
---