The first Atlas Copco High-pressure Portable Engine-driven Compressor Y1300 in the Philippine market
by Philippine Resources - June 30, 2021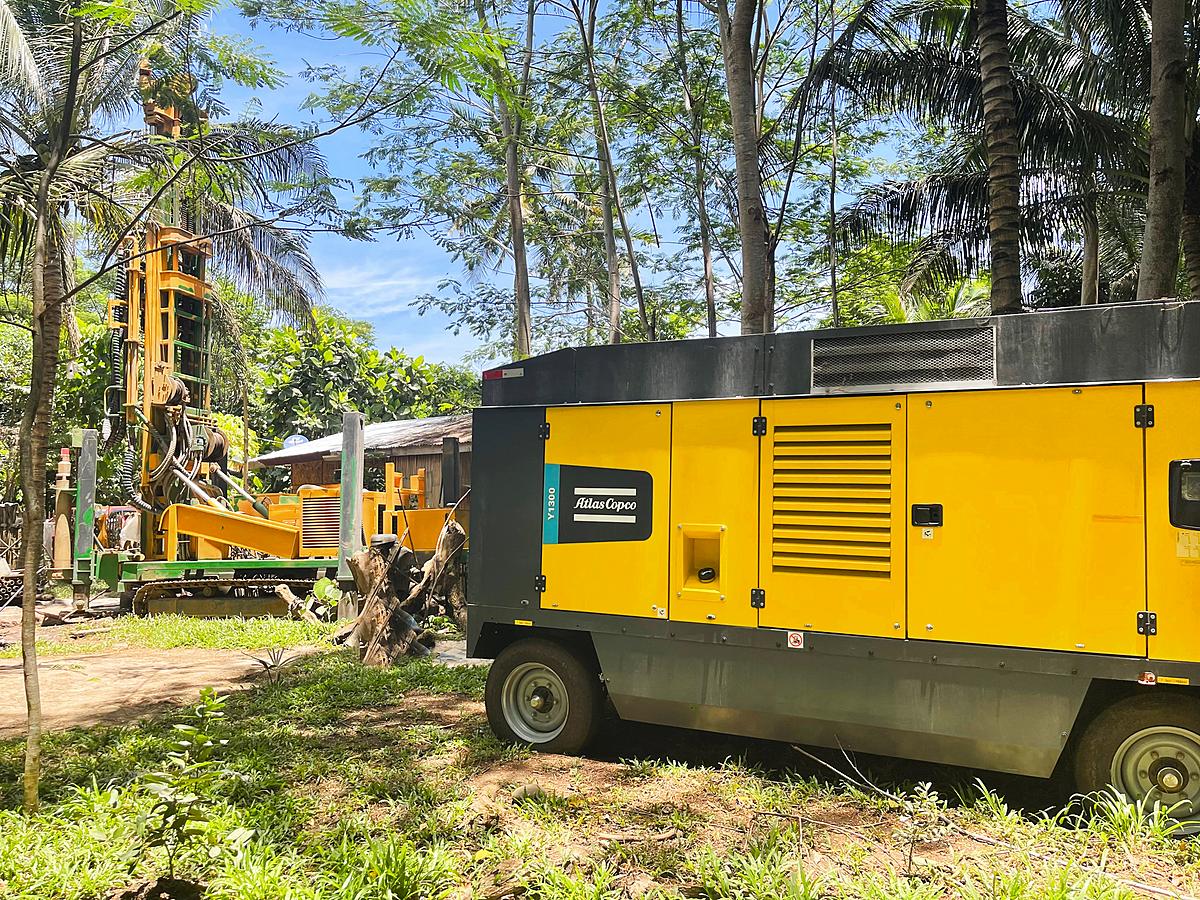 Photo Credit: Atlas Copco Philippines - The first Atlas Copco High-pressure Portable Engine-driven Compressor Y1300 in the Philippine market
Atlas Copco is an industrial company based in Stockholm, Sweden, with approximately 40,000 employees and customers in more than 180 countries. Atlas Copco is a pioneer in technology and engineering, with expertise relied upon by all industries, all over the world. With market-leading products, solutions, and services help ensure the customers' reliable operations, optimize their productivity, reduce their costs, lower their CO2-emissions, and help them achieve their own sustainability ambitions.
Atlas Copco (Philippines), Inc. (ACPI) is a world-leading provider of industrial productivity solutions. It was established on March 30, 1967 in Metro Manila with more than 50 years presence nationwide. The head office is located at Laguna Technopark, Biñan, Laguna, and have branch offices in Cebu, Cagayan de Oro, and Davao, ready to respond around the clock to the customers' needs.
ACPI serves various industries including electronics, semiconductors, construction, cement, agriculture, mining, automotive, food & beverage, and general manufacturing segments. Some of the products include construction equipment, portable compressors, light towers, dewatering pumps, compressed air systems, vacuum pumps, gas equipment sales and rental, industrial tools, and assembly systems.
DrillAir range - reliable and efficient power
The Atlas Copco DrillAir range of portable engine driven compressor is built scientifically around the principles of pressure and flow. The focus of the range is the relationship between these two variables and for the compressor to find the combination which is right for the application.
DrillAir is all about putting the operator in control. Thanks to innovative design and unique performance management solutions, such as Atlas Copco PACE and DrillAirXpert, the new DrillAir Model will deliver better performance in smaller and lighter package applicable to vast industries such as construction, mining, and oil and gas.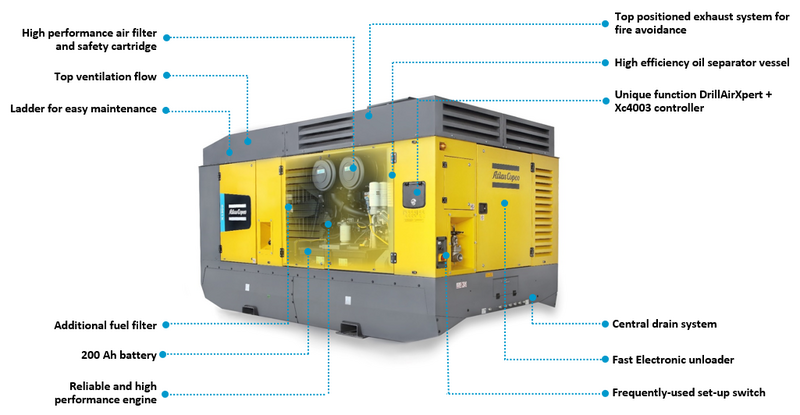 Atlas Copco's screw element has low energy consumption over a wide range of pressure and flow settings which helps in covering fluctuations without the need to boost fuel injection. Combination of efficient screw compressor, DrillAirXpert and high pressure help to reduce fuel consumption by up to 15%.
All Atlas Copco machines are engineered, not assembled. The innovative design that makes the machine results to better performance and smaller package while the top located exhaust system will reduce the potential risk of fire. On top of it, the standardized design makes the management of big fleet easier.
The first Atlas Copco High-pressure Portable Engine-driven Compressor Y1300 in the Philippine market
The first ever Atlas Copco portable engine driven compressor acquired in the Philippine market was by ABI Interior Hardware, a company based in Ozamis City, Misamis Occidental.
ABI Interior Hardware was established in 2001 at Ozamiz City, Misamis Occidental with its main office at Pagadian City, Zamboanga Del Sur, initially established in 1997 under the name Alvin Bazaar Incorporated with business focused in hardware and paint industry. In 2002, it diversified its business and opened the Executive Hotel in Ozamiz City, with a clear vision to provide comfort and service to guests at an affordable price. It expanded in 2006 and 2011 when the company acquired a property in Cagayan de Oro City and Cebu City, respectively, and opened the Executive Pension and Food House. It was in 2007 when ABI Interior Hardware ventured into water-well drilling services with nine units of drilling rigs at present.
In 2019, with the mission to provide quality industrial, commercial, and residential water-well drilling services as well as pump and well-system repairs to ensure customer satisfaction, ABI Interior Hardware expanded their drilling services with percussion method. It is during this time that the owner, Mr. Mervin Ang, searched for a specific machine that can satisfy their requirements for the pneumatic and hammer drilling applications – a 1300-CFM, 35-bar portable engine-driven compressor. Atlas Copco's high-pressure portable engine-driven compressor model Y1300 is the perfect candidate for such requirements.
In the height of the pandemic situation in the country in 2020, the first ever Y1300 in the Philippine market was delivered to Misamis Occidental with direct support from Mr. Junior Mangatong, Atlas Copco Philippines' Product Engineer in Mindanao. When asked about why they chose Atlas Copco for their biggest project, Mr. Mervin Ang said, "The Atlas Copco Y1300 really boosted our productivity as we can finish a project within two months, unlike with our previous percussion method that normally takes us six months to finish. The advantages are not only directly correlated to financial savings, but also to customer satisfaction as we can fulfill our commitment and deliver above expectations." More than the features and benefits the equipment can provide, Mr. Ang also elaborated that the technical expertise and 24-hour service hotline are keys in the decision of choosing Atlas Copco. "Machine has a good performance, easy to operate, has a good protection, and most of all why I chose Atlas Copco is the aftermarket support", he added.
To know more about Atlas Copco's range of products and services, visit https://www.atlascopco.com/en-ph/construction-equipment or email powertechnique.SEA@atlascopco.com.
---