(Photo: Atty Fernando "Ronnie" S. Penarroyo during the "Oathtaking of Newly Appointed Professional Regulatory Board Members, Professional Regulation Commission" in PICC, Pasay City)
Philippine Resources Journal congratulates our very own columnist, Atty Fernando "Ronnie" S. Penarroyo, for his recent appointment as the new Chairperson for the Professional Regulatory Board for Geology (PRB Geology).
For several years now, Atty Penarroyo has been one of the main contributors in our publication. He specializes in Energy and Resources Law, Project Finance and Business Development.
Through his informative and well-researched editorials in Philippine Resources Journal, he brought light and clarity to many complex issues surround the mining industry. As a notable alumnus of BS Geology and Bachelor of Laws at the University of the Philippines and former President of the Geological Society of the Philippines, Atty Penarroyo guided and mentored many young students in the field of Geology. He also studied at the University of Melbourne in 2001-2002 for his Master of Laws.
In 1988-1989, he earned a Graduate Diploma in Petroleum Exploration, Geological/Geophysical Engineering at the Norwegian University of Science and Technology (NTNU).
Atty Penarroyo studied Management, Petroleum Accounting and Financial Management at the University of Texas at Dallas in 1992.
Then, in 2018, he studied International Nuclear Law Essentials at the National University of Singapore.
He is a licensed Geologist by the Philippine Professional Regulatory Commission since December of 1985. As Chairperson of the PRB Geology, Atty. Penarroyo will recommend measures necessary for advancement of the geology profession.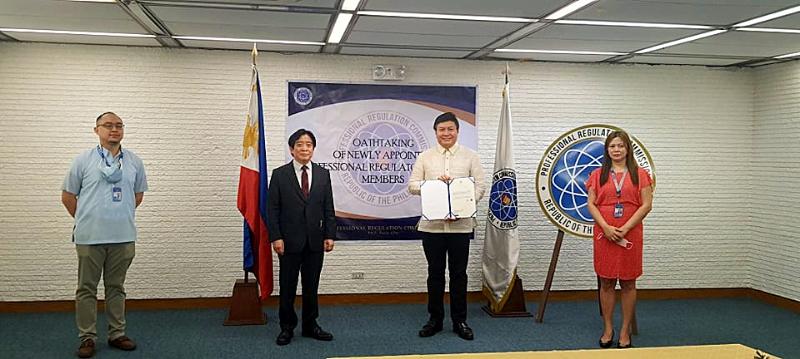 It was on 4th of March 2022 when President Rodrigo Duterte appointed Atty Penarroyo as the new Chairperson for the Professional Regulatory Board for Geology, replacing the late geologist, Mr Rolando "Rolly" Peña, who passed away on the 30th of November 2018 due to a road accident. Mr Peña is considered one of the most important geologists in the Philippines. He wrote the "Lexicon of Philippine Stratigraphy" (published in 2008), and edited "The Geology of the Philippines" (volumes 1 and 2, Second Edition, published in 2004) These two books are considered the "Bible of geologists" and important in the study of geological history and geo-hazard predictions. [1]
Atty Penarroyo's new role as PRB Chairperson offers the opportunity to continue his good friend and former work colleague, Rolly Peña's legacy in academic excellence in the field of Geology.
On his social media posts last March, Atty Penarroyo stated, "Thank you to the following industry organizations for endorsing my appointment - the National Geothermal Association of the Philippines, Petroleum Association of the Philippines, and Philippine Mining and Exploration Association."
His position as Chairperson in the PRB will take effect for the next three years.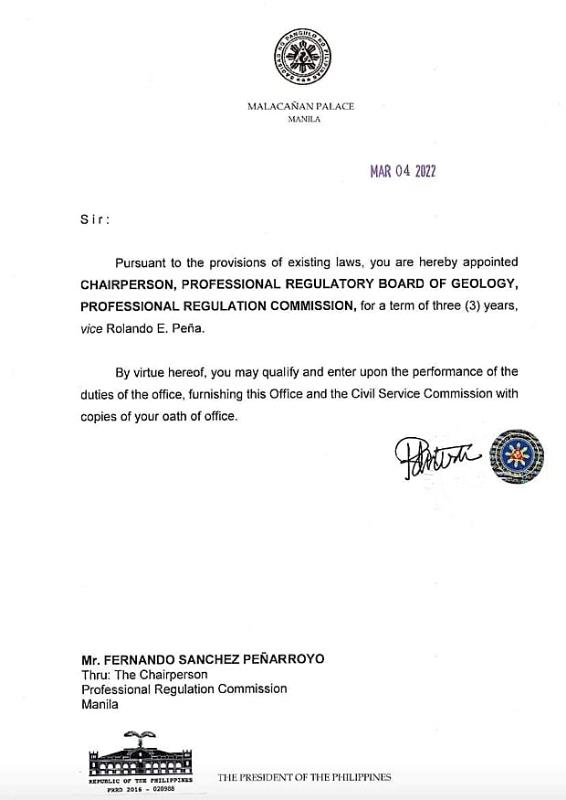 -----
Reference:
Naredo Dacanay, Barbara Mae (10 Dec. 2018). "Rolando Peña: Portrait of a rock scientist as a rare gem". ABS.CBN News. Retrieved from - https://news.abs-cbn.com/ancx/culture/spotlight/12/10/18/rolando-pea-portrait-of-a-rock-scientist-as-a-rare-gem
Photo credit: Atty Ronnie Penarroyo
-----
Additional reading:
"Rolly Peña: The Revolutionary as a Geologist" (20 Feb. 2020) by Atty Ronnie Penarroyo
https://www.philippine-resources.com/articles/2020/2/rolly-pena-the-revolutionary-as-a-geologist