PH and AU's Mateship and Bayanihan through ASEAN
by Marcelle P. Villegas - September 02, 2022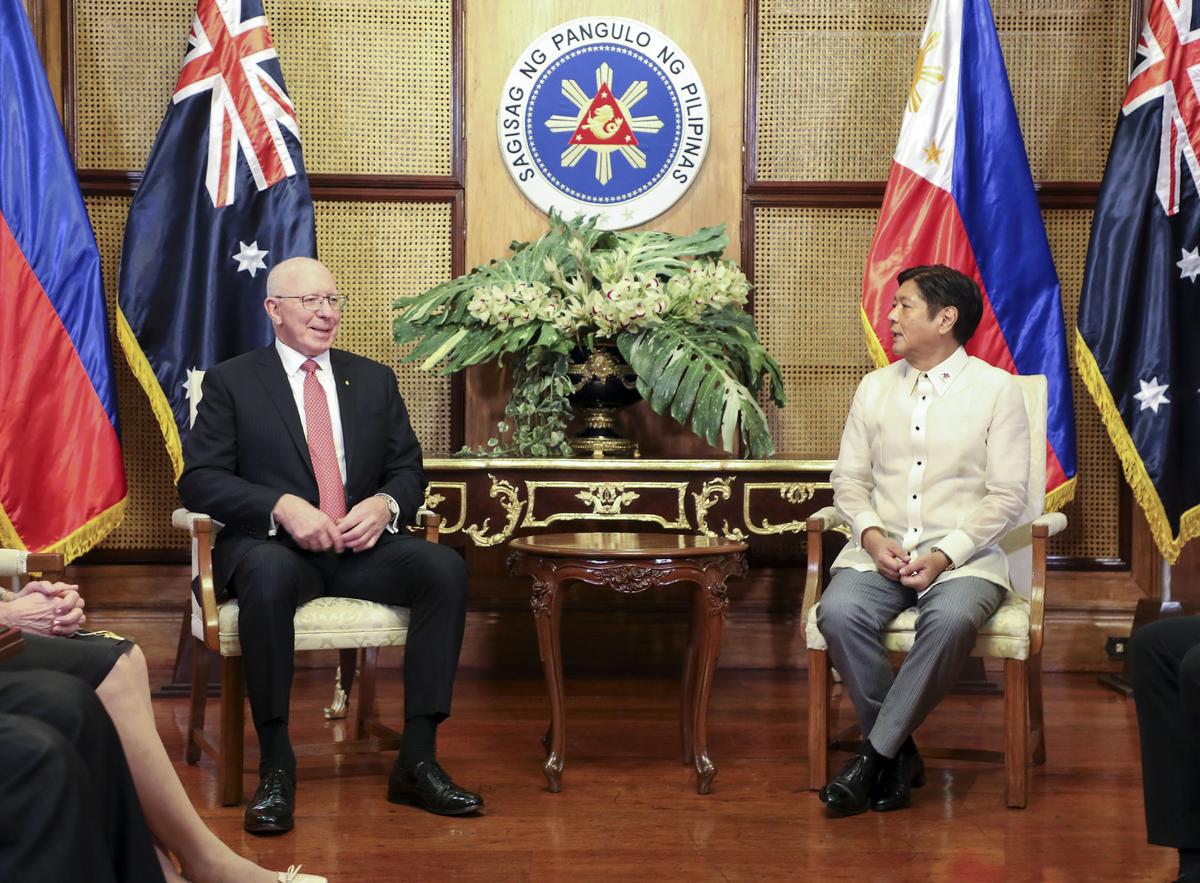 [Australia's Governor-General, H.E. David Hurley AC DSC (Retd) meets with President Marcos at Malacañan Palace (Photo credit: Australian Embassy in the Philippines)]
In relation to a webinar hosted by the Philippines-Australia Business Council (PABC) last 18 July 2022, regarding the ASEAN Australia New Zealand Free Trade Agreement and the Regional Comprehensive Economic Partnership, the Australian Embassy in the Philippine expressed their further support for Philippine's economic sector through ASEAN last August.
The diplomatic relations between Australia and the Philippines have a significant effect on some of the business sectors of the Philippines, like in infrastructure, construction, mining, food, agriculture, among others.
From their Twitter post last August 3, the Embassy stated, "As Australia and the Philippines move towards upgrading our bilateral relationship, the work we do together through ASEAN will continue to help build a peaceful, stable, prosperous and resilient region for us all. Happy #ASEANDay55 from the Australian Embassy in Manila."
Hon. Richard Sisson, Australian Chargé d'Affaires to the Philippines, said, "On this 55th Anniversary of ASEAN, I wish all our ASEAN friends and especially those in the Philippines, warmest congratulations! Support for ASEAN centrality and ASEAN-wide initiatives is a priority for Australia, including through our Comprehensive Strategic Partnership with ASEAN. The Philippines, is of course, a very important partner for Australia in ASEAN," [1]
"Last year, we celebrated 75 years of diplomatic relations between our two countries. In addition to our strong bilateral engagement, we work closely with the Philippines on a whole range of ASEAN-related issues and in ASEAN-led fora."
"As far back as 1977, Australia funded the establishment of the ASEAN Postharvest Training and Research Center at the University of the Philippines, Los Banos under the ASEAN-Australian Economic Cooperation Program. Over the years, the cooperation between Australia, the Philippines, and ASEAN has just grown."
"Today, we work with the Philippines in implementing Australia-ASEAN programs in areas such as transnational crime and counterterrorism, as well as on development cooperation in areas such as youth, education, gender equality, and disaster preparedness."
"The ASEAN-Australia-New Zealand Free Trade Area has been a key framework supporting the growth of Australia-Philippine commercial ties, and we continue to work with our partners in the Philippines on upgrading and modernising that agreement. Australia works closely with the Philippines to support ASEAN centers which are hosted here, such as the ASEAN Center for Biodiversity."
"As Australia and the Philippines move towards upgrading our bilateral relationship, the work we do together through ASEAN will continue to feature prominently and help build a peaceful, stable, prosperous and resilient region for us all." [1]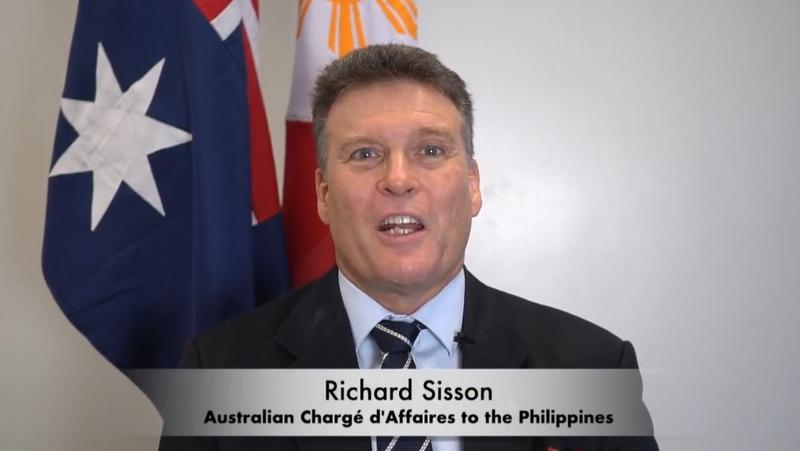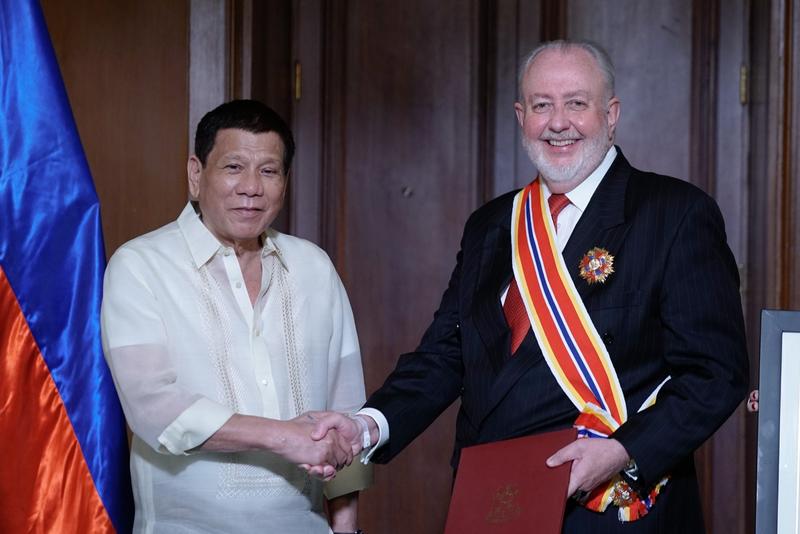 [(Left) Hon. Richard Sisson, Australian Chargé d'Affaires to the Philippines, giving a speech for the 55th Anniversary of ASEAN | (Right) Former PH President, Rodrigo Roa Duterte awards H.E. Steven J. Robinson AO the Order of Sikatuna with the Grand Cross Rank of Datu.]

H.E. Steven J. Robinson AO completed his diplomatic posting as Australian Ambassador to the Philippines last July 2022. On his column in The Philippine Star, he shared his fond memories working in the Philippines during his three-and-a-half years as ambassador, visiting 53 provinces. He also expressed his gratitude to the former President, Rodrigo Roa Duterte, for acknowledging his hard work by awarding him the Order of Sikatuna.
"We arrived in January 2019 and within a few days, I was at Malacañang Palace presenting my credentials to then president Rodrigo Roa Duterte. Much happened in between, but on 30 May 2022, my wife and I again were in the same room at Malacañang Palace. This time, president Duterte conferred on me the Order of Sikatuna with the Grand Cross Rank of Datu." [2]
"The honor I was given is a recognition of our deep bonds – what I call our 'mateship and bayanihan' – that has grown and flourished despite the pandemic. So, allow me to reflect on how we got here, what we have achieved together, and the future of our relationship," wrote H.E. Robinson.
The former Ambassador mentioned some of the achievements in this partnership between Australia and the Philippines during the COVID-19 pandemic.
"I recall that it was at a lunch at the Australian Residence with Secretaries Carlito Galvez, Francisco Duque and Vince Dizon that we first discussed how Australia's development cooperation could support the Philippines' COVID-19 response in a practical and meaningful way. Together, we identified the urgent needs of the country, and how Australia's expertise, particularly in logistical support (given our vast continent), could help roll out vaccines to remote communities. We listened to our friends and tailored our responses so that our support could be flexible and responsive to the real needs of the Philippines."[2]
"So we increased our commitment to COVID-19 vaccine access and delivery in the Philippines to a total of P1.8 billion over two years. This support has been directed towards vaccine procurement, vaccine delivery support and the provision of expert health advice, in line with the priorities of the Philippine Government."
"Despite the challenges of the pandemic, I am also very pleased about our continuing cooperation in areas of defense and security. I am proud that during my time as Ambassador we have established a permanent Joint Australia-Philippines military training team with an ongoing program, continued military exchanges and ship visits, and expanded our cooperation across counter-terrorism into new areas such as civil maritime security and cyber."
He also emphasized how economic-led recovery from the pandemic, through Austrade teams at the Australian Embassy,
"I recognize the importance of an economic-led recovery from the pandemic and with our economic and Austrade teams at the embassy, we have laid the groundwork to enhance our current commercial engagement. There are already over 300 Australian companies in the Philippines employing in excess of 44,000 Filipinos, despite the pandemic. Our trade and investment continue to increase, create jobs and enhance livelihoods in both our countries." [2]
In closing, the H.E. Robinson talked about the future of the Australia-Philippine diplomatic relations. "Australians know that we are stronger when we work together with those we trust – we can't realize our goals for a more peaceful, safe and prosperous region without our friends."
"At the end of this year, Australia and the Philippines will sign up to a Strategic Partnership. What this means is that we will work even more closely on all areas of mutual interest and respond together to the challenges of our current times."
"I'll be excited to witness my successor, Ambassador-designate H.K. Yu PSM, progress the outcomes of the strategic partnership and continue our tradition of mateship and bayanihan." [2]
Looking back a few months ago, President Ferdinand "Bongbong" R. Marcos, Jr. had many foreign dignitary visitors during his inauguration last 30 June 2022. One of them is the Australia's Governor General, H.E. David Hurley AC DSC (Retd). The Governor-General is the highest-level foreign dignitary who attended the inauguration. [3]
"I am delighted to be in the Philippines, one of Australia's closest neigbours, to see the work our countries are doing to elevate our bilateral partnership towards a Strategic Partnership. Our enduring friendship is anchored by our values of mateship and bayanihan," said the Governor-General.
His visit emphasised the strong, decade-long bond between Australia and the Philippines. They discussed the growing cooperation in terms of defence, development, trade, and people-to-people link, according to an article by the Philippine News Agency. "The leaders also reiterated the two countries' commitment to peace, security and prosperity in the Indo-Pacific region."
From PNA's report, the Australian government is set to pledge an estimate AUD78.5 million (or Php2.98 billion) as development assistance to the Philippines from 2022 until 2023. [4]
-----
Reference:
[1] Hon. Richard Sisson's speech, video posted on Twitter – Retrieved from - https://twitter.com/AusAmbPH/status/1554761723256590336
[2] Robinson, Steven J. (21 July 2022). "Now, we get to the exciting part - Aussie Diplomacy Matters". The Philippine Star - Opinion section.
Retrieved from -
https://www.philstar.com/opinion/2022/07/21/2196820/now-we-get-exciting-part?fbclid=IwAR0ZXCXl_nXQT6gPW1Rth7xLoHJ2FLSXFkdFpNMvqOrYmz2mtVAC3jERhMg
[3] "Australia's Governor-General meets with President Marcos at Malacañan Palace". Australian Embassy in the Philippines website (30 June 2022).
Retrieved from -
https://mateshipandbayanihan.com/media-statements/australias-governor-general-meets-with-president-marcos-at-malacanan-palace/
[4] Kabagani, Lade Jean (30 June 2022). "Aussie gov't to renew diplomatic ties with PH under Marcos admin". Philippine News Agency. Retrieved from - https://www.pna.gov.ph/articles/1177894
-----
Photo credits: Social Media posts of the Australian Embassy in the Philippines
https://philippines.embassy.gov.au/
-----
Related article:
ASEAN-AU NZ Free Trade Agreement: Open Economy for Economic Growth

---