an article by Mark Adrian D. Lenon
[Top photo: Rotork actuators in the field]
Actuators play a vital role in the operations of the mining industry. As an industry that operates in harsh and unpredictable environments, mining companies need reliable valve actuators in order to ensure operational safety and efficiency. Likewise, selecting the right flow control partner can make the difference between time spent replacing equipment and time spent focusing on long-term goals.
Rotork is the world's largest independent manufacturer of heavy-duty valve actuators. With over 50 years of experience serving the mining industry, Rotork has been able to supply thousands of actuators that are found in mining operations around the world.[1] In the case of intelligent actuators, Rotork is known for its non-intrusive innovations which prove to be particularly significant for the mining industry.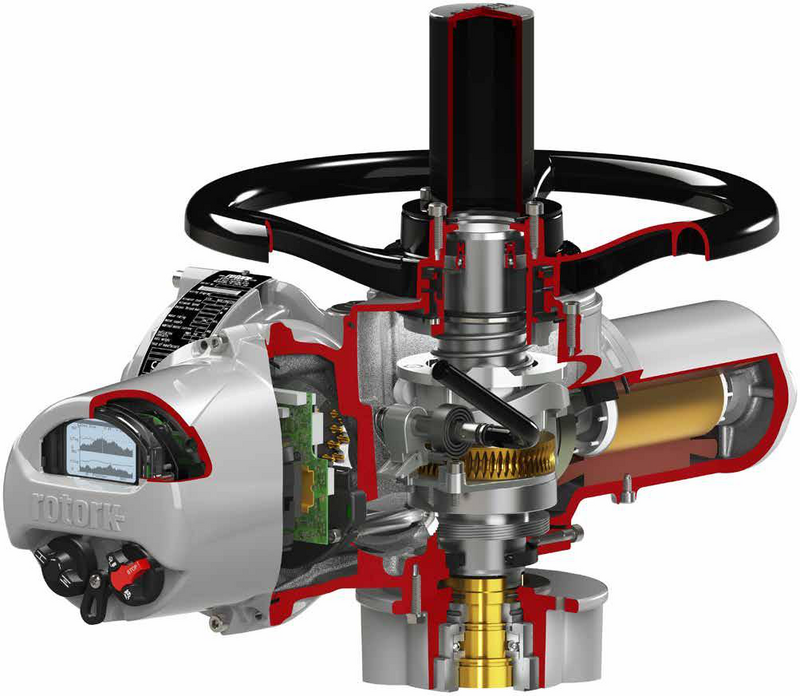 Designed to withstand the environmental challenges of the operating location, Rotork actuators are built with robust construction. Such actuators are rated IP68, which is the best protection against exposure to grit, dust, moisture, pollutants, corrosive materials, and prolonged periods of total submersion. This is made possible by the use of O ring seals on spigot joints, double-sealing to keep the internal parts protected independently from the electrical terminal, and local control buttons and switches that do not penetrate the enclosure wall.[2] Rotork ensures that the internal components of its actuators are protected before they leave the manufacturer.
To ensure security and efficiency during operation, Rotork actuators utilise a two-way, non-intrusive, wireless communication between the actuator and control centre. This is made possible by the following features: a torque-sensing system that maintains absolute accuracy and repeatability throughout the actuator lifespan and a position-sensing system that ensures accurate position measurement for both electronic and manual movements. Furthermore, a handheld setting tool with a secured Bluetooth connection is used for non-intrusive calibration and commissioning.[2] Together, these features enable careful and detailed monitoring away from the actuator.
Through Rotork intelligent actuators, management can benefit from precisely timed maintenance, optimised process efficiency, and reduced overall cost of ownership. [2] Overall, these benefits help establish effective equipment management which can lead to higher output.
Rotork provides worldwide support through its international partners. In the Philippines, customers may communicate with Integral Industrial Management Corporation regarding enquiries about procurement, installation, testing and commissioning, and after-sales services.
Integral has been a distributor and service provider for Rotork actuators since the company was founded in 2003. To this day, Integral maintains its strong partnership with Rotork through continuous manpower training for the distribution and service of Rotork products. As a designated frontliner for customer support, Integral possesses the knowledge and experience to provide sound actuation solutions to the mining industry.
For more information about Rotork and available local support services, customers may contact Integral through the following: PLDT Landline (+632) 8696-3634, (+632) 7576-3716, and (+632) 7373-8453; GLOBE Mobile (+63) 917-851-7716; and SMART Mobile (+63) 939-907-0967 and (+63) 943-708-5400. Website access is available through https://www.integralindustrial.com.ph/.
-----
Reference:
Helping the Mining Industry (Rotork Brochure) - https://www.rotork.com/uploads/documents-versions/11565/1/pub000-052-00_0412.pdf
Intelligent Valve Actuators in the Mining Industry (Rotork White Paper) - https://www.rotork.com/en/media/white-papers/intelligent-valve-actuators-in-the-mining-industry
Photo credits:
https://www.rotork.com/uploads/documents-versions/44265/1/pub002-038-00-1118.pdf
-----
Related article:
Essential Source of Integrated Solutions in Mining - Bedrock of Focused Business Platforms