At the recently concluded Mining Philippines 2023, Undersecretary Carlos Primo David, speaking on behalf of DENR Secretary Maria Antonia Yulo Loyzaga, detailed how the department is focusing on government-led exploration targeting critical minerals needed to transition to renewable energy.
The limited budget of PHP60 million for minerals exploration, he said, is to be used to revive exploration by government. With the results of the initial exploration by government, there would be enough information for the private sector to get interested in and continue the exploration. This government-led exploration aims to identify, among others, critical minerals and declare more mineralized areas.
In their respective responses to Undersecretary David's keynote, Australia's Ambassador to the Philippines HK Yu and Canada's Counsellor (Commercial) Guy Boileau referred to how their countries, which are both mature mining jurisdictions, have adopted long-term strategies designed to take full advantage of the opportunities presented by critical minerals and their role in the transition to clean energy: in exploration, extraction, processing, downstream product manufacturing and recycling.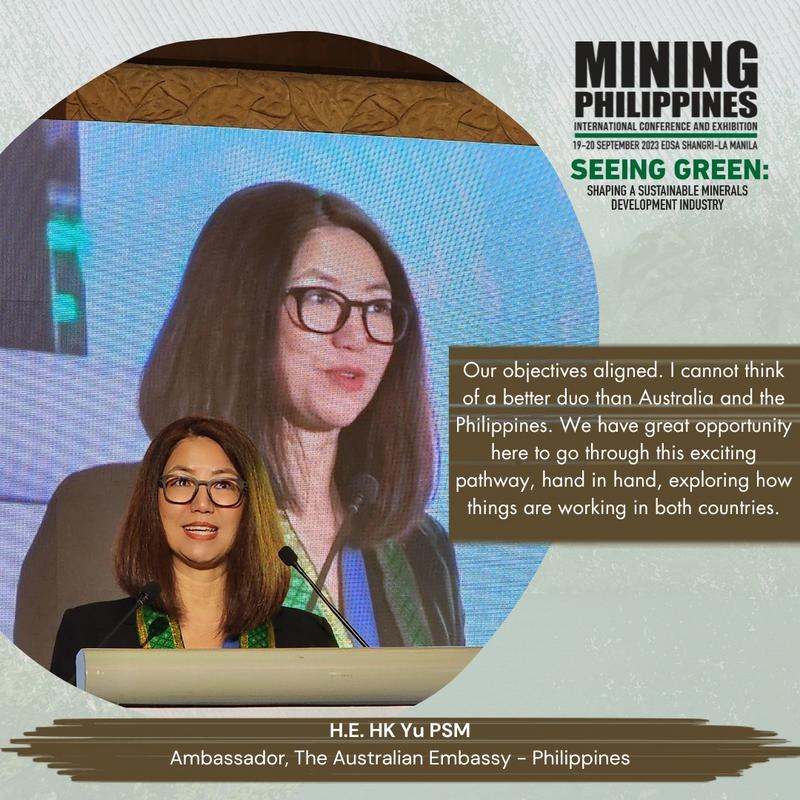 Critical minerals, as the very name suggests, are critical in making possible a green and digital economy. There is no energy transition without critical minerals: no batteries, no electric cars, no wind turbines and no solar panels. Electricity flows through copper. Wind turbines need manganese, platinum and rare earth magnets. Nuclear power requires uranium. Electric vehicles require batteries made with lithium, cobalt and nickel. Indium and tellurium are integral to solar panel manufacturing.
Australia has adopted its Critical Minerals Strategy 2023-2030. By implementing this strategy, it is envisioned that, by 2030, Australia has grown the geostrategic and economic benefits of its critical minerals sector; is a globally significant producer of raw and processed critical minerals and supports diverse, resilient and sustainable supply chains.
It is anchored on the following focus areas: (1) developing strategically important projects; (2) attracting investment and building international partnerships; (3) First Nations engagement and benefit sharing; (4) promoting Australia as a world leader in ESG performance; (5) unlocking investment in enabling infrastructure and services; and (6) growing a skilled workforce.
The strategy recognizes that, while Australia has many competitive advantages and the potential is great, there are corresponding challenges, including fierce global competition as governments around the world race to incentivize investment in diversifying and expanding critical minerals supply chains.
Canada, for its part, adopted its own Critical Minerals Strategy, which had a budget of CAD$4 billion in 2022. The Strategy sets out a framework for Canada to become a global supplier of choice for critical minerals and the clean digital technologies they enable.
Like Australia, the framework targets job creation, economic growth, the advancement of reconciliation with Indigenous Peoples and close cooperation with Canada's allies, while meeting international climate and nature protection objectives.
The Philippines has much to learn from these two countries which have led the way in resources development and how their mining industry is at the heart of key sectors driving their economy, including agriculture, manufacturing, artificial intelligence, clean technologies, electric vehicles, energy, among others.
It is noteworthy that our own Department of Trade & Industry, as discussed by Secretary Alfredo Pascual in his keynote, is pushing for the development a of green mining sector which builds on our mineral riches, particularly in copper, nickel and chromium, and which is anchored on downstream mineral industries, including battery precursor production used in EV batteries and energy storage systems.
Secretary Pascual also highlighted that the Philippines' wealth lies not in just extracting minerals, but the added value that can be derived from processes such as refining, smelting, and manufacturing, upon mineral extraction.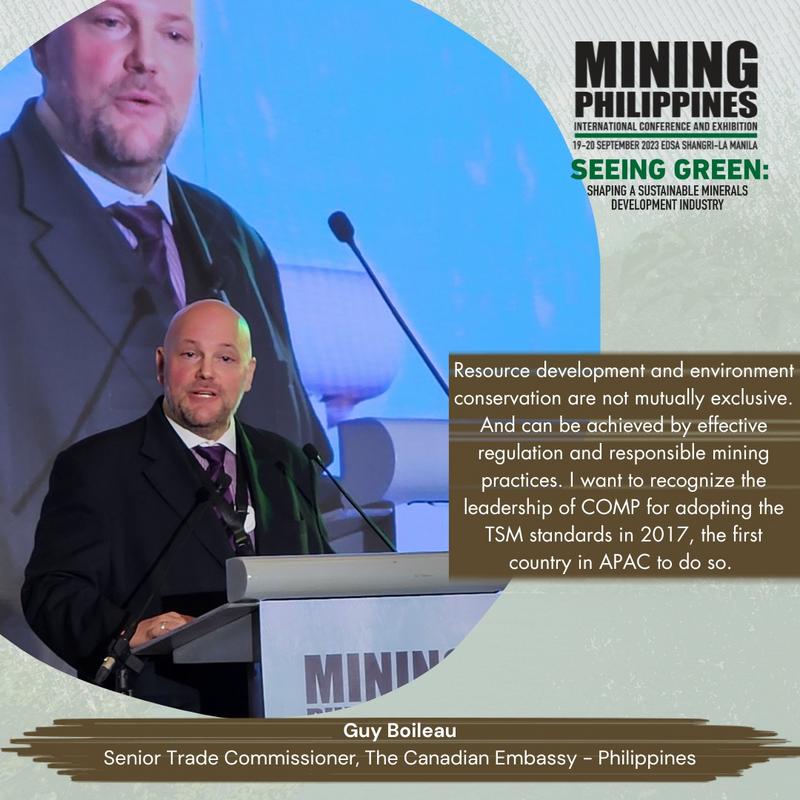 In this regard, it is worth noting that Canada, in its Critical Minerals Strategy, emphasizes the difference between value chains and supply chains, defining a value chain as the set of activities that add value at each stage of the production and delivery of a product to market (e.g., a product upgrade or process innovation). A supply chain, on the other hand, pertains to the organization and logistics of getting a product to market. For Canada, the value chain for critical minerals includes five segments: geoscience and exploration; mineral extraction; intermediate processing; advanced manufacturing; and recycling.
There is also recognition that critical minerals can change with time based on supply and demand, technological development, and shifting societal needs. While what are identified as "critical minerals" may vary per country, there is a shared view that critical minerals have few or no substitutes; are strategic and are somewhat limited commodities; or are increasingly concentrated in terms of extraction and in terms of processing location.
The Philippines, therefore, cannot afford to lag in developing these value-adding industries. While it is certainly in a unique position to be a key player in clean energy market and strategically position itself in regional and global value chains of EV and battery technology, it is not "the only game in town" with other minerally-endowed countries ahead of us in the race.
Notwithstanding the incentives for green metals processing in our 2022 Strategic Investment Priority Plan, it will take a whole-of-government approach plus the indispensable cooperation of the private sector to push our minerals development and clean energy agenda.
Our lofty ambitions must be coupled with mitigating the current uncertainties in minerals exploration and extraction, starting with streamlining the approvals process and strengthening the regulatory regime.
Patricia A. O. Bunye is a Senior Partner at Cruz Marcelo & Tenefrancia where she heads its Mining & Natural Resources Department and Energy practice group. She is also the Founding President of Diwata-Women in Resource Development, Inc., a non-government organization advocating the responsible development of the Philippines' wealth in resources, principally through industries such as mining, oil and gas, quarrying, and other mineral resources from the earth for processing.