SciAps Handheld Analyzers Technology and Experience at its Best!
by Philippine Resources - November 06, 2019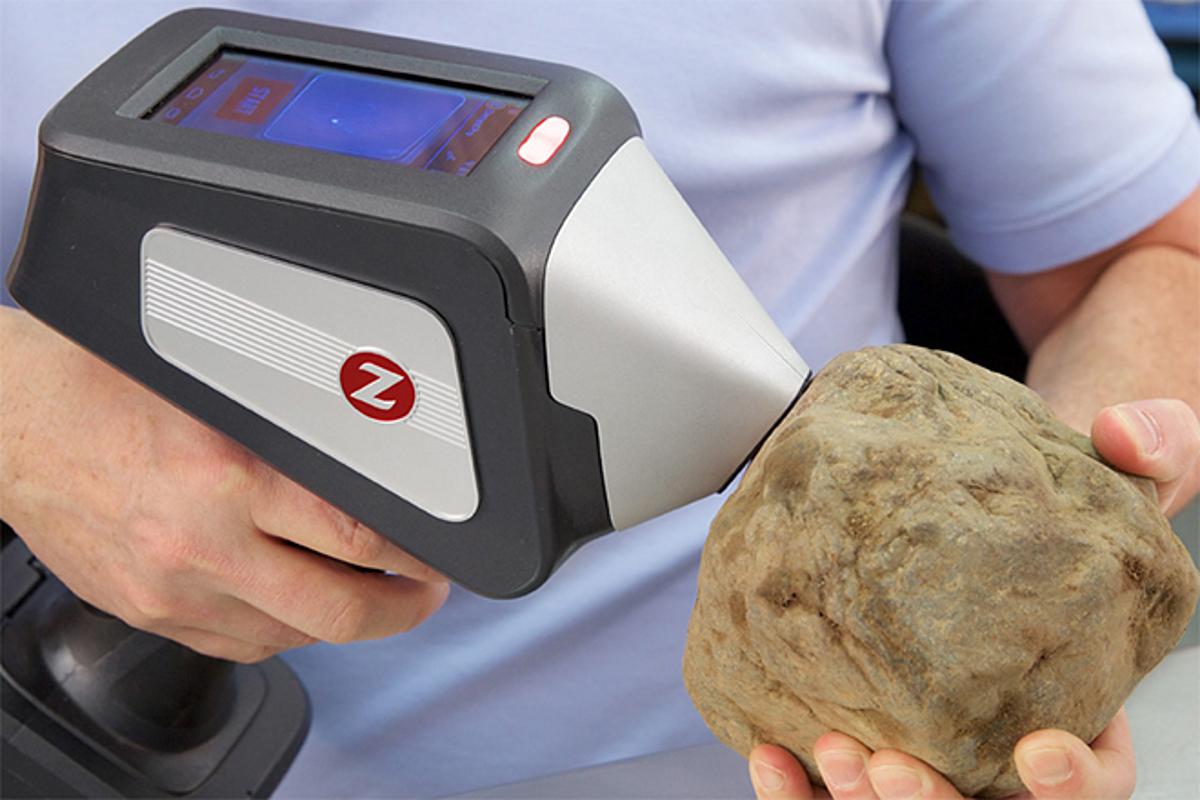 SciAps field portable LIBS and XRF analyzers provide instant analysis of major and trace elements. Get the entire picture for research, exploration, grade control, block modeling, process optimization, environmental clean-up and the applications for these powerful field portable analyzers continue.
Handheld LIBS: It's All About the Technology
The acceptance of handheld LIBS for in-field geochemistry is accelerating. LIBS or Laser Induced Breakdown Spectroscopy is an analytical technique where, using a laser, a plasma is created on the sample. As the plasma cools down, characteristic photons are emitted and measured to determine elemental presence and concentration at the sampled location.
The SciAps Z features the most advanced LIBS technology of any handheld. The Z utilizes the most powerful laser, operating at 5-6 mJ/pulse, up to 50 Hz rep rate, Class 3B 1064nm wavelength. The spectrometer range of 190 nm out to 950 nm delivers full periodic table coverage.
The patented OPTi-purgeTM integrated argon gas purge (optional) yields better limits of detection for many elements compared to air-based analysis. Internal 3D stage raster the laser allowing for surgical analysis of inclusions or veins if desired, all easily viewed through the integrated camera and laser targeting.
Traditional Bulk Sample Analysis – SciAps Z handheld LIBS offers quantitative testing on a more comprehensive element suite than fpXRF with the GeoChem App. Analyze samples using factory calibrations or build your own user defined calibrations using SciAps proprietary Profile Builder TM PC software. SciAps GeoChem App allows easy collection of metadata, conversion of element to oxide, user selectable units of measurement between ppm and %.
The Z analyzes elements that the FPXRF can't, such as Li, Be, B, C, F, and Na. The Z offers greatly improved analysis of several major elements compared to FPXRF such as Mg, Al, Si, K and Ca. Using the GeoChem Pro App, the ground-breaking in-field microanalysis for geological materials. Map elemental distribution within minerals, veins and inclusions.
Create and export element maps, spectral data at individual locations and import data into third party geochemical analysis software (ioGAS) for advanced analysis of data.
Field Portable XRF It's All About the Experience
FPXRF is the established technology for in-field elemental analysis. So it's expected that the SciAps team, with more than 30 years experience designing and supporting FPXRF for the exploration community, would introduce an advanced FPXRF with all the performance and the features the industry demands. The X is factory calibrated with 37 standard elements including all measurable pathfinders except REE's. The X is available with one of two X-ray tube anodes, either Au or Rh, depending on the application. The most common choice is the Au anode because performance is optimal for the vast majority of pathfinder elements including critical gold pathfinders for ore bodies high/ low sulphication epithermals, Orogenic, Carlintype, Porphyry Cu-Au, iron oxide Cu-Au and others. The Rh anode provides broad coverage of transition and heavy metals and highly optimized performance for low atomic number elements Mg, Al, Si, P and S.
Identification of Gold and Its Mineralogical Association Using SciAps Z-300 LIBS
While handheld and field portable X-ray fluorescence (fpXRF) analyzers can be used effectively to measure many pathfinder and major elements in the field, the limitations of fpXRF with regard to the analysis of gold are well documented. Using pXRF detection limits of 1-2 ppm may now be possible, but common interferences from many associated elements such as As, W and Zn generally mean actual detection limits are much higher. The often highly inhomogeneous distribution of gold within geological samples also presents challenges in obtaining an average composite value using a handheld analyzer that measures a small area and is essentially a surface measurement.
It is now possible to map elemental distribution in geological samples in the field using the SciAps Z-300 handheld LIBS analyzer. Laser induced breakdown spectroscopy, or LIBS, is a form of Atomic Emission Spectroscopy (AES) that can produce a comprehensive spectral dataset allowing all elements to be represented between 200-900 nm. LIBS offers complementary and unique capabilities to enhance conventional field geochemical investigations and presents exciting new opportunities related to mineral chemistry and element mapping. The use of microanalytical techniques to better understand mineralization has become more widespread as laboratory equipment capable of the discrete geochemical analysis of geological samples has evolved.
Using the Z-300 with GeoChem Pro App, element maps can be generated with ease in less than 1 minute. This powerful and spatially precise analytical technique is ideally suited to the analysis of specific minerals and areas of interest on drill core, rock chips or hand specimens.
SciAps handheld LIBS analyzers can be used to understand the distribution of elements with a high degree of spatial precision using a 50um laser and in-built X-Y stage for rastering. Element maps can be generated showing the distribution of different elements, and individual points within a sample can be understood in context. Using SciAps Profile Builder PC software, individual spectra can now be selected from within the element maps to process using matrix-specific calibrations for quantification, or exported for analysis using multivariate statistical methods for mineral identification and classification.
In the case of gold exploration and mining, not only is the positive identification of the presence or absence of gold now achievable, but information about where the gold is located, its associated geochemical signal, and the minerals with which its distribution is associated can be understood by a geologist in the field.
Dr. Christopher Lawley from Geological Survey of Canada along with Jordan Watts, Joel Gagnon, and Steven Rehse from the University of Windsor, Ontario, went into the field with our Z-300 and generated some exciting data that demonstrates an excellent correlation between visible gold and element maps of gold generated using the Z-300.
Whether looking to understand the distribution of gold, its pathfinder elements, or even mineralogy, the Z-300 generates data that can be used effectively in the field to identify mineralization. At SciAps, we are dedicated to advancing the capabilities and application of LIBS, and proud and excited to be involved in research with this end in mind.
Sources:
https://www.sciaps.com/wp-content/uploads/2018/11/GeochemOCT2018RBG.pdf?x24702
https://www.sciaps.com/wp-content/uploads/2018/12/SciAps_ApNote_wheresthegoldRGBfinal.pdf?x24702
https://www.sciaps.com/wp-content/uploads/2018/01/X-200-Limits-of-Detection-geochemical_2018.pdf?x24702
---