[Photo credit: Metro Pacific Investments]
To support the Philippines' renewable energy transformation initiatives, a comprehensive training series on biogas technology was launched by a German biogas technology provider -- Lipp GmbH, and the German Biogas Association (GBA), along with German-Philippine Chamber of Commerce and Industry (GPCCI / AHK) [Deutsch-Philippinische Industrie-und Handelskammer]. Their training series covers the functionality, use and maintenance of biogas system in the Philippines.
Lipp GmbH teams up with MetPower Venture Partners in building a first industrial-scale biogas plant in Mindanao where the plant will process pineapple waste from Dole Philippines. The waste material from pineapples will be used to generate biogas energy. "Once fully operational, the two plants will generate clean energy to replace fossil fuel for power, steam and heat generation," according to GPCI's special report. [1]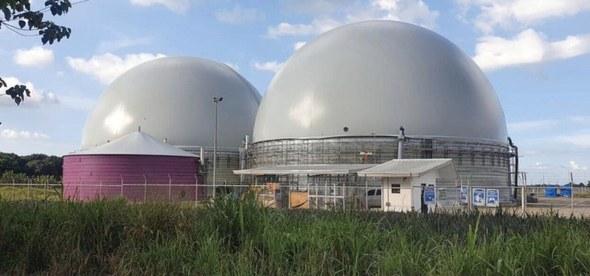 MetPower Venture Partners is owned by Metro Pacific Investments. MetPower Venture Partners' major ongoing project, "Waster-to-Energy Project" with Dole Philippines is a Php1 billion investment. "The project will derive biogas from the anaerobic digestion of fruit waste from Dole's canneries in South Cotabato." [2] This will generate 5.7 MW of clean energy for Dole and contribute to reduction of CO2 emission by 100,000 tons per year. The facilities are targeted to be completed by the first half of 2021.

Marc Reinhard, Trainer and International Affairs Consultant at GBA said, "Biogas is a renewable energy but can also offer multiple environmental and climate services for a sustainable and circular economy in the Philippines. It even helps to create local jobs and economic development in rural areas."
The training organised by GPCI, Lipp GmbH and GBA is attended by current and future biogas plant staff, participants from Department of Energy (DoE), Department of Science and Technology (DOST), and the academe.
The training program is part of a develoPPP.de Project which is 50% co-financed by the German Investment Corporation (Deutsche Investitions- und Entwicklungsgesellschaft – DEG) through public funds of the German Federal Ministry for Economic Cooperation and Development. "GPCCI supports this initiative as project manager in the Philippines." [1]
Biogas is a gaseous fuel, mostly containing methane, that is an end product of fermentation of organic matter. Biogas is a renewable resource or renewable energy source because its production-and-use cycles is ongoing and continuous. It does not generate net carbon dioxide. Biogas is different from natural gas. Biogas is created through biological process of anaerobic digestion or generated by the breakdown of organic matter by anaerobic bacteria and is used in energy production. [3] Natural gas comes from fossil fuel produced by geological processes.
-----
References:
[1] Special Projects AHK News (2 March 2021). " Supporting Philippines' Renewable Energy Transformation with German Biogas Technology and Know-How". German-Philippine Chamber of Commerce and Industry (GPCCI / AHK) website.
Retrieved from - https://philippinen.ahk.de/news/news-details/supporting-philippines-renewable-energy-transformation-with-german-biogas-technology-and-know-how
[2] https://www.mpic.com.ph/investor-relations/investments/power/metpower-venture-partners/
[3] https://www.britannica.com/technology/biogas
-----
Photos credit:
Pineapple photo – image from Pixabay by igorovsyannykov