MANAGEABLE MINE MANAGEMENT
by Philippine Resources - March 29, 2022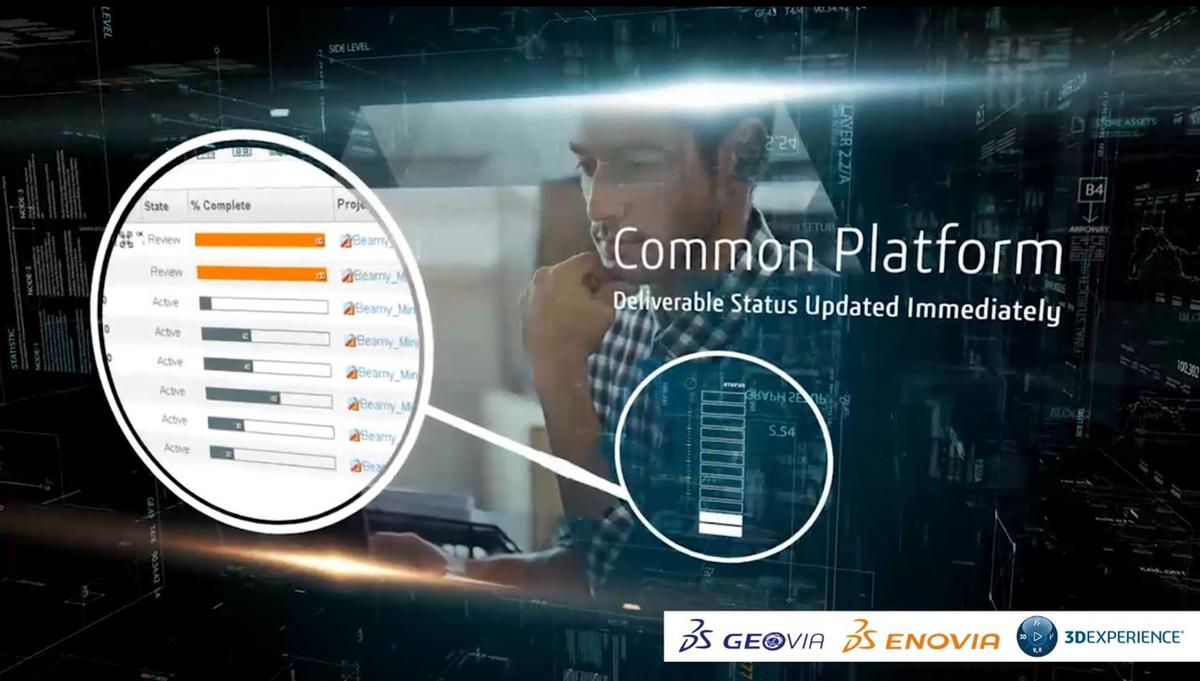 By: Engr. Jeffrey Geronimo
Mining companies are always challenged by the tight deadlines and targets to timely satisfy the production requirements of the mine. This has often translated to numerous changes in mining strategies and plans which necessitates adoption of concurrent engineering methods. However, this also increases complexity due to the parallel activity of various functional teams. This is not an easy task for project managers and only shows how critical coordination is to prevent overloaded tasks and bottlenecks that may lead to further delays.
The ENOVIA Project Manager role on the highly acclaimed 3DEXPERIENCE Mine platform uniquely gives the potential to accomplish zero delays by linking each team member's mine data to project execution. In effect, mine project management becomes data-driven by being linked with the production targets. The implications of production targets can be quickly assessed against the project schedule. As a result, a project manager is taking action to resolve issues with a full understanding of the impact to the targets.
DELIVERABLES PLANNING
Project Manager enables users to organize and manage a mining company's long and short-term targets and execute projects related to the planning and introduction of future targets. Users can associate the plans into projects and organize them into portfolios. A portfolio provides visibility into a project's road map, individual tasks, and real-time status of milestones to share with other teams or departments.
PROJECT PLANNING
The Project Manager supports all phases of the project. Once each target is approved, it is updated to a formal project and can be distributed in detail into tasks. Users can then define a task's hierarchy to help identify which plans to approve based on how they impact the mine strategy.
Users can decompose complex activities into smaller manageable sub-projects. They can define schedules to organize and assign project members' roles, non-working days, and shift turnovers. Tasks can be copied from projects or from project templates, including copying partial task structures. Project Manager also provides bi-directional support and integration to Microsoft Project for project managers that prefer using a Microsoft Project user interface for editing schedule information
VISUAL OVERVIEWS
Users can also view and edit the project schedule graphically via a Gantt Chart. The phases and tasks are displayed as bar charts based on the timelines, and the milestones and gates are marked on it as well. It illustrates the start and end dates, and displays the dependencies between tasks. It provides for an easy way to study the whole project schedule.
FLEXIBLE WORK CALENDARS
Being the undisputed global leader in mining software solutions, Dassault Systèmes understands that the mining industry has diverse workforce – most especially when you have multiple mine sites, shift handovers or roster breaks. The work week, working hours and holidays vary across the globe. It also varies based on the type of task being executed and across departments or even the work hours per day in a week. As the 3DEXPERIENCE Mine platform enables "zero-distance", the ENOVIA Project Manager provides the ability to create flexible work calendars based on organizational and regional factors.
Exceptions can be created on a calendar which be customized for holidays or for workdays and can recur on daily/weekly/ monthly/annual basis. There can be a start and end effectivity date for each exception. A practical use of exceptions is for handling mine production cutovers that require extra work longer than usual hours for a set period. The same use of exceptions may be required if a certain task is behind schedule.
The company may choose to implement mandatory overtime temporarily. Each task can be on a different calendar based on the location of the task assignee or the type of task. If the task does not have a calendar, then the calendar associated to the user's location is used, and if the location does not have a calendar, the default project calendar is used. Tasks are scheduled based on the calendar to provide an accurate schedule that reflects the real-life view for work plans.
INVISIBLE GOVERNANCE
As for traceability, users can capture meeting details to maintain artifacts for historical references. Managers can define meetings, and track who was invited and who actually attended. Agenda topics can be added to meetings with time durations allocated for each topic and associated document attachments for discussion. Issues that need further follow up and recorded decisions are stored as an outcome of the meeting.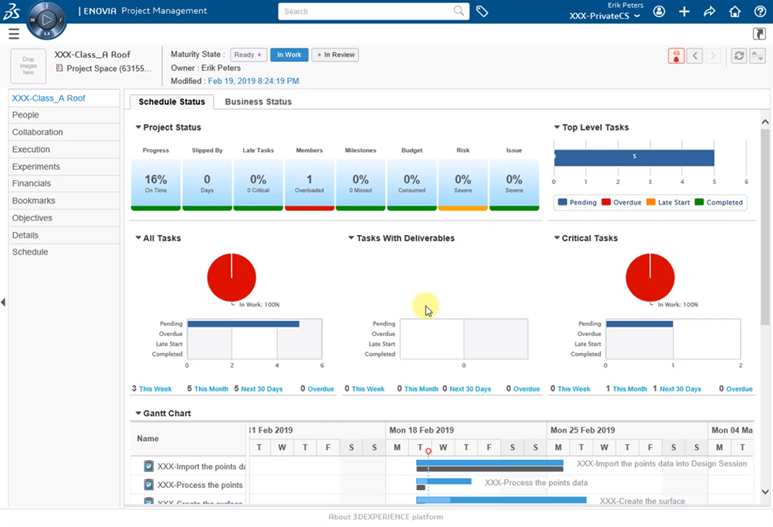 ZERO DISTANCE: COLLABORATION AND APPROVALS
Users can benefit from a wide range of capabilities for global enterprise collaboration to bring "zero distance" between the mine, main office, and other consultants. Those capabilities include the ability to manage and organize shared documents and structured product data; they also enable the creation of digital workspaces for virtual teams to work together. Users can easily raise issues, organize meetings and track decisions. Any modifications can be formally approved using routes defined by end-users or from standard route templates.
MICROSOFT INTEGRATION
The ENOVIA Project Manager role can create and access 3DEXPERIENCE data from the most popular Microsoft applications: Word®, Excel®, PowerPoint®, Outlook®, Windows Explorer, and Windows Desktop Search. This capability enables enterprise-level collaboration while not disrupting the established productivity of end-users. With product content being managed on the 3DEXPERIENCE platform rather than on users' PCs, organizations are able to create, manage and review product content more securely.
With the ENOVIA™ Project Manager on the 3DEXPERIENCE® platform, all stakeholders in the mining blockchain are aligned with the project goals and status – and work well together in achieving and defining your mine's success. Let Paramina Earth Technologies, Inc. be your driver in your mine's digital path to sustainable growth. Contact us at paramina_solutions@paramina.com or reach us through our website www.paramina.com for more information.
REFERENCE: Dassault Systèmes. (2022). Project Manager.
---